COMMUNITY NEWS
Chabad of the North Coast
Chabad in Umhlanga, Shul Outreach and Activity Centre is a 'Beacon of Light' that continues to burn brightly.
Keeping the holidays kosher
As usual, Chabad was well prepared for both the local Jewish Community in Umhlanga and the holiday-makers from around South Africa and beyond. Reb Shlomo Wainer and his wonderful wife Devorah, Chabad emissaries of the Lubavitcher Rebbe for Kwazulu Natal, have been working closely with Dean Appelgryn from the Umhlanga Rocks Pick 'n Pay store to provide more kosher foods and products for the locals and visitors. People in town over December were able to buy a variety of raw and ready-made foods from Moishies Butchery, Feigels Delicatessen and Brooklyn Foods. For years Reb Shlomo had most of these ready-made meals and available from the Chabad House but today they can be found at Pick n Pay at the Lighthouse Mall year round.
December holidays at Chabad
December 2014 brought holidaymakers and Umhlanga locals together in regular minyans of 30 to 40 men in attendance. On Shabbos our shul, as Shlomo says, is the coolest in Africa… well air conditioned, full to capacity and overflowing with Shabbos spirit! Friday nights had more than 150 people enjoying inspiring davening and droshas, with even more taking part in Chabad's special Shabbos morning. All the Kiddushs and Brachas were sponsored during the high-holiday season and the Shul caters for about 180 people. Several guest Rabbis were in attendance and brought their own unique contributions to the essence of the day. The Wainers were proud to have made so many friends over their Shabbos table, with flavoursome foods savoured to the tune of classic Chassidic melodies. If you haven't yet enjoyed their hospitality and fabrenged at Chabad House, or had the special privilege of hearing one of Reb Shlomo's stories, make a point of doing so on your next visit to Umhlanga.
Lighting up Chanukah
Chanukah was a highlight of the holiday season and Chabad brought great illumination by publicizing the many miracles of the Festival of Lights.
On the 1st Night of Chanukah, Chabad attracted a crowd of over 220 people who marvelled at the Giant Menorah and enjoyed delicious latkes and other refreshments. 2nd night Chanukah brought master cook Chef Dave to Durban for a hugely successful pasta evening. Shabbos Chanukah saw more of Chabad's legendary hospitality, known just not in Umhlanga but the world over.
Other Chanukah activities included 120 participating in the 'Build a Burger' evening with Chef Dave; 85 guests at the yearly Chanukah Braai; and Reb Shlomo's stops down the South Coast where he distributed Chanukiahs in Shelley Beach, Port Shepstone and Amanzimtoti.
An extraordinary first this year was the taking of Chabad's large Chanukiah up to the top of the Moses Mabida Stadium - Mincha and Maariv were davened above the city too.
Dylan Martheze celebrated his Barmitzvah at Chabad in Umhlanga during this special time – Dylan was counted in the Minyan, made his Bracha when putting on his Tefillin, had his Aliyah and was showered with sweets and love by family and friends. Afterwards, Dylan was made to feel like a king at a light breakfast held at the Chabad bracha room in his honour.
The Chief Rabbi visits Chabad
Chabad was honoured to host our Chief Rabbi Warren Goldstein, his wife Gina and their family at Chabad for an exceptional evening where people could "Chat with the Chief". The Chief Rabbi and his family were given a warm welcome and spoke about the value of saying a little and doing a lot based on a Mishna in Pirkei Avot. Chef Dave prepared a fantastic curry and a large crowd of 125 people at the event relished the opportunity to socialize with the Chief Rabbi in an informal and relaxed atmosphere.
Well done Chabad, you're rocking the Zulu kingdom again and again…
For more information on Chabad's activities, please email chabadnc@global.com
---
COMMUNITY NEWS
Chabad of the North Coast
Alana Baranov
Reb Shlomo and his wife Devorah have been on Shlichus in Umhlanga Rocks. The incredible outreach efforts they have undertaken have touched the lives of hundreds of Jews, assisting them to reconnect to their Jewish roots by taking Mitzvahs to them wherever they may be. Reb Shlomo and Devorah are truly the epitome of 'Mitzvahs on the Move'
The High Holy Days were an incredibly busy and uplifting time at Chabad of the North Coast. In the build up to the period, Reb Shlomo met with Jewish families along South Africa's East Coast - from St. Lucia on the northern coastline to Port Edward in the south. During the month of Elul, he took shofar; tefillin; mezuzas; kosher food and more along on his travels to give the warmth of Yiddishkeit to the Jewish Neshamas he encountered during the days of awe.
Rosh Hashanah and Yom Kippur
During Rosh Hashanah and Yom Kippur, the Shul was full with locals and visitors. Guest Rabbis, both local and from abroad, added to the inspirational atmosphere. The Umhlanga Kosher Guest House (www.uka.co.za), conveniently situated next door to the Shul, had a constant flow of guests that greatly enjoyed the unique Umhlanga hospitality.
Succos
Umhlanga was transformed over Succos. The festival kicked off with a fantastic Biltong and Berry Juice (Sir Juice) Kiddush in the Succah and Shabbos night treat of Soup in the Succah.
The Grade 11 boys of Torah Academy of Johannesburg, together with the yeshiva's bochurim Shluchim Mendel Zaltzman and JJ Duchman, spent Succos and Simchas Torah at Chabad of Umhlanga Rocks. Thanks to the generous sponsors who made this happen, the relaxed getaway these young men intended soon turned into an experience of a lifetime. Coming from various backgrounds, the boys immediately dedicated their entire trip to encouraging all those they met to shake the Lulav and Esrog. They also spent their time assisting Reb Shlomo and Devorah in their Shlichus: from helping with minyans, davening and leining to kashering kitchens, putting up Succahs, singing, dancing and sharing their experiences - fabrenging with locals and friends.
Each day, bright and early the group split into two, with one half taking to the beachfront's boardwalk and hotels whilst the others went through the city with the Reb Shlomo and his Sukkah Mobile. The young men even spent a powerful afternoon at Beth Shalom with our community's aged, and soon had residents and staff dancing and singing along with great Jewish vibes and mitzvahs.
Chol Hamoed Celebrations included a Rib Braai catered by Dave the Chef in the Succah; Masada Workshop had tea and entertainment in the Succah; Wraps in the Succah with live entertainment by talented musician Yoni Ress and great food by Chef Dave; Talmud Torah had a kids arts and crafts party too; and the boys from Joburg played soccer at Stella with the Durban guys. Great events with more than 300 people shaking the Lulav and Esrog.
This enthusiasm, energy and excitement continued into Shmini Atzeres and Simchas Torah, with an exceptional Kids Hakofas, and finally Shabbos Breishis, where the boys brought a completely new vitality to the community.
Tremendous resolutions were made by all over the Yomim Toivim which left everyone leaving Tishrei truly uplifted. Chabad's hospitality, warmth and friendship saw more than 900 people enjoying delicious meals and this festive time.
To enjoy our hospitality, come join us for a Shabbos or Yom Tov dinner or lunch. www.chabadnc.com or email chabadnc@global.co.za or call Shlomo 0825500503. The Shul services are easy to follow, explained and you are sure to feel your Soul Rock… All welcome as Chabad Rocks Umhlanga!!
Shabbos Project in Umhlanga
Unity is what it's all about. So we all got together. Friday night both the guest house and the Shul were packed with close to 50 people enjoying a traditional Friday Night Dinner. There was time to relax and enjoy the atmosphere of Shabbos.
On Shabbos day locals were treated to a special Kiddush/ Bracha and a tasty Shabbos lunch too. On Motzei Shabbos, Chabad held the event 'Havdalah under the Umhlanga Skies' followed by curry and rice and a drumming circle with Talking Drums. What a way to see into the following week! What inspiration! What a Shabbos!
Chabad Lights up Umhlanga and KZN: Chanukah 2014 Dec 16-24 subscribe to email notifications - email chabadnc@global.co.za
---
COMMUNITY NEWS
Mitzvahs on the Run... at the Ultimate Human RaceOn an early Sunday morning on June 1st, Rabbi Shlomo Wainer (Chabad sha
On an early Sunday morning on June 1st, Rabbi Shlomo Wainer (Chabad shaliach in Umhlanga Rocks, Kwazulu Natal South Africa www.chabadnc.com) and his wife Devorah and family, together with Mendy Wilansky, Menachem Solomon, Yoni Lewkowicz (bochrim in the smicha program in Pretoria, South Africa), Moshe Reuvain Shnieder, and Simcha Solarsh headed out at 5:30 AM to set up the tefillin and mitzvos booth at the Comrades race on Hillcrest old main road (on the Comrades route) where they met up by Rabbi Levi Lipsker and many other supporters. This is Chabad in Umhlanga's 19th Comrades Race, supporting the Jewish runners.
The Comrades Marathon is the world's oldest and largest ultra-marathon, over a distance of approximately 90 km (56.1 miles) between the capital of the Kwazulu-Natal Province of South Africa, Pietermaritzburg, and the coastal city of Durban. It is known to many as the "Ultimate human race" where approximately 18,000 runners attempt to finish the marathon within 12 hours. Yet despite this already painful and grueling run many participants stop at the Chabad mobile booth (approximately 60km into the race) to put on teffillin or to do a mitzvah despite their extreme exhaustion.
A total of 48 men stopped to put on Tefillin during the race despite the fact that their time in which to finish was ticking by. 44 others stopped and acknowledged their Jewish pride and would encourage fellow ultra-marathon runners to do the same. Men and women alike stopped to say a Bracha on oranges, naartjies, bananas, peaches, and potatoes, ice cold coke and water too. Many would also say Shema or recite Tehillim, put money in the Tzedaka box and even expect the friendly hug from Rabbi Shlomo.
The Shabbos leading up to the race, is the beginning of the Comrades weekend, and the Wainers host a festive Shabbos dinner for the runners, their families and supporters, wanting to have a proper Shabbos before the race. A total of 105 people attended the Friday night Shabbos dinner. Chabad of Umhlanga also has a kosher bed and breakfast (www.uka.co.za) which was packed for that weekend.
Many of the runners related after the race that it was because of the words of inspiration they heard over Shabbos and because they stopped and put on tefillin or said a bracha where they able to finish such a mentally and physically challenging marathon like no other. On a day which truly proved mind over matter was a day that Jews from all backgrounds and around the world, choose to unite in showing their Jewish pride. Through the encouragement of the Wainers, the runners and their supporters truly run with the motivation of spiritualizing the race, every step of the way.
---
COMMUNITY NEWS
CHABAD OF THE NORTH COAST JEWISH OUTREACH IN KZN
Shlomo Wainer


Miracle Drive 2013

The holiday period was a very busy and exciting time at Chabad. During Channukah the Channukiah was lit each night during the Minyan
On the first night the locals were hosted to a build-a-burger evening, second night we hosted the CSO to a curry and rice evening to express our appreciation for all they do for us. We enjoyed scrumptious latkes. Many guests enjoyed our hospitality, with some late bookings having to be turned away.

Dave the chef (Jacobson) displayed his excellent culinary skills by making the food for a curry and rice evening, Fish and chips, Pasta, build-a-burger and braai evenings.

Both holidaymakers and locals enjoyed a variety of Kosher foods at the New Pick n' Pay in Umhlanga. Available ready-made kosher grilled chickens, smoked chickens, schnitzels – chicken and beef, wide range of Kosher cold meats, Kosher wines and grape juice and huge range of Brooklyn Foods, from Challahs(kitkas) to cinnamon buns, variety bagels and more.

Various outings with families took place as well and groovyballs (zorbing) was a total blast for the kids. We also enjoyed a "laughter therapy session" with the laughter therapy "Professor" Shireen Richter.
Minyans, Guest Rabbi and good Chassidishe Fabrengens took place over the holiday season. Some Shabbosim there where more than 150 people at the Kiddushim. We had young rabbinical students down who went around putting on Tefillin with Jewish men and encouraging kashrut and Shabbos too. Chabad in Umhlanga together with the UKA (Umhlanga Kosher Accommodation) hosted hundreds of guests for Shabbos hospitality too.

We would like to thank all those who supported us and we look forward to your continued support during 2014.
Shlomo Wainer & Phyllis Glass
---
Chabad of the North Coast
Recent Events – Pesach 2013 and our Minyanaires Club
Alana Baranov

We had superb communal Seders at Chabad this year with 101 guest and locals for first night and 73 for the second night.
Wednesday evenings' Minyanaires is growing and each week there is something happening after the minyan - Klabejas, Sushi, Movie Night, Fabrengen Night etc. The locals are loving it - Chabad Rocks Umhlanga!!
Stay in touch!
If you would like to receive SMS notifications for Shabbos and events please SMS your name and number to 0825500503. If you would like to subscribe to our bi-monthly email, mail us on chabadnc@global.co.za. Check out our website at www.chabadnc.com.

WITH A SMILE By Mia Roth
Two years ago my two grandchildren and I were strolling along the beach at a holiday resort on South Africa's North Coast called Umhlanga. We had a family flat a block away from the beach and were enjoying the summer sun.
At that time, Judaism played a very small part in the lives of my grandchildren, my daughter's two children. My daughter had had a leg amputated when she was twelve years old. It made her adolescence a difficult time for her and when she married Jimmy, a non-Jewish boy from down our street, although initially upset, I eventually accepted the fact that this was part of the fallout from her disability.
A year later my grandson was born. I arranged for his his brit mila (circumcision). Three years later, my beautiful granddaughter was born and shortly thereafter the whole family moved from Johannesburg to a very pretty town, two hours from Umhlanga. There were no Jews in the town and for the first twelve years of his life, my grandson had no Jewish instruction.
But that all began to change one summer morning. As my grandchildren and I strolled along the beach, I noticed a large sign that said, "North Coast Chabad." Though I later found out that the sign had been in this conspicuous place for many years, I had never noticed it before. Why I saw it that day I don't know.
"David," I said, "Go see if the Rabbi is at home."
"What for?" asked David, quite reasonably. "What shall I say to him if he is home?"
"Just go and see," I answered.
Off David went, reappearing minutes later. Behind him was a rather roly-poly figure, dressed in black, looking a bit confused. I was confused as well. What did I want to say to him? Nothing in particular, it seemed. I introduced the two children and myself and then we said goodbye and went home. In the end, I think he was as perplexed at the encounter as I was. I told my daughter that we had met a rather nice rabbi that day and my granddaughter added that she liked his smile. That was our first meeting with Shlomo, Rabbi at North Coast Chabad.
A few months later, in my Friday afternoon phone conversation with my grandchildren, my granddaughter asked me to bring her a prayer book. Naturally, the next time I went to visit, I brought her a prayer book. This was a rather inexplicable request on her part. She had no knowledge of Hebrew at all and was only six years old, so she could barely read English, never mind Hebrew. Every evening after this, she insisted that her mother read to her from the prayer book at bedtime. Given her newfound interest, I went to the Chabad bookshop and bought a few more books.
It was now two years later and David was going on thirteen. Of course, I would have liked him to have celebrated his Bar Mitzva in a fitting manner, but it seemed unlikely that this would happen. He had had no formal Jewish education and there were no Jews where they lived.
One day I got a phone call from my daughter. Rabbi Shlomo and two young Lubavitch students came all the way to their town to pay them a visit. My daughter had said "hello" to Rabbi Shlomo in Umhlanga a week or two before and he expressed wishes to visit her. Shlomo managed to win over not only my granddaughters with his lovely smile, but the whole family, including my son-in-law. Of course, it was not only the charm of his personality that won them over, but the Lubavitch way of not condemning anybody and accepting the situation for what it is and proceeding from there.
Before long, Rabbi Shlomo had David learning the blessing to be recited at the Torah. Suddenly it looked as if David would have a Bar Mitzva after all! When Shlomo ascertained that my granddaughter had never been named at the Torah, he suggested the name Ariela - a name she liked immediately. The following Shabbat we went to shul and Ariela received her name.
Two months before the Bar Mitzva, Jimmy got an offer to work in Australia and the family emigrated. The only person they knew in Australia was Jimmy's sister and her family. Coincidentally, a good friend of his sister was the secretary of the local Jewish day school. The next thing I heard, both children were attending the school! This meant that the family had to rent a house nearby. Coincidentally this house happened to be across the park from the shul run by another Lubavitcher, who welcomed them with the same warmth as Shlomo, though, as my Ariela pointed out, Shlomo's smile was still the best.
The Bar Mitzva finally took place on a Shabbat two months after their arrival in Australia. The Friday night meal was a small family gathering augmented by the presence of my oldest son who came specifically for the occasion. Jewish friends cooked, attended, and helped to make it a special event. We had a kiddush after services on Shabbat and all went well. When I left to go back to South Africa three weeks later, my daughter's last request was that the next time I came I should please bring a few mezuzot. She only had two to put up and their new house has five outside doors. Ariela overheard this conversation and made me promise to bring one for her bedroom door, as well.

---
Chabad of the North Coast
Bringing the 'aloha' spirit to Umhlanga Rocks – Purim 2013
Alana Baranov

Purim at Chabad this year did not disappoint! The exotic theme of 'Purim in Hawaii' transported all present to a tropical island paradise. With an interactive video megillah reading, colourful skirts and flowery necklaces, and everything from prego rolls to mash and gravy on sale, the day was fill of the spirit and joy of the Chag.

Chabad of the North Coast is the place to be for Purim 2014.

---
Chabad of the North Coast
Miracle Drive 2013
Alana Baranov

The mitzvah of tzedakah is always at the heart of every Miracle Drive. This year's event, Miracle Drive 2013 hosted at Chabad of the North Coast on Thursday February 28th, focused on the idea of the hand and the awareness that everything has been created by the hand of G-d. This theme was carried throughout the evening and symbolized by everything from the delicious finger foods to the magical slight of hand of the outstanding entertainment.

Drawing locals, Jews from across Durban and even a few visitors from Johannesburg, this year's Miracle Drive has a relaxed, social atmosphere.

"We are not mean to just talk about mitzvahs", said the Director of the Chabad of the North Coast Shlomo Wainer, "but to get involved and use our hands to carry out acts of righteousness". Shlomo also took the opportunity of Miracle Drive 2013 to express his gratitude to the community.

An incredible presentation of just some of Shlomo's efforts, from since 1996 to the present day, gave an unbelievable insight into the work carried out by Chabad of the North Coast and its charismatic Director. From the 2440 mezuzahs that have been affixed to the 1023 hospital visits to the 2634 shiurim, each figure represented a world of life-changing interactions.

The main entertainment for the evening was Pretoria-born illusionist Ilan Smith, whose incredible skills and polished magic show left the crowd in awe. Guests were then treated to an insight into the Kinus HaShluchim 2012 Conference, as a video of the keynote speaker, South African Rabbi Ari Shishler, and an introduction by Steven Solarsh, was screened. The powerful message of 'haYom Yom' or making every day count transfixed the audience.

Thank you to Shlomo and Devorah Wainer once again for an outstanding evening and for bringing Miracle Drive to Durban in 2013!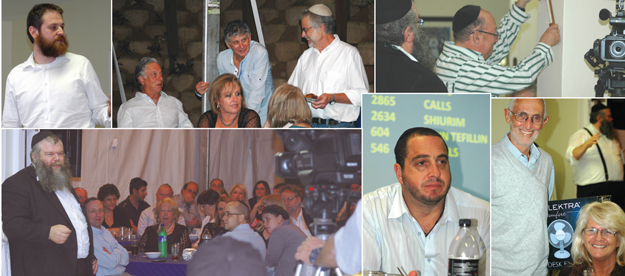 ---