COMMUNITY NEWS
Eden College
- By Norma Bloch
Shalom
Mr Russel Wolman father of Sam, certainly knows his way around the kitchen. For our Rosh Chodesh Av breakfast he made us a scrumptious breakfast and in record time too. He has generously offered to help us whenever he can and we will certainly be taking advantage of his expertise in the future!!
Oren and Josh once again competently led the Shacharit service. We are always so privileged to have Shlomo's participation and support in all that we do.
For our Tisha Bav ceremony we all made a Kohen Gadol cut out with all the relevant garments. The pupils then ate the traditional egg and beigel dipped in ash Seudat Hamafseket meal. As can be imagined, there were lots of "gross!" and "do I really have to? "being heard. But they all managed to sample a bit of the meal before we went into the darkened synagogue where Shlomo gave a shiur.
Our children are so blessed to have a person of the calibre of Shlomo be part of all their celebrations.
I am thrilled to have Chani (Shlomo's daughter) back with us for a short while. This charming young lady is a delight to have around, her passion for her teaching is a joy to behold. Thank you Chani for all the knowledge you impart to our young students.
What could be more fun than ending the week with Challah baking. The pupils from grade 000 to matric participate with joy and enthusiasm in this activity. The howls of laughter and spirit of comraderie does not deter them from the serious art of challah baking.
We wish our matrics luck in their upcoming trial exams.
Until next month.
---
COMMUNITY NEWS
Eden College
- By Norma Bloch
Shalom
Excitement, joy and shrieks of delight were the sounds that could be heard at Eden College on our "Purim Carnival" day.
After the Jewish Studies primary school children narrated the story of Purim to the school, we held our annual fancy dress competition.
The theme this year was "The Mad hatter's tea party". Teachers and pupils really got into the spirit of the day with their weird and outlandish hat creations. The heads of Judaica were the judges and did a brilliant job. They took great delight in insisting that all the teachers dance and parade on the stage before they could announce the winner. Seems to me like they could have been exacting some revenge!
Different carnival activities and stalls were laid out on the field. Snake handlers, jugglers and men on stilts intermingled with the pupils thrilling them with their skills and talents. A big thank you to Keren Pocock and her family who generously sponsored these entertainers making the day such a great success.
The pre-primary school celebrated a carnival on their field also enjoying a carnival atmosphere with the entertainers and their fancy dress party.
For the Jewish children the day ended on a high with the exchange of mishloach manot and then... the best part ever of course was the baking of their own hamentashen.
Until next month.
---
COMMUNITY NEWS
Eden College
By Norma Bloch
Shalom
The Eden Rosh Chodesh Breakfast Club is the Judaica Department's newest innovation.
Our first breakfast got off to an inspiring start with a few invited guests celebrating with us in morning prayers, which were enthusiastically led by the Heads of Judaica. Shlomo then put up the rekoshered mezuzot in our beautifully revamped Centre.
Of course, breakfast wouldn't be breakfast without food, and so we all enjoyed the fruits, yoghurt and buns served in honour of the end of the month of Shevat. What a stimulating and positive way to welcome in the new month of Adar!
We had the most fascinating lesson with Rabbi Vegoda in which he helped students work out the numerical value of their Hebrew names. Each student then eagerly waited for their individual 'consultation' with him, in which he explained how the value of their name correlated with a word found in the Torah.
Of course Friday challah baking is always a huge success. I often think that our high school students enjoy it more than the younger ones. Do yourself a favour - walk past the Judaica Department on a Friday simply to hear the laughter and chatter, and to feel the spirit of collaboration and community.
Lehitraot until next month.
---
COMMUNITY NEWS
Eden College
The venue for our 1st outing of the year was The Mangrove Swamps. This location gave the pupils a good understanding of the conditions experienced by the first chalutzim when they made Aliyah to Israel (or Palestine as it was then called.) Just as the chalutzim planted trees to reclaim the land, so did the children celebrate Tu Bishvat by planting their own seedlings and as is the custom enjoyed, in the home made fruit salad that the high school students made for them. Not only did the pupils enjoy the fruit salad but some of the staff who we served it to also commented on what talented chefs we have. The high school pupils all agreed that they had great fun cutting and dicing.
The pre primary school celebrated by helping Sakile plant a fig tree in the garden. Thereafter they returned to the Judaica Centre where they created their own trees made from biscuits, sweets and all yummie treats. They thoroughly enjoyed devouring their creations.
We are delighted to welcome my daughter Mrs. Lauren Bloch Ahn and Mrs. Julie Levy to our Judaica team. We are very lucky to have two such caring and talented teachers join our staff.
---
COMMUNITY NEWS
Eden College
Norma Bloch
Shalom,
On the 8th of September the sweet smell of honey cakes and the sound of children's laughter filled the air of the Judaica Centre. The kitchen was a hive of activity with busy hands baking, mixing, measuring and beating the ingredients of the honey cakes. Although Pick and Pay doesn't't have to be afraid of any competition just yet, we all had a great time baking and then eating our creations.
During the holidays the pupils eagerly attended a sukkah decorating party. Our sukkah was erected in the grounds of the school and it was wonderful to see how many children, parents and even grandparents willingly participated in our celebrations. Of course we were so grateful to Shlomo and the young men who accompanied him and who patiently encouraged each person to fulfil the mitzvah of the Lulav and Etrog whilst reciting the brocha.
Everyone worked together cutting, colouring and hanging up the decorations. Our hard work paid off as the sukkah looked celebratory and festive. We finished just in time as the rain soon teemed down.
Until next month.
---
COMMUNITY NEWS
Eden College
by Norma Bloch


Shalom.

The DHSA kindly paid for the tickets of the high school Jewish pupils to attend the screening of the movie Woman in Gold.

Josh Aronoff writes: On behalf of Eden College's Judaica Department, I would like to offer my sincerest thanks for the opportunity afforded to our students to watch Woman in Gold. It was an enlightening opportunity to witness the reparations made to rectify the injustices committed in the Holocaust. It was an era which required Jews to unite and combine into a formidable force capable of surviving the barbaric acts perpetrated by the Nazis. The movie was only one illustration of the Jewish peoples' ability to survive and thrive after World War 2.

Chani Weiner has spent the past 8 months at our school and she has brought much passion and contributed immensely to our department.

Jade Friedman writes:

This year we, the Jewish students of Eden College, were blessed by the presence of Shlomo Wainer's daughter, Chani, a genuine and loving soul. Chani led the morning prayers for the younger children. She intrigued them with joyful songs, educational yet fun activities and her passion for motivating chessed. She enjoyed being able to teach the eager youngsters.

It was nearing her departure when I began to study her songs and observe the way in which she handled the morning prayers. I was looking forward to taking the children under my wing. However, I was dreading the fact that a dear friend of mine would be leaving. Chani is a beautiful woman but more importantly her inner-beauty radiates; through her blinding smile, her caring eyes and her gentle words. We will miss you Chani and all that you did for us and the Judaica Department. I wish you all the best as you journey into new experiences. You deserve only the best. I will continue to encourage acts of loving kindness, tzedakah and mitzvot and I know that you will do the same wherever you venture.

SHALOM CHANI

It is with a very sad and with a very heavy heart, That we bid farewell to Chani who is about to depart. She taught us with passion dedication and with no fuss, Touching and leaving her mark on each and every one of us. In the beautiful holy city of Safed in Israel she will stay, As she continues to study Torah and to follow in Hashem's way. We wish her luck and know that whatever she does she will always succeed. It has been a joy knowing her and a blessing for all of us indeed.

Shalom Ulehitraot.
Eden Judaica department
Until next month.

---
COMMUNITY NEWS
Eden College
- Norma Bloch
Shalom,
Lag Baomer and the Eden swimming pool was alive with chatter, laughter and celebration. The fires for the braai were lit, and the children were finishing off the treasure hunt. We were ready for the highlight of this joyous festival – the archery challenge.
All eyes were focused on the pupils as they took up their Talmud Torah bows and arrows. In unison, we waited as they took aim at the spectacular target board – created by our resident Rembrandt, Josh Sarjeant. Much to the disgust of the boys – but to the delight of the rest of us, the swiftest and surest arrow belonged to one of the young ladies! None other than Talia Harris! The general view was: "That was the best fun ever. When can we do it again?"
Next in the term's calendar was Yom Yerushalayim, which saw Chabad House's Function Hall transformed into the old city of Jerusalem. The pupils' re-enactment of the 1967 reunification of the city began with us entering the city through the Lion Gate and making our way to the Kotel. Here we recited the Shema and heard the sound of the Shofar. Shlomo and his friend demonstrated how to lay tefillin, and finally came the happy munching on Israeli fare, like Bamba and Bisli.
Then it was back to Chabad House for the Shavuot celebrations, after delivering our bikkurim. Shlomo had the pupils mesmerised with his knowledge about how the Torah is made and then helped each one find their name in the sacred scroll.
Pupils built their own Har Sinai with the delicious ice-cream Chani had made and decorated them with a variety of sweets and treats. They then thoroughly enjoyed devouring their masterpieces.
Our pupils are so blessed to have so many opportunities to learn about their religion in such innovative ways.
---
COMMUNITY NEWS
Eden College
- Norma Bloch
Shalom,
A candle lighting ceremony and moving recollection of personal accounts about this tragic time in Jewish history was held during morning prayers in honour of Yom Hashoah.
Yom Haatzmaut was celebrated with delicious Israeli treats generously donated by Mr. Ben Hamoo. The high school pupils had great fun making up their own pitas overflowing with tasty felafel, hummus and tchina.
Kendyll Jacobson, the Youth worker for the Kwa Zulu Natal Zionist Council, conducted a fun filled meaningful Yom Ha'atzmaut programme. The young pupils enjoyed re-enacting the resettlement of the land of Israel by the Chalutzim (pioneers). The Eden College pupils designed their own passports and could only enter through "Passport Control" once they had correctly answered the Israel based questions. They were rewarded with a decadent home baked piece of cake which they had great fun decorating with the Israeli flag and greater fun eating.
Until next month.
Lehitraot.
---
COMMUNITY NEWS
Eden College
Norma Bloch
Shalom,
The last few weeks of the first term were spent busily preparing the pupils for the Pesach Seder.
Our first Seder was organised and hosted by Chani Weiner for the pre-primary children. The success of the ceremony was testament to Chani's dedication and passion for educating these young little mites. Power point presentations and interactive games and songs were used throughout, and the pupils sang along with gusto and joy. They especially enjoyed hunting and burning the chametz, to say nothing of the search for the Afikoman which of course always means the finder gets a prize.
Although the numbers of pupils attending our Primary and High school Seder were depleted owing to so many being on vacation, the combined Talmud Torah and Eden Seder was still an enormous success. The High School pupils led the proceedings with confidence and ease. The renditions of the traditional prayers together with the use of modern, fun tunes and videos made this Seder significant and meaningful. All ages were included. Our pre-primary pupils treated us to some of the songs they had been taught and our Oren Cohen and Dylan Cohen sang some of the traditional prayers in perfect harmony, bringing tears to all our eyes.
The day culminated in a traditional Seder meal lovingly cooked by our capable group of moms.
So until next month.
---
Community News
Eden College
Norma Bloch

In my many years at Eden I am confident in stating that our 2015 Purim day rated the most successful ever. This was in no small part due to the involvement and commitment of our wonderful enthusiastic band of moms. The day began on a joyful note with the Jewish children leading the school assembly, with "Purim according to Bobba Goose" - the story of Purim set to a Nursery Rhyme theme:

(Tune - 3 blind mice)
2 sneaky spies 2 sneaky spies
See how they lurk, see how they lurk,
They plotting all day by the castle gate,
To Kill Ahashvarosh the King that they hate,
Mordechai was able to reverse the king's fate
2 sneaky spies

Our audience was totally captivated and attentive. The highlight was the grand finale with the entire prep school singing and dancing along to the popular "Purim Gragger style" (i.e. Gangnam Style).

What fun watching everyone performing the movements together. They certainly did not need a gym work out that day!!!!

Our Judges (the parents) then awarded the Purim Parade prizes to the best dressed masquerader in each class.

The school field as the centre of the celebration was buzzing with a carnival atmosphere. Stalls were manned by the grade 6 pupils; and jugglers, men on stilts, a snake handler, and a very clever man who could turn a balloon into any shape or form, entertained us and mingled with the pupils. And of course a carnival would not be complete without the jumping castles and slides. Each class waited patiently for their turn. We are so grateful to the DHSA and a very kind grandfather who sponsored our entertainment.

The Jewish pupils were then whisked off to Beth Shalom where they handed out mishloach manot and chatted to the residents. And then back to school to enjoy a seudah which of course included the delicious Hamentaschen that Mrs. Keren Pocock and Mrs. Sue Jacobson had baked to perfection.

So until next month.


---
COMMUNITY NEWS
Eden College
- Norma Bloch
Shalom,
Ask any of our little pre-schoolers, "What is Tu B' Shevat?" and they will tell you, "It is the New Year for Trees!" On the 15th day of the Hebrew month of Shevat, our pre-schoolers transformed into avid gardeners, helping Sakile plant the new Olive Tree in our Eden Garden. And after their exhausting work they returned to the cool of the Judaica Centre where they gobbled up their ice lolly treats.
Meanwhile, our primary school pupils went off to visit the Victor Daitz Eco Centre at Hammarsdale, which is the initiative of The Jewish National Fund. While we picnicked, we listened to an interesting talk about how the organisation provides environmental education to the community.
After sampling Mrs. Jacobson's seven 'Israeli species', and listening to the step-by-step lesson on how to plant a tree, we were ready to dig. Even the heat of the day didn't deter our spirits and we all shovelled, raked, dug and turned the soil and at last the tree was planted. We returned to school exhausted, but happy.
The Torah tells us that "Man is a tree of the field". Our roots are deep, going as far back as Abraham and Sarah. We stand proudly, on firm ground. We reach upwards to the heavens; and when we live our lives well, with honour and grace, we produce fruits that benefit the world.
May the fruits of our labour on the day of Tu B'Shevat benefit the generations to come!
Until next month.
---
COMMUNITY NEWS
Eden College
- Norma Bloch
Our 2015 year started on a joyous note! We were delighted to welcome so many new pupils into our Judaica Family, as well as the new teachers who will contribute an extra dimension to the Jewish Learning Programme at Eden.
A hearty welcome to Miss Chani Weiner who is teaching Jewish Studies from Grade 000 to Grade 0. She also runs prayers for the primary and preschool pupils each morning. Mrs. Helene Cohen is now assisting on a more permanent basis with the Hebrew lessons. We are delighted to have this quiet yet diligent educator in our department. We are happy that Mrs. Sue Jacobson will still be running the Talmud Torah Club on a Wednesday afternoon. The vibrant and innovative Bensie Hebrew Programme will be taught by Mrs. Chani Tomlin.
Now on to our capable learners: The High School pupils continue to show their leadership in running the Prayers Programme each morning under the guidance of our two Heads of Judaica – Joshua Aronoff and Oren Cohen. The pupils of the Judaica Department have once again achieved exemplary results. Well done to Joel Kaplan, our matric pupil, who passed his final exams so well, even achieving a distinction. Doron Werner continues to bring such nachas to all of us. We were extremely proud of him when he was made head boy of Eden School. He also received full academic colours for his 2014 final exams and half colours for public speaking. Josh Aronoff was elected as a representative to the Durban Youth Council and attained full academic colours for his exams, as well as an award for the Siat Maths exam. Josh was also chosen to be team manager to the F1 in schools challenge, a project headed up by Top Gear and DUT, in which a balsa wood car is designed and created, accompanied by a detailed portfolio describing the whole process. Josh is also a member of the Students Representative Council and for the cherry on the top of the Kosher Cake, he is treasurer of Interact. Well done to Jade Friedman our "rose amongst the thorns", who achieved full academic colours and passed her international A1 french exam.
Mazeltov to: Joshua Sarjeant, our budding artist who received a well-deserved distinction in this subject, Oren Cohen who passed and earned a distinction in Life Skills and Gabriell Marks, who received a Merit Certificate for attaining an overall aggregate of over 80%.
---
COMMUNITY NEWS
Eden College
- Norma Bloch
Shalom,
On Sunday the 23rd of November, Talmud Torah and Eden College pupils gathered together at the Holocaust Centre to celebrate our first joint prize giving event.
The pupils of Eden and I decided to present our annual Judaica Report as a radio programme. What fun we had compiling the script!!!! Our Radio Station was called not "Eden Educate", but "Eden Air Jew cate". So on that light-hearted note, Doron Werner and I were the anchors who interviewed a special panel of invited guests (Eden pupils) about the various activities they had enjoyed throughout the year.
Of course we thanked our producers and directors, Mr. Zulberg and Mr. Marcellin for their continued support. We paid tribute to our sponsors, The DHSA, and all the other organisations that had played an active role in supporting our successful and ever-increasing department.
I can say with confidence that "Eden Air Jew cate" was an instant hit with our studio audience (the parents and invited guests). Watch this space for next year!
The roll call of just some of the well-earned prizes and awards were as follows:
The Union of Jewish Women Gemilut Chasadim Award, went to…Oren Cohen.
The KNZC Herman and Geraldine Davidson Award for the pupil who is most dedicated to promoting love of Israel and Zionism, went to…Oren Cohen.
The Talmud Torah Achiever Award in Jewish Studies, went to…Josh Aronoff.
And, the Mensch Award for compassion, politeness and pureness of heart went to…Doron Werner.
One of the highlights of the day was the Talmud Torah draw for 2 tickets to Israel. Mazeltov to the winners!
We hope everyone enjoyed their summer holidays.
Until next time.
---
COMMUNITY NEWS
Eden College
Norma Bloch
As usual the 4th term is jam-packed with exciting activities!
What constitutes a community? This is the question that our
primary school pupils are grappling with, and to help them, we
have taken full advantage of Mr. Gary Plen's expertise. Not only
did Gary present an enlightening talk on the laws of kashrut, but
he is also hoping to help our pupils experience the practical side
of kashrut, right in the supermarket! The excitement is almost
palpable with pupils continually asking, "When are we going to the
Kosher Supermarket?"
Earlier this year, Oren Cohen in Grade 10 attended a Hadracha
Tzeira programme in Israel, which happened to coincide with the
'Operation Protective Edge' war. He recalls his experience:
During the July holidays I had the privilege of going to Israel with
Bnei Akiva on their amazing programme Hadracha Tzeira. As soon
as we landed at Ben Gurion airport I experienced the incredible
feeling of 'arriving home'. Our journey started straight away and
we boarded our buses and were taken straight to Jerusalem to
the Kotel. It was an overwhelming experience to be at the Kotel
and a perfect start to our adventure. During the first few days the
tension was running high between Israel and the Palestinians. So
for safety reasons we didn't go to certain planned destinations. We
were in the north when Operation Protective Edge began. It was
quite amazing to be in Israel during this difficult time as we saw
how unified the whole country was. We really experienced the true
meaning of Am Yisrael Chai and truly felt safe. Our tour carried on
as planned and with minor changes to the itinerary, we experienced
every aspect of Israel from the Golan Heights down to Eilat, even
sleeping in a Bedouin tent on the way. We spent four days on an
army base experiencing a taste of army life. We learnt how to shoot
an M16 and more importantly how to follow commands in Hebrew.
While on the army base we had to run to a bomb shelter during a
tzeva adom siren which was quite a daunting experience. Thank
goodness we were all safe and after five minutes we continued with
the planned activities.
We all had an amazing time and felt proud to be in Israel showing
solidarity for our fellow Jews and the IDF. We also spent a morning
picking onions for an organization which feeds the underprivileged.
Bnei Akiva Hadracha Tzeira is a spiritually uplifting and awesome
programme where lifelong friendships are made, and I highly
recommend it to the Grade 10s of next year.
…Until next month.
---
COMMUNITY NEWS
Eden College
Norma Bloch
Shalom,
The annual Rosh Hashanah ceremony presented by the Jewish pupils to the school was a resounding success. The ceremony started with an explanation about the importance of the day, followed by the pupils reciting the poem below. The highlight of the morning was when our talented young dancing girls entertained the school with a spunky foot-tapping Rosh Hashanah dance. We ended on a high note with the whole school eating apples dipped in honey, and scrumptious honey cake.
Rosh Hashanah assembly poem, presented by Eden Primary pupils
We are here to explain on this assembly day. About Rosh Hashanah an important Jewish holiday. Let us now all pay attention and have some fun, by explaining the letters of Rosh Hashanah one by one.
R – is for the Rosh the head or the beginning of the year.
O – is for the opening a chapter in our lives new, white and clear,
S – is for the Shofar the ram's horn that rings out, Reminding us what Rosh Hashanah is really about,
H – is for Hashem our G-d who decides our future and fate,
On this most serious and important Rosh Hashanah date.
Now that we have explained the first part, the letters of the next word we are ready to start.
H – is for the health, happiness and hope we wish one another.
A – is for the amazing and delicious meal prepared and cooked by my mother.
S – is for the sweet and tasty treats, in which we delight.
This is certainly not the right time to start a new diet!!!
H – is for some of the Hebrew prayers and greetings we recite in shul,
Luckily we learn them while attending Eden School.
A – is for the awakening of our souls to do deeds that are good and fair,
N – is for the new year for which we must all prepare.
A – is for the anniversary the birthday of the world, the creation.
H – is for the honey and apple we eat at the Rosh Hashanah celebration.
Now there is only one thing we need to add, A happy and sweet new year, we wish to each girl, boy, mom and dad.
Until next term.
---
COMMUNITY NEWS
Eden College
- Norma Bloch
Shalom,
Our pupils returned to school refreshed and ready to take on the challenge of the last 2 terms. This month some of the high school pupils wrote about what Eden College means to them. I was so impressed with their love for this truly special school.
Joel Kaplan our matric pupil wrote this article which is filled with sincerity and gratitude: Eden College has an ethos of equality and acceptance. The level of tolerance goes far beyond what one might imagine. In light of the current conflict in the Middle East, the animosity has not spilled over into our school. We are still able to enjoy the school atmosphere without letting the conflict come between us.
The programme Mrs. Bloch has run has been extremely successful. She has courageously tackled the challenge of running a stable Judaica Centre after Rabbi Thurgood's departure. We are truly grateful for her kindness.
I would like to thank Mr. and Mrs. Friedman for taking over the tuck shop at such short notice. They have truly made it our central social hub.
As for Mr. Marcellin, our head master, I don't think any other principal could possibly run Eden College like him. The school would just not be the same. I thank him for his patience and dedication.
In my final days of studying at Eden College, I would like to thank everyone who has been a part of my school career.
Finally I am grateful to the DHSA, for this generous organization had great input into Eden College, our small school with the great ethos, and the highest level of excellence.
Josh Serjeant wrote: Eden College is a very diverse school with friendly students and a friendly atmosphere. It is easy to be happy at Eden as all the pupils are welcoming towards newcomers. I like this school where I have grown up amongst my friends.
There are so many interesting new things to learn about. We also have a Judaica centre, which is a place where Jewish students can learn about their heritage and the Jewish way of life, which can teach us so much.
Jade Friedman wrote: I was asked to write about what my school means to me, when asked this I could not answer because in truth it should be what my second home means to me and then I can answer to the fullest.
I have been part of this institute since the very beginning. Some people say it is not strict enough, but that is one factors of many that makes it Eden. To that I say self discipline is necessary if you want to achieve completely.
I support Eden with my whole being and I truly believe there is no school that can compare. There is something totally special and unique about it. My second home supports the arts and the arts are of the utmost importance to me.
Waking up every morning, I am not getting ready for school but for life and since my parents took over the tuck shop; I have been enjoying my days even more. I have learnt to appreciate them and all they are willing to do for me and my second home.
The teachers here are so wonderful. Many inspire me, some challenge me and in the end they will have given me sufficient knowledge and a beautiful foundation to find my path in life.
My friends here are wonderful people with such character and a zest for adventure and discovery and I thank these people graciously for giving me the opportunity to smile even on the cloudiest day.
Until next month.
---
COMMUNITY NEWS
Eden College
- Norma Bloch
Shalom,
There are many lessons that the beautiful festival of Shavuot teaches us, however one of the most significant themes is that of loving-kindness.
Loving-kindness stands at the centre of the Book of Ruth which we read in Shul on Shavuot. This year "The Generation Sinai" programme focused on the story of Ruth to emphasise the importance of compassion, kindness and benevolence - so relevant to the turbulent times we live in.
The success of our parent/child integrated "Generation Sinai" session was due to the number of parents who participated so eagerly - and we all enjoyed the 'fruits' of their efforts, or should I say, the milchik pastries and cakes in accordance with the tradition.
It was with ambivalent feelings that we welcomed Rabbi Perez back to our school. We were of course delighted that Talmud Torah had once again included us in his Durban visit, but knowing that this was his final shiur at Eden, we were really sad. The pupils' letters of thanks were a living example of how much they valued his lessons and how much influence he had on them.
Dear Rabbi Perez
I hope your journey is a happy one. By journey I mean your life's new pursuits. The journey you have given my mind is a plentiful one which helped to influence my views. I am privileged to know you and to have your beautiful and insightful messages in my mind.
I love how you not only talk about Judaism directly but you link it up to things like mythology which I absolutely adore.
Thanks for all you have done for us.
Jade Friedman
The term ended with the dreaded midyear exams, but I am confident that our pupils all fared very well.
Until next time.
---
COMMUNITY NEWS
Eden School
Norma Bloch
The 2nd term started on a joyous note with the celebration of the festival of Yom Ha'atzmaut, followed closely by Lag B'omer. For our celebration, the foyer of Eden College was transformed into an Israeli-style Café. Mr. Ben Hamoo of "Falafel Fame" came to the school and made his famous falafel with all the accompaniments for the pupils. "Delicious!! Please can we have seconds?" was the general response. Mr. Hamoo then attended our weekly Shabbat service and told the pupils about his time in the Israeli Army. Thank you Mr. and Mrs. Hamoo for making our celebration so relevant!
It is always a pleasure to host Rabbi Vegoda. This humble and knowledgeable man knows exactly how to relate to the pupils from Grade 1 - Grade 12. We enjoyed a most informative shiur relating to Shavuot and look forward to the Rabbi visiting us again.
Until next month.

---
COMMUNITY NEWS
EDEN COLLEGE
Norma Bloch

Shalom.

We were so fortunate to be included with the pupils of Talmud
Torah to go on a visit to the Chabad Shul.

Shlomo held the pupils, parents and teachers captivated with his
explanations about the important objects that are found in the
Synagogue. The children's enthusiasm and understanding was
clearly demonstrated when it was question time. They were
all extremely proud to show off their knowledge.The highlight
of the day was when Shlomo took the Torah out of the Aron
Kodesh. All the children clamoured to have a close up inspection
of this holy precious book.

To end this successful day the children were treated to a party
with drinks and snacks galore.

We hope to enjoy many more functions with the pupils of
Talmud Torah and look forward to hosting them at our school
for the annual Passover Seder.

Until next time.

---
COMMUNITY NEWS
EDEN COLLEGE
Norma Bloch

I would like to apologise for, and amend the incorrect information
that I recorded in the last Hashalom issue: The Union of Jewish
Women Award was awarded to Joshua Aronoff.

As I sit back to reflect on the year 2013, I do so with a great
sense of pride and accomplishment.

I am sure you will agree that these pictures speak louder than
any words and they encapsulate the pleasure and success of the
functions and celebrations enjoyed during the year. The calibre
of these students has enabled all of us to achieve all the goals
that we set out to accomplish
So until next time.


---
Eden College
Norma Bloch

On the 17th of October we hosted our Judaica Prize giving. This year we decided to give a totally new spin on the format of the event and opted for an Israeli Breakfast. What a resounding success it was – starting with the morning Shacharit service led very competently by Doron Werner, through to the prize giving and delicious breakfast catered by Sharon Levitan.
The attractively decorated tables in the Centre accommodated parents and invited guests, who listened to and viewed a colourful presentation given by myself and the pupils, outlining the various festivals and functions the department had organized and participated in this year.
There were many individuals and organizations to thank for their assistance, generous support, and unwavering backing. Without their continued contributions, the department would cease to exist. As each one was thanked they were called up to place their photo on our Gratitude Board, displayed in the shape of a Magen David.
Last but not least, we paid tribute to each pupil, equating their virtues and talents to those of biblical characters with whom they shared their Hebrew names. Some of the special prizes awarded included:
· The Herman and Geraldine Davidson Award for Zionism was presented to Oren Cohen.
· The DHSA award went to Doron Werner, who is also our new head of Judaica.
· The UJW Gemullat Chassidim Award in memory of Jean Kluk z'l was presented to Joshua Aronoff.
The success of this function would not have been possible without the assistance and help of Sue Jacobson and Jodi Aronoff.
At the time of writing we are heading towards our end of the year exams, and are madly preparing and equipping our pupils to handle these challenging papers. We wish them all good luck.
---
Eden College
Norma Bloch

Shalom,
As we are nearing the end of the year, I decided to ask some of the pupils to express their views and feelings about receiving a Jewish Education. This is what some of them had to say.
Les Sol writes:
Going to a Jewish day school, I feel helps a lot with me getting in touch with my religion. We learn things that Jewish children and teens actually need to know. We have the most amazing teachers as well, and due to the fact that the Judaica department is so small, it makes us feel as if we are a family, rather than just students.
We also do a lot to celebrate festivals at school in a fun way. It keeps everyone interested and it also teaches us the importance of having a Jewish education.
Joel Kaplan writes:
During my 3 year career at Eden College, I am proud to say that Jewish Studies is the reason I like to go to school. It is the highlight to my day, and I am so grateful for the highly qualified teachers. I feel that if I would never have had a Jewish education I would have been deprived of an education. I will guarantee that my children will have one too.
Doron Werner writes:
For me being in a Jewish day school is really amazing. It allows me to express myself in a way that I would never have been allowed in another school. Prayers in the morning allows me to talk to Hashem and spend a quality 30 minutes thanking him for everything. Leaning Jewish Studies allows me to learn the history of my people and how we got to the where we are today. Without Jewish Studies I feel that I wouldn't have the great Jewish knowledge base and for that I am extremely grateful.
Rachel Van Rooyen writes:
I like going to Eden as we get to learn Hebrew and Jewish Studies. I love Eli and Morah Norma because we have such fun in their lessons. Shabbat is my favourite as we get to eat delicious challah. I am very lucky to be at this school.
Until next time.


---
Eden College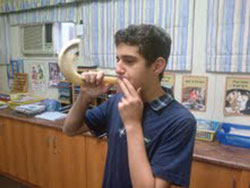 Norma Bloch

Shalom,
If you walk through the Eden grounds in the early mornings you will hear the gentle chanting of prayer, punctuated every now and then with the harsher tone of a Shofar. These are the sounds of the month of Elul – a time of repentance or teshuvah in spiritual preparation for the High Holy Days of Rosh Hashanah and Yom Kippur.
"Davening this month has been going fantastically!" reports Mrs. Jessica Stout who leads us in prayer. "Since it is the month of Elul we have heard the Shofar blown every morning. On Wednesdays, after davening everyone is treated to chocolate milk and doughnuts, and of course Fridays is a special time when both groups sing and daven together. Shkeiach to all of the students who have shown such commitment."
Meanwhile in the Jewish Studies Department we are fully immersed in our preparations for the chag. Our younger pupils will once again host an assembly for all Eden Primary children, in which they will perform the rituals and present the meanings of these days of Awe.
We were also privileged this month to listen to an inspiring and thought-provoking shiur delivered by Rabbi Kornblum in which he drew parallels from the story of Adam and Eve to the choices we make in our lives, which can reshape our destinies. It is always an honour for us to host this knowledgeable and passionate teacher.
And finally, Les Sol, our matric pupil, wrote trials last month. We wish him much success.
Shanah Tova Umetukah.
---
Eden College
Norma Bloch

The July holidays were a welcome break for pupils and teachers alike.
During the holidays, a few of the Eden pupils were lucky enough to enhance their knowledge and love of our culture by visiting or attending different Jewish institutions.
Rachel and Daniel Van Rooyen attended Camp Snoopy and in Rachel's words
"I loved every minute of Camp Snoopy it was cool!!!!"
Joshua Aronoff shares some thoughts and incites about his visit to the Anne Frank house in Amsterdam
Our exploration of Amsterdam was deeply meaningful as we explored the Jewish component of the city's history. It was fascinating to see bridges crossing the canals, proudly displaying plaques commemorating heroic individuals responsible for having saved numerous Jews from becoming Holocaust victims. For me, the most moving experience was our visit to the Anne Frank house. Climbing the steep staircases and walking through the dark, claustrophobic quarters of the Secret Annex where Anne hid behind blacked-out windows, brought tears to my eyes. Otto Frank, Anne's father and the family's sole Holocaust survivor, insisted that all furniture be removed from the rooms of what is now a museum. This is meant to depict the desolate emptiness of his life. Recordings of interviews with individuals, who helped hide the Frank family, were haunting to watch.
I was privileged to read original pages from the now famous diary that Anne wrote. It is almost impossible to describe how incredibly emotional the time I spent in the Secret Annex was.
Oren Cohen attended the Yeshiva Gedolah Seminar:
During my holiday I had the great privilege of going to Johannesburg for five days to study at the Yeshiva Gedolah. I had a great time there and I'm sure that everyone who went on this inspiring winter program will agree with me. We studied torah in the morning and did fun activities in the afternoon. We had some very interesting shiurim which I thoroughly enjoyed. I was happy to meet up with camp friends and I made new friends as well. I hope to attend this amazing winter program next year.
We would like to take this opportunity of congratulating Jade Friedman on her debating achievements. In this article she outlines her progress as a member of the Eden Debating Team:
I joined the debating team this year. Not only did we win our very first debate, but I was named best speaker of the day. After about 3 more successful debates our team was invited to participate in the inter league competitions.
This was a very new and quite frightening experience, as we were separated from our team members and placed into groups with people from other teams. Added to that we were given the topics and only 1 hour to prepare our arguments. My team lost one and won one. Overall we were delighted that out of 20 teams we tied for 2nd place.
The Eden team was chosen to participate in the quarter finals in which we were successful so we advanced to the semi finals. Sadly we did not make it through to the next round; we actually debated against a team of provincial debators. So we really are proud of our achievements.
For me this has been an important and valuable experience.
I look forward to starting again in the next season.
This short 3rd term is jam-packed with celebrations and chagim, for which we are currently preparing.
Until next month.
Shalom
---
Eden College
Norma Bloch

Shalom,
It is astonishing to think that we are already half way through the year. However, as we look back we do so with a sense of pride and achievement, and realise that there is never a dull moment in our department.
Last month was no exception. Prior to our Shavuot celebrations the pupils participated in the annual "Generation Sinai" programme. This encompassed a half hour Torah debate session which the pupils thoroughly enjoyed. Shlomo from Chabad provided much excitement when he visited Eden for our first "Rap with the Rabbi" session. It was a resounding success, and we plan to follow it up with many other lively and animated discussions. Shavuot delights then presented themselves. We all agree, what would Shavuot be without cheese cake? Sharon Levitan's scrumptious cake was a huge treat and much appreciated by the pupils and teachers alike.
We were also privileged and very pleased to have Rabbi Vegoda address the pupils. His knowledge and sincerity are an inspiration to us all.
As exams draw near, we wish our pupils "Behatzlecha" . We know they will each do their very best and we are very proud of them.
Lehitra'ot until next term.
---
Eden College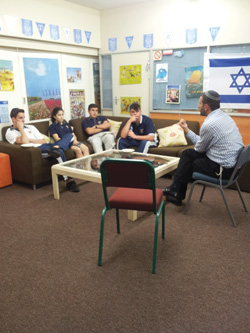 Norma Bloch

Shalom,
It is another eventful term in the Eden pupil's calendar, jam-packed with celebrations, festivals and shiurim which were presented by a range of note-worthy lecturers and speakers.
Some were solemn days, such as Yom Hashoah - the day we remember the tragedy of the Holocaust. The moving candle-lighting ceremony was accompanied by pupils reading excerpts and poems written by children of the Holocaust. Mrs. Marcellin, the Eden College History teacher, gave a thought-provoking talk on the lessons to be learnt from this horrific period.
For Yom Ha'atzmaut our resident Hebrew teacher Mr. Eli Lauwrence Peretz had us captivated with his enlightening lesson on the Israeli Defense Force and his experiences with the 'dog unit'. Pupils commented on how meaningful it was to listen to his real-life stories which they could relate to.
We celebrated Lag B' Omer with glorious weather and a braai at the Eden swimming pool – a South African version of the traditional bonfires used by Jewish communities around the world to mark the lifting of the mourning period between Passover and Shavuot. Eli proved that he is not only a skilled Hebrew teacher and a famous 'dog handler' but also a chef of note, cooking our boerie roll to perfection.
In our series of shiurim, pupils had the opportunity to ask Rabbi Perez a number of interesting questions in his informal question and answer session. Stem cell research was just one of the topics they wanted to know about.
It was an absolute pleasure to welcome back Rabbi Michael Vegoda to Eden College; he devoted his shiur to how we can all become kinder, more empathetic human beings.
Needless to say, as with all Jewish functions there was food a-plenty - from pizzas, to falafel, boerie rolls, to nachos and sweets. Our pupils certainly never go hungry!!!
Until next month.
---
Eden College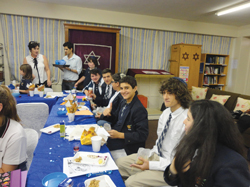 Norma Bloch

Shalom,
I am delighted to report on our annual school Pesach Seder which took place on the 14th of March. Our incredibly competent group of pupils did us proud – conducting the Seder with confidence and assurance. About 50 pupils from other schools joined us in celebrating the chag. Preparations for the day began by transforming the Judaica Centre into an elegant and attractive venue, decorated with blue tablecloths and the most gorgeous serviettes depicting the Pesach festival.
The contents of the Hagaddah were displayed on a large screen, making it extremely easy for all to follow and more importantly enabling everyone to participate in this joyous occasion. We all thoroughly enjoyed the exciting music videos which told the story of Pesach through popular and current tunes – a definite highlight of the function. Thumbs up to advanced technology!
And the food. Of course soup and kneidelach lovingly prepared by a most capable group of moms and traditional Seder fare like charoset, karpas, eggs and matzah were served. But by far the most popular treat of the day were the hot slap chips and ketchup. Yum!
The Eden pupils definitely deserved the praise that they were given by one and all. It was extremely rewarding to watch these pupils conduct themselves in such a responsible and mature way, and in so doing ensured the success of the day.
Until next term.


---
Eden College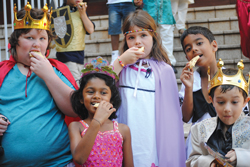 Norma Bloch

Shalom,
The month of Adar is synonymous with joy and happiness, and this is exactly how we experienced our very full and rich month at Eden.

We were honoured to be visited by Rabbi Kornblum, assistant Dean of the Isralight Yeshiva in Jerusalem. Our pupils were fortunate to meet with him and to attend his fascinating shiur relating to Purim. I am so proud of our pupils - their dedication and commitment to learning about their heritage is so apparent and gratifying to observe. Even Rabbi Kornblum wrote: "It was a pleasure coming to Eden meeting you and meeting such kids who were so keen to learn Torah. I'd be very open for a repeat visit my next time in Durban and even open to have an ongoing Skype session with the guys." We are grateful to Talmud Torah for giving the pupils the opportunity to learn from these inspirational and learned rabbis.

Eden on Purim Day was abuzz with excitement and anticipation, as all the primary school children boarded the "Air Purim" flight to Persia. As they settled in to their seats, "Captain Mordechai" welcomed them on board and air hostess, "Queen Esther" made sure they were all safely buckled up, warning that they could expect a turbulent flight especially when they were in the vicinity of Cyclone "Haman". For on-board entertainment pupils listened to the Purim story, and before we knew it, our Captain landed - of course, smoothly and safely.

The excitement and fun continued after the flight with the pupils dressing up for the traditional Purim fancy dress parade and then the Grade 6 pupils along with our very own Jess Stout and Kendyll Jacobson entertaining them with face painting and games, like bowling and fishing, to name a few. Special thanks must go to Jess, Kendyll and Sue Jacobson, who so kindly helped me bake over 250 hamentashen for each pupil to sample.

The entire primary school had generously collected funds for the residents of Beth Shalom so that they too could enjoy a Purim treat. So, after the seudat (feast) Purim, the high school pupils went to Beth Shalom to carry out the mitzvah of mishloach manot (exchanging gifts). They delivered their gifts to the residents and in turn, each pupil received a mishloach manot parcel, reminding them that in giving, there is also receiving.

So, all in all it was a truly successful and gratifying day and month! At the moment we are hard at work for our Pesach Seder, but we will tell you all about that next month.

So until then…May Hashem be with each of you.
---
Eden College
Norma Bloch
Shalom
After a well-deserved summer break, we all returned to school feeling replenished and eager to tackle the challenges that will present themselves in 2013, and also celebrate the achievements that will come.
In the Jewish Studies Department, our year began in a fitting way with the tree planting ceremony of Tu Bishvat. I couldnt help compare the sturdy little saplings that are being planted all over Israel to our small, but significant and firmly-rooted Jewish Studies Department; and how with constant nurturing and support we will (both) continue to flourish, strengthen and become even more productive.
Our comprehensive Hebrew and Jewish Studies programme is an integral part of the learning curriculum at the school and this year we continue to offer pupils a variety of stimulating activities:
Morning davening is supervised by the very capable and dedicated Mrs. Jessica Stout. Watching our pupils daven with such competence and sincerity is a testament to Jessicas efforts.
The Shabbat celebrations are a definite highlight of the week for our Junior Primary pupils. After reciting the prayers and enjoying the delicious challah, they are eager to chill out and listen to a Bible story or the parsha of the week.
We are extremely lucky to have a wide range of excellent DVDs, games and the latest computer technology (e.g. smart boards and computers) which complement our Hebrew and Jewish study lessons and which the pupils love using.
Finally, we are enormously proud of our four Jewish 2012 matriculants who all achieved excellent results. Mazeltov to them! We wish them great success in their future endeavours.
Until next time!

---
Eden College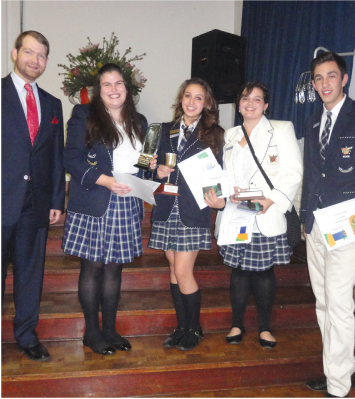 Rabbi Sam Thurgood
Shalom Readers!
It's November, and we're all about exams! Our matrics did outstandingly in trials, and we are confident that they will show the finals who's boss! We are also bidding a fond farewell to Rabbi Thurgood, and looking forward to the changing of the guard as Mrs Norma Bloch takes the reins!
On 15 October, our Jewish matrics showed just how much they bring to the school, and how much nachas they bring to their parents! Between the four of them, they achieved results that a class of 20 would have been proud to share between them - namely:
Kendyll Jacobson (Vice Head Steward) - Achieved distinctions in Afrikaans, Life Orientation, Drama and Art. She also received full academic colours.
Kendyll was awarded 3 further major awards: the Drama Studies Prize, the Brigitta Gaylard Prize for Art, and the Principal's Award, awarded to a Grade 12 student who has an outstanding record in academics, extra curricular activities, leadership and public service. As if that wasn't enough, Kendyll is one of only 6 students who were awarded honours over the course of the year - in her case for Service.
Shira Kimberley (Student Head of Judaica) - Achieved distinctions in (everything!) English, Afrikaans, Physical Science, Life Science, Mathematics, History and Life Orientation, will an average of 87% and full colours for academics. Shira shared the Marcellin Trophy for Dedication to History and received the Principal's Prize for the Most Improved Student in Academics. Jenna Werner (Steward and Student Head of Judaica) - Achieved distinctions in English, Afrikaans, Life Orientation and Business Studies. She also received full academic colours. Jenna received the Phyllis Walsh Prize for Effort and Dedication in Business Studies, as well as the Allan Zulberg Award for outstanding effort and dedication in Academics.
Moshe Unterslak (Head Steward) - Achieved distinctions in Life Orientation and Geography, as well as receiving the Maccabi Award for the student who displays outstanding qualities of character, scholarship, leadership and sportsmanship. Please join me in saying... WOW! and Kol hakavod! On a sadder note, we bid farewell to Rabbi Thurgood who served as Head of the Judaica Department from January 2009 until now - we wish you all of the best in Cape Town, Rabbi! Our sadness is tempered by the knowledge that Mrs Norma Bloch (Morah Norma) who will be taking over, is more than up to the task, and that our Judaica Department is left in good hands.
As this is my final article for Hashalom, I'd like to thank Hashalom for their publication, you for reading, and for the wonderful positive feedback I have received from all of you. It has been a pleasure teaching and writing in a community that is so supportive and involved.
Rabbi Thurgood and the Judaica Team
---
Eden College
Shalom Readers!
A great and busy time at Eden College Durban. We have the month of Elul, Rosh Hashana, and will be ending our term with Yom Kippur! As in previous years, we welcome Elul with our Elul Mitzva Wall (TM). This is a wonderful project in which all of the Jewish Studies, from Grade 1-12, think about ways in which they'd like to improve for the coming year - giving Tzedaka, honouring parents, visiting Beth Shalom, saying Brachot over food and not speaking Loshen Hora are only a few of the options, and students can also write their own commitments. Each Mitzva is a brick, and together we build a Mitzva Wall that stays up all year round - to remind us of who we'd like to be, inspire us to do it, and show us how much we can all build together. We're also planning our Rosh Hashana assemblies (at the time of writing they haven't yet happened, but I'll tell you about them in the next issue) where we'll present and explain this special and holy time to the whole school. The prep school recently had a shofar blowing competition, and the winner - Zack Baitz - recevied his very own shofar! Well done Zack and use it well! Our matrics have effectively finished the school year - they have learned everything they have to learn and are now writings trials! we wish them all of the best for this "testing" time ahead, and we are confident that they will make us as proud in their general studies as they have in their Jewish participation. We'll miss having you guys as part of our day!
Until next time!

Rabbi Thurgood and the Judaica Team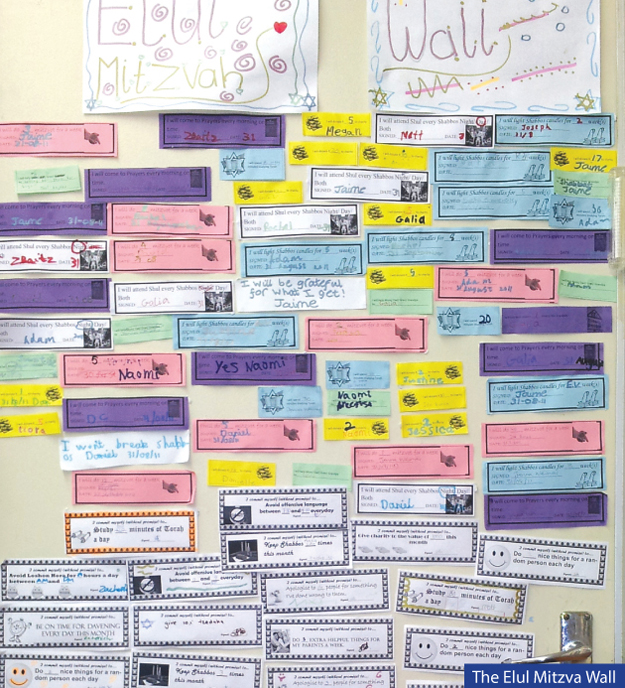 ---
Eden College
Shalom Readers!
The third term is off to a start of... well, Olympic proportions. We continue our policy of lots of learning and lots of fun, and today I'd like to tell you about some of our educational games. King David wrote that Torah should be sweeter than honey, and our Rabbis point out (several hundred years ago) that a person learns far more, and retains it better, when they learn with happiness and enjoyment than when it's simply work.
So learning-play is really a model that, whilst not always possible, is certainly desirable. I wrote about the Shabbos game a little while ago, but other (more low tech) games also feature in our department:
We have Jewish Hero cards - a great way to introduce our younger students to character from Tanach and their stories, and to offer them role models for life - with cards that can be used to play card games at the same time. Similarly, another set is Jewish Holiday cards - so we can discuss and learn informally - leaving a lesson having had more fun, and often learning more, than in a formal classroom lesson.
"Place It!" Is a great board-game for students a little older to learn the books of the Torah and all of the Parshas, where each Parsha appears and gain a familiarity with the geography of the Torah.
Games also help in forming a warm relationship between teacher and student, which is especially important when learning Torah - which, ultimately, is all about forming and maintaining the most important relationships in our lives: With Hashem, with ourselves, with our history and tradition, our families and with the world around us.
As usual, we are privileged to have visiting Rabbis, such as Rabbi Perez and Rabbi Kornblum, who always give us a new and helpful perspective on Torah and on life.
Seth Jaffe (Grade 11) had the privilege of attending Encounter with King David Linksfield. This week-long programme, run by the Division of Informal Jewish Education in Johannesburg, is a way for Grade 11 students to explore Judaism in a vibrant, interesting, and completely non-threatening environment. We'll tell you more about that next time!
Rabbi Sam Thurgood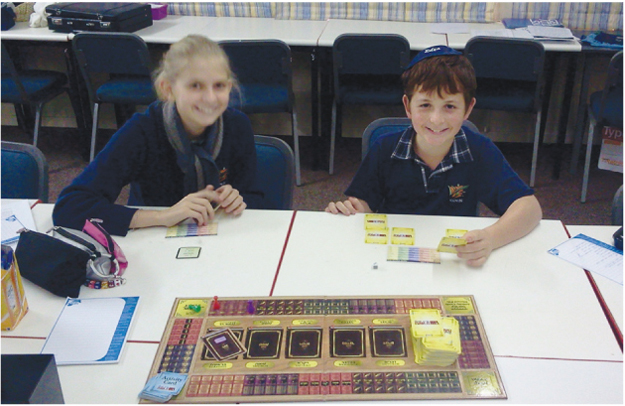 ---
Eden College
Shalom Readers!
What's news you ask? Well, over the past month, our senior students have written exams, our junior students have continued school as usual (with a couple of extra fun end-of-term activities thrown in), and we've all had a well-deserved and wonderful holiday! That being the case, there's a little less news than usual from us, so we'll condense Junior and Senior sections of the school into one article.
During exams, we don't have compulsory prayers for our senior students, but those who wish to are encouraged to spend some time talking to Hashem as we do every morning - and it is a testament to the spiritual vitality of a number of a students - and a huge educational success (yeshar koach to all involved) - that there were several who came in every morning to pray. Eden has a history of achieving record results, and I am sure that all of our students did outstandingly. The Jewish Studies exam results were certainly most pleasing.
Many of our younger students have been learning about Shabbos - why it's special and how to celebrate it properly. We focussed on the fact that all of the "No" of Shabbos (no driving, no turning on/off lights, no cellphones etc.) are really all about a "Yes", about creating a space where we can experience the beauty and serenity of Shabbos together with our family and community. A great educational tool in this regard is the computer program "Shabbos Interactive" - an interactive game developed in Johannesburg that teaches you about every aspect of Shabbos in such a fun and vibrant way, with songs, games, and drawing - take a look at their website, jewishinteractive.net and contact Rabbi Thurgood if you'd like a free copy - we have several extra that we'd love to share.
Our smallest students are still learning an amazing amount - in just a few months, they have learned all of the stories of the Torah from Adam and Eve to Joseph and his brothers, as well as all of the festivals we've have so far. We have a lot of fun with the lego Torah - we've printed one picture for fun. We've also made some videos of the stories, you can look at one or two if you type in these links:
http://bit.ly/N1MrLM
We also have Shabbat every week, where we've learned about making Friday night at home, and the significance of everything - the Challat, candles, wine, even the Challah cover. Clever children!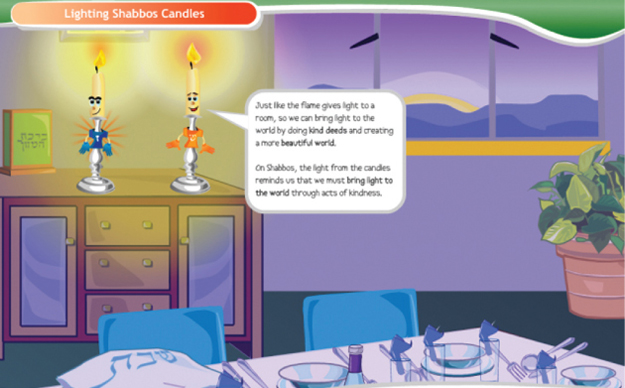 ---
Eden College
Shalom Readers!

Another wonderful and busy Jewish month at Eden College Durban. Rabbi Berel Wein says that no one is indispensible, but no one is replaceable (it's deep right?) and we've found that whilst we miss Jess Stout taking care of our prayers in the morning (she's taking care of her little Sivana instead) our students heads of Judaica, Jenna Werner and Shira Kimblerley - have done a wonderful job of teaching the youngest members of our Judaica family to talk to Hashem. Whilst they are writing exams, we warmly welcome Shani Cohen, who is also doing amazingly.

Before Shavuot, together with Jewish schools around the country, we took part in the Chief Rabbis "Generation Sinai", in which parents joined their children for morning prayers, and they learned together for half an hour afterwards. We had a great attendance, and parents and children both taught each other over the course of the learning. This special bond - the Torah binding us together throughout the generations - is, after all, what has carried us through history as the Jewish people, to accomplish all of the tremendous things that we have.

For Shavuot, in preparation for the giving of the Torah, we had a round-robin shiur session. The students split into 3 groups, and Shira, Jenna and myself each gave a short shiur. When the bell rang, each group moved on to the next table, so they had 3 shiurim for the price of one! It is this sort of peer-learning, with students learning from and teaching one another, the way our senior students embrace responsibility and excellence, and we all embrace one another, that makes what we have at Eden so special.

We are now enjoying our July holidays after exams and tests and a productive time, and we look forward to sharing more with you when we return!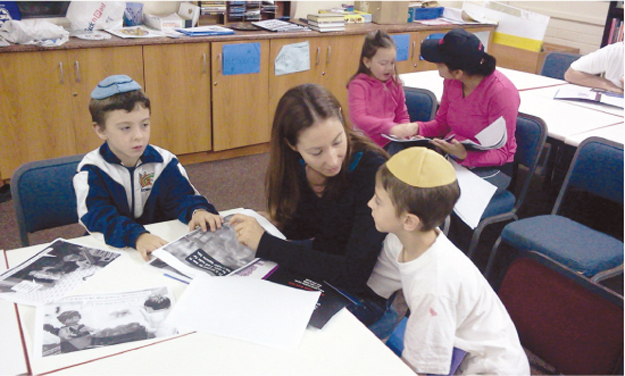 ---
Eden College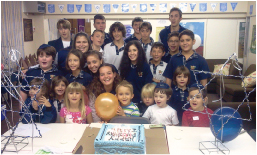 Shalom Readers!
What a month! Yom Hazikaron, Yom Ha'atzmaut, Lag BaOmer, a visit from Rabbi Perez, welcome to Eli Peretz, and farewell to Jessica Stout. Wow!
On Yom Hazikaron we commemorated the loss of all of the Israeli soldiers who gave their lives for our home - for Israel. Their sacrifice ensured that we have today a Jewish State, the centre of world Jewry and a safe haven for Jews everywhere. Jenna Werner and Shira Kimberley put together and ran the moving ceremony - we lit candles, told the story of one such soldier, and read many other such stories. This was especially meaningful to us as many of our students are close to the age of our departed soldiers, showing us that we can take on great sacrifice and responsibility even at a relatively young age.
The next day was, as it always is, a change of pace. Yom Ha'atzmaut! We had a great birthday party for Israel, with cake, balloons - and candles of entirely different significance to the day before. We played Israeli music, had an Israel quiz and colouringin competition, enjoyed each other's company, and spoke about the unique privilege of living in a world with a Jewish State – a privilege so long denied to our ancestors. All of our students, from age 4 to age 17, were together in this special celebration, one of the things that makes our Eden family so special.
Rabbi Thurgood and the Judaica Team Talmud Torah once again brought Rabbi Perez to enlighten, enwisen (is that a word? It is now!) and inspire us, he spoke about our inner wealth of courage that we can tap to always do what's right, no matter the pressures and forces against us. Lag B'Omer was also lots of fun - whilst my idea to have a bonfire in the Judaica Centre was outvoted - Jenna and Shira put together another great ceremony. We had a Lag B'Omer quiz, activities, good food, and once again spent time together as Jews.
Isn't it funny how changes come together? We said a fond (and bittersweet) farewell to Jessica Stout, who is leaving to have a baby, having taught our younger students to pray and read the siddur for years now. Parents and teachers alike are impressed by how much she was able to teach them and how well they learned it - Jess, we'll miss you, but look forward to seeing you and your baby!
Finally, a warm welcome to a new member of our department! Eli Peretz has a wealth of teaching experience, a warm and generous nature, and will be teaching Hebrew to Grades 8 and 9. Eli, it's great to have you on board and we are pleased to continue providing a great Jewish education!
We'll be back next month with more exciting news!
---