COMMUNITY NEWS
Beth Shalom
- By Sylvia Collins
Beth Shalom held a wonderful Gala Concert on the 21st August 2016 at the Jewish Club. It was an outstanding event and everyone enjoyed themselves. Lots of dancing in the aisles, to the tremendous talent our country has to offer. This was followed by a lovely tea.
We also had a successful AGM held at the Home on the 28th August 2016, our guest speaker was Cheryl Johnson who spoke about Saving our Berea. This was thoroughly enjoyed. Mr. Stan Liansky, the President, gave an interesting talk about Beth Shalom and our facilities on offer. Residents, guests and visitors listened intently and enjoyed what he had to say.
Colin Penn and Pinkie came and entertained our residents at the Home and this was enjoyed immensely.
The UJW gave the residents a lovely pre-yomtov braai held at the Home on the 7th September 2016. Delicious chops were enjoyed by all. THANK YOU LADIES FOR ALWAYS GOING THE EXTRA MILE FOR OUR RESIDENTS.
Ladies from Beth Shalom who have made scarves for the children who are going through Chemo, as we were told they feel cold and need something warm around their necks. Dr. Elaine Goldberg has knitted two beautiful jerseys and is on to her third for them. A big thank you to the ladies of Beth Shalom who helped with this project. Mazaltov to Joan Truscott; Anne Woolf; Sylvia Heyman; Dr Elaine Goldberg and Gill Salakoff.
---
COMMUNITY NEWS
Beth Shalom
By Sylvia Collins
Beth Shalom has been extremely busy this month with some unforgettable functions.
One of the most memorable so far, was of the community Oneg Shabbat Dinner that was held on the 15th of July. The theme was '50 Shades of ….' The ladies from the community decorated the tables with love and thoughtfulness, which made the evening extra special. A sincere thank you to everyone involved for all the hard work in making this a wonderful occasion, for our residents. All the guests and family members thoroughly enjoyed the evening. Our staff did a wonderful job of ensuring that everyone was catered for.
We were very fortunate that Clicks Pharmacy spoilt the residents on Mandela Day on the 18th of July and brought delicious eats from Musgrave Pick and Pay. The residents had a delightful morning of festivities, eating the marvelous treats and joining in with our carers and Bongi singing joyous songs as they remembered Nelson Mandela.
Bongi from reception, Avril Binks and Joan Truscott spent their 67 minutes making sandwiches at the Jewish Club with the community. They were happy to do their part and make a difference.
The residents are energetically knitting for the Israeli soldiers at the moment and it is wonderful to see how much they give back. So a big Mazeltov to our knitters at the Home.
Once again a big thank you for the beautiful clothing and books which we receive for our shops, it is greatly appreciated.
---
COMMUNITY NEWS
Beth Shalom
By Sylvia Collins
Beth Shalom's first baby-shower!
Beth Shalom resident Dr. Jack Albert sponsored a baby shower with a few of our residents for his private carer, Minnie. This was such a charming surprise for Minnie and she was showered with beautiful gifts. It was a lovely party with marvelous eats supplied by his daughter.
Some musical fun!
We have had some great entertainment this month. Mr. and Mrs. Hutton's grandson, Cameron Patterson, who was accompanied by his friend PJ, entertained the residents on acoustic instruments. This was thoroughly enjoyed. Also Kevin Burden came and entertained everyone, he was a backing singer for the Beatles in the good old days. Everyone was able to clap and sing –along.
Pre-Pesach Braai…
The UJW sponsored a wonderful pre-pesach braai at the home which everyone enjoyed. Thank you to them for this wonderful occasion.
---
COMMUNITY NEWS
Beth Shalom
- By: Dr Des Levin
Recently a quiz was arranged at Beth Shalom. Veteran quiz-master Jeff Chanoch officiated and devoted a lot of time to preparation of a large variety of quiz material.
The format entailed four participating teams, two chosen from Beth Shalom residents and two from members of the community. Each team comprised four players and was selected on the presumption that the individuals were thought to have good all round general knowledge.
The first questions were relatively easy and were easily answered by all four teams. It was immediately obvious that more testing challenges were required. The teams responded superbly and very few questions were not answered. On these relatively rare occasions the audience was invited to proffer answers and residents in the audience performed creditably.
All four teams scored well and as the latter stages were reached first and last were separated by a mere three points. Ultimately one of the community teams won "by a nostril", followed by the two Beth Shalom teams, with the second community team just behind in last position.
Sceptics who had believed that the Beth Shalom teams would be out of their depth were soon eating humble pie and it was enthralling to observe the high level of performance of the nominal "senior" citizens. The proceedings also highlighted yet another merit of this wonderful retirement home. There is a strong cohort of residents who function at a high intellectual level, and prospective future residents can regard this fact as yet another reason to choose this haven as their retirement objective.
---
BUBKES
Bye-bye Gampa, we love you! Helping kids cope with bereavement
- by Lauren Shapiro
We recently saw a dear, dear man return to his Maker. My father-in-law, Leslie Shapiro ZL (Gampa to my kids), was a kind, tender soul and a true gentleman.
Although he lived in Cape Town, my kids had a special relationship with Gampa. Visits saw them building planes out of Coke bottles and cereal boxes or watching aerodynamic videos on Youtube together. He had a wonderful sense of humour and could carry a tune like a pro, so the kids loved talking to him on the phone or Skype. Also, Gampa could wiggle his ears without moving the rest of his face – a party trick enough to endear him to any child.
But how do you explain to children seven-and-under that they will never see their Gampa again? How do you convey death and mourning to young children? I found a combination of traditional and creative approaches did the trick:
1. The graveyard shift
Gampa wanted to be buried in Durban, so my kids experienced a shiva house firsthand. While they didn't attend the funeral, they had lots of questions about it. What did the coffin look like? What was Gampa wearing? Which way was he facing? Who put the sand on? How long did it take? Can they dig him up and look? I answered these as patiently and as directly as I could.
More than questions, however, kids learn through play – it's how they experiment with roles and emotions. Pretend play is particularly empowering because they are in control, so it can help make intimidating situations seem less scary. So while I found it a little odd, it was probably psychologically productive that the three of them spent the rest of the afternoon in the sandpit "burying Gampa" over and over and over again.
Later I took them to visit his final resting place, separate from the weeping crowds and strict ceremonies of a funeral. I wanted to show them that cemeteries can be peaceful places and that they need not be mysterious or scary. In this informal setting, they could be themselves, ask more questions, and have the same closure we'd gained by seeing the burial site. Placing stones on the raw earth gave them a tangible connection to the process.
Incidentally, the excursion became a family history tutorial as we visited the graves of my grandparents and other relatives which were (forgive me) a stone's throw away. There was something heartwarming and circle-of-life-ish to see my kids paying their respects to their forebears and connecting to their lives and values.
2.Bagel, anyone?
Kids adore symbols, and that's one area where Judaism's got them waxed: Hamentaschen for Purim, matzah for Pesach, apples and honey for Rosh Hashanah. My kids were obsessed with the eggs and bagels, the yahrtzheit candles, etc (though my two-year-old was most put out when I explained that she couldn't blow out the yahrtzheit candle and sing Happy Birthday to Gampa). Such was their fascination with the symbols that that night they insisted I read the explanatory pamphlet from the Chevra Kadisha as a bedtime story. I know…
3.Custom made
Judaism has some pretty nifty customs around bereavement, and I found they're very accessible to children. These help to represent on the outside how we feel on the inside: Daddy and Nana tore their clothes to show that they feel broken; they're sitting on short seats because they feel low and sad. The pictures are skew to show that they feel off centre, and the mirrors are covered so they don't have to worry about outside things like looks and can focus on inside things like feelings. By explaining the rituals to them, I even found them more meaningful for myself.
4.Thank you, Pixar
I played Inside Out, a film in which emotions are personified as cute little cartoon characters in the protagonist's head. On top of entertaining the kids so that the grownups could get on with the rituals of mourning, the movie also taught them about expressing various emotions and that no emotions are "bad" or unacceptable.
I highly recommend this film for kids experiencing difficult emotions of any kind (particularly Anger, Fear, and Sadness, who – spoiler alert! – actually saves the day).
5.Oh, heavens!
It's easy to forget that schools are not just for teaching kids to read and count. Their experience of paediatric development generally far outstrips parents' by pure quantum, and they have great advice on how to deal with most things, including psychological events like bereavement.
We informed the kids' school of Gampa's passing, in case it explained any behavioural changes as the children processed the situation. Not only were the staff understanding, they were actively supportive. The teachers counseled my kids and Ari (the only literate one) was encouraged to put his feelings down on paper.
Unprompted and unguided by his teacher, my seven-year-old wrote: "Dear Gampa, I really miss you and I love you. Love, Ariel, Yishai and Aviva. And Wa." (No, I'm not feribelled…)
Morah Tracey then attached this note to a helium balloon and let him release it into the sky. Five-year-old Shai and two-year-old Viv also sent balloons up to heaven, smiling and waving and shouting, "Bye-bye Gampa, we love you!"
Of course my kids are sad that Gampa is gone, but they're not traumatized. I pray that they remember Gampa's goodness, his gentility and his kindness. If they carry these with them, then, in a sense, he isn't really gone. And – as my five-year-old pointed out – we'll see him again "just as soon as Moshiach gets here". Until next time.
---
COMMUNITY NEWS
Beth Shalom
By Sylvia Collins
Beth Shalom has had a very busy month with lots of entertainment for our residents.
We were very blessed to have the children from Izinga School come and entertain our residents and sing beautiful songs, in English, Hebrew and Zulu. They were very talented children who thoroughly enjoyed their morning sharing with our residents. Lots of in-house singing just showed how much the residents enjoyed!
We were also very blessed to have the children from Tree Tops come to read to our residents for International World Book Day. This was so much fun and all the children dressed up in costume to depict the character from their book.
Both were lovely mornings with the children. It fills our residents with so much joy and delight, hearing the patter of little feet and the laughter around the home.
On behalf of our President, Mr Stan Liansky, Management Committee and Residents we would like to wish you all Chag Pesach Kasher Vesameach.
---
COMMUNITY NEWS
In loving memory...
Esmond Jacobson
By his children Robyn Rosenberg, Denise Lichtenstein and Jonathan Jacobson
It was a privilege and an honour to have had Esmond as our father and it has been heart- warming to note the respect and the impact that he had on people in friendship and business.
We would like to relate some of our memories of his life:
We recall being fascinated by stories of his early years, growing up in Ridge Road on the Berea and of the family driving around in a horse and carriage.
We are proud to have known that our Dad was one of a few boys who started their early education at Durban Girls College! (no misprint).
He was a prefect at Durban Boys High School and continued his education at Rhodes University.
His studies were disrupted by the Second World War and at 19 he enlisted in the army. He was taken prisoner at Tobruk and only in the later years of his life did he tell us about many of his wartime experiences.
There is an article in the Jewish Affairs of September 1946, and we quote:
".....the gamble was between life and death. We gambled with death, and the decision opened many new doors to us. I take my mind to that day, September 1943, when 2000 South African prisoners of war reached Sagan in Upper Silesia, Germany, from Italy. Each Jew had to decide for himself: should he disclose his religion and race to the Nazis or should he conceal them? The majority of Jews decided on diplomacy. Twenty-three of us having faith that Germany would not violate the Geneva Convention, registered as Jews".
We are in awe of Dad's heroism at being confronted with this monumental and life-threatening decision.
Despite what he and his comrades endured during the war years, he always had a positive outlook and Eternal Faith. These innate qualities stayed with him for the rest of his life.
After the war he completed his studies at Rhodes University and then went into business. As a financial planner he enjoyed an illustrious career. He mentored many in this role.
Soon after the war he met, fell in love with and married our beloved mother, Fleur. Their union was of deep love and respect and together they were active in their responsibility to family and community. They were happily married and devoted to each other for over 60 years before Fleur passed away.
Dad was Chairman of the Durban Jewish Club and involved in many charities.
He was a driving force and active member of The Jewish Ex-Service League and it was his fervent wish that the League continues and endures.
His superb and razor sharp mind was inspirational. He was interesting to listen to and interested in everyone he met. He had a multitude of diverse interests.
He was a man of the highest integrity and honour. He never complained about the health challenges that plagued him for much of his life.
He was loved and adored by our mother Fleur, by his children, his grandchildren and his great-grandchildren, not to mention an extended family in South Africa and around the world.
His later years were dominated by an absolute focus on his grandchildren and great-grandchildren. With his ageless mind he uniquely became computer literate and fascinated by this technology fairly late in his life. He mastered Face-Book and social media to keep in touch with his extended family. In particular FaceTime was pure joy as it enabled him to watch his great-grandchildren in action and speak to them.
His presence, his hearty laugh and his positive outlook on life will be sorely missed by all.
We are fortunate to have been blessed with Fleur and Esmond as parents and having our beloved father with us well into his 95th year.
By her son Clive Feigenbaum
On the 1st of February 2016 we bid a final farewell to Enid Feigenbaum after a long and valiant struggle with cancer. While it is always a sad moment when someone passes, I have chosen to rather remember the good times and cherish the memories and celebrate the positive impact my Mom made on peoples lives.
Diagnosed with lung cancer just weeks prior to the birth of her first grandchild Gabi, my Mom decided that this dreaded disease was not going to beat her, or control her life. With an incredible strength of will and determination my Mom met every challenge that was thrown at her head first and with a smile on her face. Never one to complain about what she was going through or facing she made an incredible impact on those whose lives she touched. Inspiring people to face adversity with a positive outlook and look to the good in any given situation, she lived her last years to the fullest that she could, and when the doctors give her 24 months, she not only took them, but took an additional ±10 months to see her 2nd grandchild Gina, and enjoy many precious moments with both of her cherished grandchildren.
And so with an incredible bank of memories and a huge hole in our hearts we will cherish the memories of my Mom Enid Feigenbaum, a true Eshet Chayil who leaves behind beloved family and friends.
By Joan Truscott
As a resident of Beth Shalom I want to write a few lines about the late Enid Feigenbaum. I had the privilege of living in the room next door to her. I witnessed her struggle with such a devastating illness. Enid never wanted anyone to feel sorry for her she wanted everyone to be strong.
She was always positive and a real example of a person with such courage and fortitude. Never grumbling or self-pitying. Enid battled her illness for her family. She wanted to live to see her granddaughters Gina and Gabi. Which baruch Hashem she did. They, her son Clive and his wife Tal were the light of her life. She was always proudly showing us pictures on her cellphone and smiling with joy. Even on her last day she sent me a message to come and see pictures of the grandkids on the back of her door.
As Rabbi Zekry put it so eloquently at the funeral: "Here she is a woman who all need to take a lesson from". He said even in her last days she expressed gratitude for the length of her life and the enjoyment of her family.
It is a wonderful legacy that Enid leaves us. To be accepting, have peace in one's heart and have no self-pity. We will miss her but we are glad she is at peace and we are just to keep reminding ourselves of her words. "I want no-one to cry for me, I want them to be strong." Go well Enid, to your well-deserved rest.
---
COMMUNITY NEWS
Beth Shalom
- By Sylvia Collins
Our residents were treated to a wonderful afternoon of Festive Music with Colin Penn and this was intermingled with an informative talk on Arthritis, the symptoms, diagnosis, treatment and other tips to help you control and manage the disease. Trevor Flakson is the KZN Branch Manager for the Arthritis Foundation. Trevor also does classes for chair exercises to assist anyone with the disease. Our residents were treated to a class and had so much fun in the Activities Centre.
I would like to thank the community for the lovely clothes which we have been receiving in our Thrift Shop and also very grateful to the members of the community who have kindly donated books for our library over the years – these are very much appreciated. While we appreciate your generosity, the sorting and disposing of soiled books is a difficult job for our Librarian, and we should be very grateful if only clean books in good condition are donated please.
This has been a busy month for our residents having birthdays on the 1st February it was Denise Blumenfeld Janie Wolman on the 3rd, Melitta Nemirovski on the 10th, Beryl Israelite on the 24th and Alec Vituli on the 28th. We wish all our residents Mazeltov.
On behalf of our residents, I would like to wish a hearty Mazeltov to Arthur Zimmerman who plays classical music for our residents at the Home every Monday and thank you for the lovely cake which was enjoyed by all the residents for your birthday. This delicious cake was made by our Kitchen Staff.
Dr Issy Fisher gave a wonderful talk "A trip through the fascinating world of phrases in the English language." This was very well received and thoroughly enjoyed.
On the 25th January 2016 we had a planting ceremony at the Home for Tu B'Shvat, this was a wonderful morning and then the residents enjoyed a lovely tea.
Beth Shalom was very fortunate to receive a kind donation from the Vryheid Hebrew Congregation who donated a beautiful new Hospital bed which was required for our sick bay. On behalf of the Management Team, Staff and Residents we all thank you so sincerely for this kind donation.
---
COMMUNITY NEWS
Beth Shalom
By Sylvia Collins
General update
Beth Shalom had a quiet December as most of the staff was on leave. In January, Mrs Jo Fourie, who runs the daily activities, was back and the residents, who really enjoy her activities, were all very enthusiastic to get started again. The exercise room was pumping with activity and excitement.
We are very fortunate to have such dedicated residents such as Rolene Lyons and Ernie Aaron who continue, without fail, to treat our residents to lovely music mornings. Also, a big thank you to Arthur Zimmerman who has continued with his weekly sessions which our residents love.
We were sad to say good bye to our staff who retired at the end of December 2015, however, I would like to take this opportunity of welcoming the new staff members to our Home and wish them many long years of service.
A few residents went to The Elizabeth Sneddon Theatre to see Puss in Boots. This was an outstanding show, which everyone thoroughly enjoyed. Lots of laughter and it made everyone feel young again. A big thank you to Beth Shalom for sponsoring the tickets.
We had a few residents who had their birthdays in December month namely: Heidi Bernstein age 84. Charlie Hotz age 93. David Heyman age 81. Basil Isralls age 85. Sylvia Miller age 92 and Bertha Bloch age 92. Mazaltov to our wonderful residents. I would like to mention that David Heyman is a keen gardener and is helping our staff to maintain our magnificent gardens. Thank you to David for this.
Special Tea
I would like to take this opportunity of thanking Sidney and Gaynor Lazarus who sponsored a tea in the Lounge on the 11th January 2016. This was held to in honour of the 65th Wedding Anniversary of Bernhard and Pearl Lazarus and the birth of Sidney and Gaynor Lazarus's granddaughter, Naama Rachel Glassman. All the residents were treated to a lovely afternoon of eats.
Pamper Day
Janice and Lindy, who do voluntary work at the Home, sponsored a very special pamper day. This was a lovely treat for the residents in semi-clinic who cherished every moment.
---
COMMUNITY NEWS
Beth Shalom
16 residents and I joined the Tafta Big Walk for the wonderful cause of Stroke awareness. We all had a lovely morning at the Durban beachfront. There was lots of walking, socialising and eating of delicious snacks. What a divine morning in this beautiful city of ours! The only resident who won a gift this year was Dr Elaine Goldberg. After all the walking and fun we had, we all returned to the home in need of a good rest.
Sybil and Katie work in our Craft Cabin. The shop sells wonderful cushions and jewellery that is made by our residents. Please feel free to pop in and purchase an unusual and unique gift at very a reasonable price. We are also appealing for any fabric that you no longer need or use, so that we can continue making beautiful goodies to sell. Please donate to Beth Shalom - it would be most welcomed and appreciated by the residents.
We appeal to all males who reside in the Durban or greater Durban area to please attend our Friday night Shul Service, which is held at the Home at 5pm each week.
Beth Shalom was very proud once again to have its Long Service Awards held at the Home on the 4th of November. Mr Marcel Nathan presented the Certificates and Gifts.
We had a total of 8 staff that received awards from 5 years to 30 years of service. We also have five staff members who will be retiring at the end of the year.
All the residents attended this special day and the singing of our staff was truly spectacular!
On behalf of our President, Mr Stan Liansky and Beth Shalom Management Team, we would like to express good wishes to those who will be leaving us at the end of December and wish them well in their retirement. We would also like to thank all the staff for their dedication, love and commitment to our Home. This is why Beth Shalom is the best!!
---
COMMUNITY NEWS
Beth Shalom
Sylvia Collins
The holidays have come and gone and we hope that everyone had a joyous New Year. Our residents who stayed at the home over the festivals thoroughly enjoyed their meals! A huge thanks to our Kitchen staff for ensuring that these were enjoyable.
Our residents were able to utilize the lovely sukkah, which was put in place by our efficient Maintenance Team. We had lovely weather and therefore meals were enjoyed in the sukkah.
I would like to take this opportunity of thanking our staff that made alternative arrangements to get to work during the Taxi Strike. A few staff members did stay at the Home and we really appreciate what they did for all our residents.
We celebrated Heritage Day on the 24th September in style in the gardens and a lovely braai was enjoyed. Residents and staff dressed in their traditional wear which was awesome to observe.
Residents are enjoying their craft mornings and doing physical exercises with Jo Fourie.
---
COMMUNITY NEWS
Beth Shalom
by Sylvia Collins

AGM

Beth Shalom held a very successful AGM held on the 23rd August 2015. It was well attended by the community. We had a wonderful guest speaker, Mr Stephen Cloete, who is the Entertainment Director for the Cruise Ships. Stephen is a comedian and an author and he had everyone in stitches with his quick wit and sense of humour. We also had lovely eats and a tea in the garden just before the rains arrived. So a big thank you once again to the staff of Beth Shalom who made this a special and successful day

We had lovely goodies on sale, which our residents made. Some of the items on sale included gorgeous jewellery, knitted toys and scarfs and beautiful mirrors. The sale went well and should anyone be looking for a lovely gift for a loved one, please come and shop at our Craft Cabin for an unusual gift at a reasonable price. Spring is here and it is lovely to view the flowers blooming and to enjoy the outdoors.

We are always in need of goodies for our Thrift shop, so if anyone does any spring cleaning please donate any unused items or older clothes. This gives so much enjoyment to our residents who shop there.

Beth Shalom would like to welcome our two newest Committee Residents to our Management Committee namely: Sidney Lazarus and Aaron Rose. We wish them a successful time with the Home.

Beth Shalom was spoilt by the UJW on the 2 September where all the residents and guests where blessed with a delicious braai. All enjoyed the lovely chops, so a big special thank you to the UJW for arranging this.

A Note Of Thanks

Beth Shalom is very fortunate to have wonderful people from the community, who give of themselves to make others happy.

We are blessed to have Arthur Zimmerman, who enriches the lives of our residents who have to face a plethora of practical and emotional challenges, including: Loss of vitality, role changes, emotional trials, financial and health problems. Arthur's music appreciation hour is eagerly anticipated and weekly attendances have consistently averaged 20-25 residents. He has done extensive research over the years to improve the variety and keep up to pace with the ever-growing expertise of the residents. Arthur, we are so very proud of you and thankful to have you. We are also happy to note, he receives a lot of "naches" from the positive reaction of the residents, to the music he plays.

I would also like to take this opportunity of thanking two of our residents namely Ernie Aaron and Rolene Lyons, who also do musical appreciation every week, during the day. This is truly enjoyed. Our frailer residents attend this music appreciation hour during the day as opposed to the evening class as they are too tired in the evenings.

Wonderful to think, that all residents can attend and enjoy the benefits of music. Not only does it bring back old memories and make one feel young again but also it lifts the spirits and helps bring joy and contentment. So to our music contributors- I would like to say a big thank you for enriching the lives of others.

---
COMMUNITY NEWS
Beth Shalom
- Sylvia Collins
Beth Shalom has been very fortunate in that the lower ground floor of our building has been upgraded, thanks to the generosity of our donors, the Victor Daitz Foundation. A lovely celebration was held on the 24th of June, to thank them as our honoured guests. Our residents mingled and enjoyed a delicious finger supper with delightful eats made by Beth Shalom's kitchen staff. Stan Liansky gave Sam Abrahams a lovely gift which was presented to him at the celebration.
We are now busy preparing for our community Oneg Shabbat Dinner, which will be held on the 17th of July. Our residents are really excited as this is very special to them. On the same day, the staff at the home will be celebrating Mandela's legacy of Ubuntu. Residents will be treated to a fun morning hosted by Jo Fourie, who runs our OT Department and Physio. Lovely tea and music will be enjoyed and our staff can participate in a wellness and fitness programme.
The 2nd of August is Beth Shalom's Gala Concert, at the Jewish Club. Tickets can be purchased at the home or on the day of the concert, at the door. We look forward to another successful concert which should bring in much needed funds for the home.
Just a reminder, if anyone has any clothing (ladies or gents), which is no longer needed, we would appreciate it if you would kindly donate it to our thrift shop.
---
COMMUNITY NEWS
Beth Shalom
- Sylvia Collins
Our residents had a wonderful Shavuot and we hope that all the community members did also. We have been very blessed with such balmy weather at the moment and our residents are enjoying the garden and outings. There is lots of knitting going on as our ladies are knitting beanies for the Israeli Army on behalf of the UJW. Wonderful to see all our busy ladies at work.
Beth Shalom is asking all community members to donate any old cards such as birthday cards, wedding cards etc. to our reception area, so that these may be used by Jo Fourie and our residents for art classes, and also for re-cycling purposes within the Home. This would be most appreciated.
A special thank you to those in the community who have been donating beautiful clothes to our Thrift Shop.
Our home has been upgraded with lovely new furniture, carpets and flooring in our main dining area. A very special thank you to the kind donors who assisted with this.
We have replaced our old thatch umbrellas and tables and a special thank you to David Simpson for sponsoring this project.
Lots of birthdays at the Home this month, so Mazeltov to all.
It is time for Beth Shalom's Gala Concert which will be taking place on Sunday 2nd August 2015. Beth Shalom is dedicating the Concert to Vera Dubin who turns 90 on the 12th August, this is a fitting tribute to her for having organized our concerts for the past 8 years.
The highlight this year will undoubtedly be the KZN Philharmonic Orchestra which will be performing a programme of light classical music – from the movies, classical rock and pop music etc. We are really fortunate and privileged to have them play at our concert. Other performers will be the multi award winning Marimba band in KZN from Curro Hillcrest, a fantastic Jazz band, the Kerimovs with Elena in her stunning red dress of course. This promises to be an afternoon of music of the highest quality and definitely not to be missed.
The cost of the tickets are only R50-00 for this wonderful afternoons entertainment and also includes tea and refreshments. Tickets can be purchased from Beth Shalom at reception or can be purchased on the day at the Jewish Club. Looking forward to seeing everyone there.
---
COMMUNITY NEWS
Beth Shalom
Sylvia Collins
What a milestone! Our oldest resident, Miss Rose Simpson, has made history at Beth Shalom as she turned 106 on 13 April 2015. Rose has seen many changes in her life time and is still so full of optimism and hope. It really is awesome to witness. Rose celebrated her birthday quietly with her beloved residents and family members who came for her birthday. Myron Panovka played the piano during tea and it was a lovely afternoon enjoyed by all who attended. Rose would like to thank everyone for making her feel so special.
Rose Simpson was also very blessed by Tozi Gumede from Durban Library and her Management Team on 7 May. Rose was given a beautiful bouquet of flowers and lovely plants for the garden. This was a lovely and special treat for Rose and our residents.
Beth Shalom also held its first Bris. This was done by Rabbi Anthony Gerson for baby Davidson (Alec Vituli's Grandson) which took place on 15 April 2015 in the Shul. This was well attended by family, residents, and Committee members.
The Union of Jewish Women recently held a braai at Beth Shalom and this was thoroughly enjoyed by all the residents and guests who attended. The chops were a real treat. On behalf of our Residents I would like to thank the Union for continuing to support our Home. It is truly appreciated.
A big thank you to our residents and staff who contributed to the recent collection for victims of Xenophobia.
The Home is currently having renovations done and is almost complete. The whole ground floor is looking wonderful. On behalf of our Committee, Residents and Staff, I would like to thank our sponsors for their kind generosity to ensure that Beth Shalom is well maintained and feels like a home to all our wonderful residents who love living here.
---
community news
Beth Shalom
Sylvia Collins

Beth Shalom have been very privileged to celebrate another milestone, in that Mrs Martha Levi celebrated her 100th birthday with family, residents and staff. This was truly a delightful afternoon, and Martha so thoroughly enjoyed her special day. This was held on the 3rd of March 2015, although her actual birthday was on the 4th. Special thanks to Ben Lurie and Sidney Lazarus who sponsored this wonderful celebration.

On the 5th of March 2015 a group of Grade 3 learners from Tree Tops School came and read to the residents in the Lounge. All the children were dressed in a theme from the story book that they read and the residents so enjoyed this. The interaction was lovely to witness.

Purim was celebrated in style at the Home with Shlomo and Eden School arriving to give gifts to our residents. There was much activity and excitement, especially when the Umhlanga Day School arrived at the same time. So the residents were truly blessed today with lovely treats.

Beth Shalom ran a successful fund-raiser at the Jewish Club in March, in the form of a Poker Tournament, which brought in much needed funds to the Home. There was a raffle of donated items which was hugely successfully due to the wonderful prizes which were won. The winners of the raffle were as follows: a 50" LED TV set won by Larry Goldberg, David Letschert won the latest iPad Air Wi-Fi 64GB, Robbie Sevel won a DSTV Explora, Dennis Kasher won 21 Speed Mountain Bike, Aubrey Nathan won a bottle of Johnny Walker Blue Label Whiskey and David Simpson won a R1500 Voucher for Smash & Grab tinting.

Beth Shalom would like to take this opportunity of thanking the community for the lovely donation of clothing to our Thrift Shop.
---
COMMUNITY NEWS
Beth Shalom
- Sylvia Collins
Beth Shalom residents have been extremely busy and productive making blankets for the under-privledged children. A special thank you to Mrs Jeanette Landy who has made 16 blankets herself. All the staff at the home are so proud of our busy bees.
Our residents have so enjoyed going to the weekly KZN Symphony Concerts which has been a real treat. Approximately 10 of our residents attend regularly. I would like to thank Jo Fourie for assisting and arranging this for the residents. Her enthusiasm is contagious. I would also like to thank Sydney Lazarus for sponsoring these outings.
We have been very blessed that the pupils of Umhlanga Jewish Day School still visit our home and give treats, the residents so thoroughly enjoy this.
Residents have recently been taken to Giba Gorge in Pinetown. This is an awesome place for young and old to enjoy quality family time, especially if one likes the outdoors. There are facilities for riding your own mountain bike or you can hire from the shop. Also children can enjoy riding their bmx bikes on the trails. One can have a picnic in the beautiful gardens, and there are experienced instructors who will give you a talk on the Gorge and its flora and fauna.
If anyone has an "old" sewing machine in good working order that is not in use it would be greatly appreciated by our Laundry Department. Arrangements can be made to collect if anyone can help us out. Please telephone Mrs Sylvia Collins on 031-2013151.
Many of our residents have had birthdays this month and have enjoyed delicious birthday teas. I would like to wish them all Mazeltov. A special Mazeltov to Martha Levi who turned 100 years on the 4th of March. A very big thank you to the Lazarus Family for sponsoring Martha's Tea.
---
COMMUNITY NEWS
Beth Shalom
- Sylvia Collins
This has been an exciting month for Beth Shalom. Myron Panovka arranged for the String Quartet to play at the Home and this was thoroughly enjoyed by all those that attended. Our music appreciation sessions are always very popular and well attended. We thank our residents, Mr Ernie Aaron and Mrs Rolene Lyons, and from the community, Mr Arthur Zimmerman, who treat our residents to a music evening every Tuesday at 6 p.m. Furthermore, 11 of our residents recently went to see Aladdin at the Sneddon Theatre, which was also much enjoyed.
On 4 February 2015, our Beth Shalom Residents had a most wonderful afternoon celebrating Tu B'Shvat. A lovely indigenous olive tree, chosen by Mrs Pat Driman, was planted and Mr Charlie Holtz gave a speech, which was followed by a shiur by Dr Issy Fisher in the lounge. Everyone was treated to lovely eats and fruit. It was a glorious summer afternoon which was enjoyed by all.
Jo Fourie is doing exciting work with our residents in the Activities Centre and introducing new classes, which are being very well received. Residents are getting fitter by participating in exercise classes at the Activities Centre, something which is proving to be extremely popular.
It was a very busy month at the Home as we have so many residents who have a birthday in January. The following residents had wonderful birthday parties at the Home of late: Joe Pestana, Joan Truscott, Mona Joffe, Sylvia Kaplan; Sonia Weiner, Elaine Lange and Leah Maserow. Mazal tov to them!
---
COMMUNITY NEWS
Beth Shalom
- Sylvia Collins
Residents of Beth Shalom were treated to a wonderful morning at the Drummond home of our Catering Manager, Nola.
A delicious tea and lunch was prepared by our kitchen staff at Beth Shalom for this special outing. It was a glorious day overlooking the Valley of a Thousand Hills and all the participants so thoroughly enjoyed the view and the outing. Apparently all slept very well that evening! It must have been the lovely weather. A very big thank you to Nola and her husband Clem for giving us all a wonderful welcome to their beautiful home. A special thank you to their daughter Fern, who performed some Irish dancing for us.
On 26th November 2014 we had a special tea to honour the memory of the late Wally Stiller with the unveiling of a plaque in his memory for all his work in maintaining Beth Shalom's wonderful gardens. This was attended by Mrs Vivienne Stiller, family members, Rabbi Zekry, and many friends. Tea and eats were served after the unveiling and the gardens that Wally so loved were enjoyed and appreciated by all.
The following tribute to Sarah Radomir was written and read by Myron Panovka at a farewell tea which took place at Beth Shalom in December:
"It is my pleasure to welcome you all here today, to bid bon voyage to Sarah Radomir who is returning to England. She is well known to most of us at Beth Shalom for her generosity as well as her infectious laugh.
Sarah and the SEM Charitable Trust have done amazing work in South Africa over the past couple of decades, and we are indeed grateful to her for the support she has given to Beth Shalom. It was a number of years ago that Sarah decided that the residents of Beth Shalom should enjoy regular concerts, and she and her Trust very kindly started sponsoring Musical Encounters which were held almost every month.
Initially these concerts were Classical in nature, but over time encompassed all sorts of different music, and they were thoroughly enjoyed by the many residents who attended. On occasion, Gala concerts were held to which the community were invited, which not only provided wonderful entertainment, but assisted Beth Shalom in fund raising.
The performers were varied, and we are proud to have had entertainment of the calibre of Aviva Pelham, Rory Rootenberg, Ian Von Memerty, and Danielle Pascall perform at Gala concerts in our lounge. The highlight of this "important talent" was when the entire Klezmer Band from Cape Town, was brought to Durban. A regular at Beth Shalom is pianist Christopher Duigan, and he has featured with a number of international musicians who, at various stages, have visited Durban. On the lighter side, Colin Penn is a frequent visitor, with a variety of singers and musicians.
None of this would have been possible without Sarah's sponsorship, and life at Beth Shalom has been enhanced by these concerts. We thought it fitting that we should honour Sarah by holding this tea for her.
Go well, Sarah, and we look forward to seeing you again when you return to Durban. Thank you so much."
---
COMMUNITY NEWS
Beth Shalom
Sylvia Collins
Our residents have had a wonderful time over the festivals: good food, lots of activities, and many visitors to the Home, which made it truly special for the residents. This month we also celebrated Maurice Epstein's 80th birthday with a lovely party. All the residents attended to make this a special afternoon for Maurice. Wishing you Mazal Tov Maurice!
If you have unwanted clothing at home, kindly donate these to our Home.
Thank you to those of you that are kind enough to donate regularly. This is greatly appreciated.
Line dancing has begun at Beth Shalom, and the first class was held onThursday the 23rd of October 2014. This was so much fun and much enjoyed by all those who attended. Many of the staff have also been joining in this fun activity. So if you are interested in learning line dancing with us, feel free to attend. There is a charge of R20.00 per class, and will take place every Thursday at 1.30pm.
On the 29th of October, 18 of our residents and I enjoyed a delightful day at North Beach as part of the Stroke Awareness Walk. This was arranged by Tafta and was lots of fun. It was a most beautiful day and residents of various Durban homes for seniors were out in full force, walking and generally enjoying being at the beachfront. After the walk everyone was sponsored to coffee and a muffin at Circus Circus at North Beach. This was appreciated by all. If you haven't been down to Circus Circus, you definitely should, it really is lovely. There is a nice play area for kids inside, and one can enjoy the lovely view of the sea from your seat, and just chill and relax. At the prize-giving after the walk our residents were very blessed to have won a lot of the gifts. So well done ladies and gentleman for doing the Big Walk, and enjoying every moment!
---
COMMUNITY NEWS
Beth Shalom
Sylvia Collins
On behalf of all of our residents I would like to say that we hope that you all had a good Rosh Hashanah and an easy fast
Many of our residents have had birthdays this month and we have had some beautiful tea parties with residents, friends and families, which have been greatly welcomed by all whom have attended.
Our gardens are once again looking wonderful, so a big thank you to the dedicated staff who work so hard to ensure that the home looks great.
We have been blessed with quite a few new residents and all have settled down nicely and made some new friends and caught up with old acquaintances. Jo Fourie who works in our Activities Department has done a wonderful job of ensuring that all needs of the residents are taken care of. Sr Berger has been appointed as Matron as from September and we wish her all best in her new position.
Clothing is urgently required for our Thrift Shop and we look forward to receiving your kind donations.
---
COMMUNITY NEWS
Beth Shalom
Our ladies are presently busy making goodies for sale for our AGM which will be held on the 7th September 2014 at 2 pm at Beth Shalom. We have a wonderful guest speaker who will be attending our AGM.
Beth Shalom hosted a delightful Community Oneg Shabbat Dinner on 18th July 2014. A big thank you to Mr and Mrs John and Anna Moshal for the kind donation of beautiful flowers, which were displayed on all the dinner tables. The guests and residents enjoyed the dinner very much and the beautiful table decorations made for a spectacular evening.
L'Shanah Tova and well over the Fast to all Congregants from the President, Stan Liansky, Trustees, Members of the Management Committee and Residents of Beth Shalom.
---
COMMUNITY NEWS
Beth Shalom
- Sylvia Collins
Our residents are busy knitting squares to make into blankets for Nelson Mandela Day. There is much excitement about this, and in the afternoons all the busy bees are hard at work. It has become such an enjoyable and social activity for the residents. It is wonderful that our residents are committed to give of themselves for Mandela Day. Melody our resident hairdresser, is sewing all the squares together. So far 27 blankets have been completed by these industrious ladies. Congratulations to our residents who have taken up this challenge!
It is with great sadness that we wish farewell to Maureen Daymond, our Activities and Occupational Therapy Assistant. Maureen has decided to retire and will be moving down the coast. Jo Fourie will be taking her place, and we wish Jo well in her new position.
Beth Shalom has been very blessed recently with lots of celebrations and donations for afternoon teas. The residents have asked that I thank our kind sponsors for all these lovely treats. A special "thank you" to the children of Umhlanga Jewish Day School, who come on a regular basis, and sing for our residents. This is most enjoyable.
Just a reminder that Beth Shalom will be having a fund-raiser on the 17th of August 2014 at the Jewish Club, at 2.00 p.m. This will take the form of an afternoon of delightful music, featuring a host of talented performers. Tickets are on sale at R50.00 each. Tickets may be purchased at Beth Shalom, or bought at the door on the day. This is a concert not to be missed.
---
COMMUNITY NEWS
Beth Shalom
Sylvia Collins
The children from Izinga School are now regular visitors to Beth Shalom. This is always so appreciated by our residents, who love being entertained by the children. A big thank you to the teachers and the children who make this so special for all our residents! The joy and laughter of the children is wonderful.
Barbara Daniels celebrated her birthday with the residents recently and all thoroughly enjoyed the birthday celebrations.
Dr Fisher regularly gives a shiur at Beth Shalom, which the residents enjoy very much and learn a great deal more about the Jewish Festivals.
Beth Shalom is looking for volunteers to assist in driving our residents to doctors' appointments or for outings. Please contact Sylvia at Beth Shalom if you are available to assist.
Beth Shalom would like to thank the community for the beautiful clothing that continues to be donated and sold at our Thrift Shop.
---
COMMUNITY NEWS
Beth Shalom
Sylvia Collins
Beth Shalom urgently requires ladies to assist us with the Craft Cabin and the Thrift Shop. If anyone interested please contact Frances Herr for the Craft Cabin and Gerselle for the Thrift Shop. I do look forward to a favourable response.
Thank you to the Community who still donate lovely clothing and good books which are all well utilized within the Home.
Our thanks go to the UJW who sponsored a beautiful braai on the 2nd April 2014 for our residents. This was a lovely treat and was thoroughly enjoyed by both guests and residents.
Our residents went to Circus Circus at North Beach for an outing and had a most wonderful morning. The weather was perfect, allowing many of our residents to take long leisurely strolls along the beach front.
---
COMMUNITY NEWS
CELEBRATING AGE 99
Sylvia Collins

Lovely picture of Mrs Martha Levi and her good friend Goldie Khan at Marthas 99th birthday party sponsored by Sidney and Gaynor Lazarus on the 4-3-14. It truly was a joyous afternoon and all residents and guests enjoyed a lovely tea.
---
COMMUNITY NEWS
BETH SHALOM
Sylvia Collins

Beth Shalom is really blessed to have so many volunteers who give up their time in the interests of not only running, but also beautifying our Home. Some of these volunteers are residents but many are members of our greater Durban community.

Mrs Anne Wolff is our resident Postmistress and she also runs "Painting and Knitting" in our Activities Centre. Mrs Leah Maserow is equally creative and runs "Fabric Painting".

Mr Ernie Aaron and Mrs Rolene Lyons both run Music Appreciation events. Rolene, who ensures our appreciationof classical music, also works on our switchboard.

Mrs Audrey Levy works in the shop on Sundays, and also works in the Library at the Home, Mrs Merle Burrow assists in our Thrift Shop with the help of Mavis Jones.

Without these lovely residents the home would not be the same. They are caring, considerate and know all residents well due to their interest in the running of the Home. For these volunteers we salute you.

There has been wonderful entertainment evenings and outings which our residents have so enjoyed.

Friday evening Shabbat Services are organized by Mr Frank Schneider and Mr Charlie Holtz. The children from Izinga still come on Fridays and this brings so much joy to our Residents.

Mrs Jeanette Landy organizes Monday morning Bingo which is well received. The garden is maintained by Mr Wally Stiller and two of our proud residents, namely Mrs Pat Driman and Dr Izzy Fisher.

---
COMMUNITY NEWS
A MORNING AT BEST SHALOM
---
COMMUNITY NEWS
BETH SHALOM
Sylvia Collins

Beth Shalom Outreach Program: Issy Geshen Lamont Home
Cliffie Benn giving gifts to Issy Geshen Home with Siphiso the Manager and Residents as part of Beth Shalom's Outreach Programme. This made such a special morning for the residents of the Home who received there parcels for Christmas.

Dr Issy Fisher a resident from Beth Shalom assisted with planting a tree for TU B'SHVAT. This was a wonderful celebration, with beautiful weather for this very special day. All the residents enjoyed the talk and had lovely fruit and eats for the joyous celebration.

Picture of Gary Plen and Anne Woolf who were having fun when the children from Izinga School came and sang songs for our residents. This turned out to be a wonderful morning. All the residents and the children had a lovely morning.

So much excitement.

Residents from Issy Fisher Home in Lamontville were blessed this December with a parcel given to each resident as a part of Beth Shalom's Outreach Programme. It was a joyous celebration and the residents enjoyed their goody bags.

---
Beth Shalom
Sylvia Collins

Beth Shalom has had a very busy time – lots of activities and fun outings for our residents and staff.
Trained nursing staff and Bongi, our receptionist, attended a workshop to support Cancer prevention. This proved to be a wonderful programme run by Dr Thandeka Mazibuko, an Oncologist, who is passionate and driven to help the needy.
On 30 October some of our residents participated in a walk for Stroke Prevention on the Durban beachfront, together with residents from other homes and many of them won prizes.
Matron held an Alzheimer's talk in the shul when the guest speaker Mrs Elaina Hattingh from the Society explained about the illness. This assisted nursing staff and family members of our residents, as well as the UJW, to understand how to care for people affected by this condition. Matron has been busy with our Beth Shalom Health Awareness Campaign, which is targeting the community and the Issy Geshen Home. This is all about sharing knowledge and building good relations.
Thank you to Arthur Zimmerman for the music appreciation afternoons he presents for the residents. A big thank you to the community for assisting with clothing for the Thrift shop and to the wonderful helpers who give up their time to help. We require donations of old greetings cards for recycling by our arts and crafts group to sell in our shop.
The Beth Shalom fundraiser was able to raise enough money to purchase a bed for our frail car section. Thank you to all who bought tickets. Congratulations to the winners who were Aubrey Nathan – Samsung 40"LED TV; Jam Clothing - iPad Mini; Johnny Walker Blue Label – Kathy Sher; Mountain Bike – Stan Liansky; Bed and Base set – Rael Greenspan.
Finally a big thank you to the committee who gave a wonderful tea party for staff who received Long Service Awards as well as those who were retiring. President Stan Liansky presented awards to the staff for 10 years of service as well as 25 and 30 years. This was a great achievement and well deserved. Hearty congratulations to all who made it a wonderful afternoon of singing and dancing which the residents loved.
---
Beth Shalom
Beth Shalom is Proud of their Centenarians
Sylvia Collins

There must be something special about living at Beth Shalom when it comes to longevity.
Recently the fourth centenarian Jean Gold celebrated her 100th birthday at Beth Shalom and joined other residents Abe Baitz (100), Trudy Zulman (102) and Rose Simpson, the sprightliest of them all (104) in reaching this wonderful milestone. Seen with them in the beautiful gardens of the home are Stan Liansky, President and Sylvia Collins, General Manager.
We wonder how many other retirement homes can boast of achievements like this – surely some record that Beth Shalom is extremely proud of.
We wish them all Kol Hakavod and may they be blessed to enjoy every day at Beth Shalom in good health.
---
Beth Shalom
Beth Shalom Spring Braai
Sylvia Collins

Beth Shalom had a wonderful Spring Braai sponsored by the UJW on the 11th September 2013. This was a wonderful day full of anticipation as all the residents and guests were waiting eagerly for their lovely lamb chops. The food was cooked on our braais by Reagan and Claude our two chefs. Masada attended the braai along with Bev and her lovely ladies who made this a very joyous day.
Beth Shalom had a prize for the best hat. First prize went to Bryna Joffe z'l, prettiest lady went to Leah Maserow and the best gent went to Dr Jack Alberts. This created great excitement on the day. Unfortunately the weather was rather cold but this did not dampen the spirits of everyone who attended. So a big thank you to the UJW who are passionate about the residents at Beth Shalom.
Some of our residents attended a concert held at the Umhlanga Jewish Day School – Jack and the Magic Beans on the 12th September. I would like to thank Karen who arranged for transport.
Beth Shalom AGM
Our AGM held on the 1st September was a great success. Our raffle was won by Evelyn Cohen, well done Evelyn.
On behalf of our President, Stan Liansky and our committee members, we would like to thank the community for their support and commitment in ensuring that Beth Shalom is a great Home for the Aged.
---
Beth Shalom
Sylvia Collins

Situated on the Berea and surrounded by beautiful gardens, Beth Shalom is the home for those who wish to enjoy a more leisurely life-style in their twilight years. We encourage our residents to keep fit and healthy and therefore have daily activities to ensure optimal health and well-being. We have a wonderful Shul and services are held every Friday evening and on Jewish Holidays.
Beth Shalom is synonymous in observing all Jewish Festivals and Traditions including hosting an Oneg Shabbat Community Dinner once a year.
For those who are interested we have various types of accommodation available.
Kindly contact our Social Worker, Mrs Gert Levin or Mrs Sylvia Collins, General Manager for more information on 031-201 3151.
---
Beth Shalom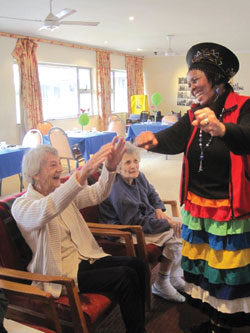 Sylvia Collins

Our staff and residents had a wonderful day celebrating Madiba's 95th birthday. All residents in frail care and semi-frail were pampered and spoilt with a lovely foot massage and given treats. The staff had a casual day and some dressed in traditional dress which was awesome. The residents were treated to a birthday party in honour of Nelson Mandela, with tea and cake which was so enjoyed. The staff sang and residents danced. It truly was a joyous occasion.
---
Beth Shalom
Abie Baitz turns 100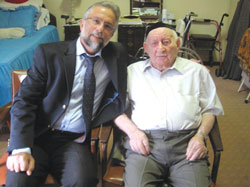 Beth Shalom has also been very blessed that one of our residents, Abie Baitz, turned 100 on 11th July. Beth Shalom held his birthday party which was enjoyed by his immediate family, grandchildren and great grandchildren as well as our residents. This party was such fun, with beautiful eats and a wonderful magician Adrian who kept the children and residents entertained. It was truly a joyous occasion.
---
Beth Shalom
Annual Shabbat Dinner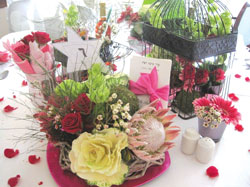 Sylvia Collins

Our annual Shabbat Dinner was held at Beth Shalom on the 12th July 2013. The tables were decorated by ladies of the community who came to the dinner, the theme was pastel colours. All the tables were beautiful and different which was so enjoyed by our distinguished guests, committee members and our residents. It created such fun and warmth and made the whole evening so special. Without the assistance of all the ladies it would have never been such a wonderful, joyous occasion and a big thank you to our wonderful dedicated staff who made this night truly memorable.
---
Beth Shalom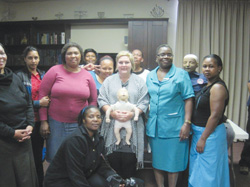 Sylvia Collins

Beth Shalom have been very honoured and blessed to have had the Durban United Hebrew Congregation Choir coming to our Shul Services. This has been such enjoyment for our Residents.
I would also like to thank the children from Izinga School coming on Shabbat to spoil our residents. It really does make their day as the residents love seeing children and their enthusiasm is contagious.
The staff at Beth Shalom were treated to an intensive workshop updating skills in basic CPR. This was a wonderful day for the staff who enjoyed and had fun in an learning experience. The staff who attended will be given certificates by the Training Academy. Lots of information was obtained at this workshop and lots of practical experience was demonstrated.
---
Beth Shalom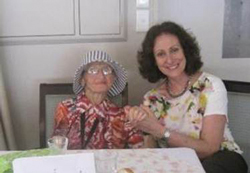 Sylvia Collins

The Union of Jewish Women sponsored a braai for Beth Shalom residents on the 6th March which was a lovely treat. Food was in abundance and they so enjoyed their lamb chops, and the glorious weather.
A big thank you to the UJW for their support and commitment to the residents of Beth Shalom.
---
Beth Shalom
Are you perhaps decluttering your cupboards?
Sylvia Collins

Do you perhaps have good second hand clothes, male or female? The Thrift Shop staff would love to take them off your hands!! Good second hand clothing is used to stock the shop at Beth Shalom enabling the residents to purchase a "new" outfit or item of clothing. If you can help we will gladly collect. Please contact Gerselle at Beth Shalom on 031 201 3151or Frances on 083 500 8285
Thank you!
---
Beth Shalom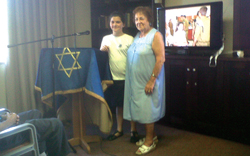 Sylvia Collins

Danielle Burne recently addressed the residents of Beth Shalom on her trip to Israel with her mother Jackie. What so impressed her was her visit to "then" secret ammunition factory near Tel Aviv. Jeannette Landy, one of the residents, shared with the audience her experiences at the factory when she was living in Israel some years ago.

---
Beth Shalom
Sylvia Collins
PanovkaBeth Shalom celebrates the Annual New Year of the Trees with our President, Mr Solly Berchowitz and guests. This was a wonderful afternoon and all who came had a lovely day.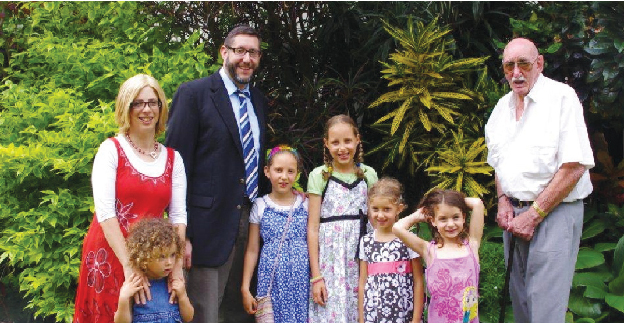 ---
Beth Shalom
Sylvia Collins
Beth Shalom held its Long Service Awards on the 20 November last year to honour our faithful staff. This was a wonderful afternoon of entertainment with much singing and dancing. The Residents so enjoyed themselves. The awards were for 10 years, 25 years and also 30 years, which is truly amazing that staff are happy to work at Beth Shalom for their entire working career. Our President Solly Berchowitz and our Vice-President Stan Liansky were present at the ceremony to give out the gifts to the deserving staff.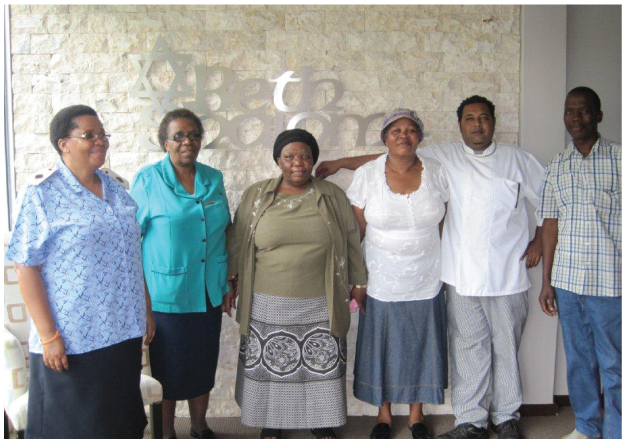 ---
Beth Shalom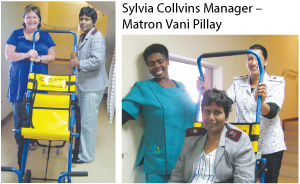 Myron Panovka

Due to the frailty of many of the residents in Beth Shalom, we have decided to purchase some evac+chairs to assist in the evacuation of some of the residents in the event of it being necessary to do so. Every effort is made to see that the Home is secure and hopefully a major evacuation will never be called for, however contingency plans need to be made.

The Evac+chair is a means of transporting the effected residents from their rooms along the corridors and down the emergency stairs. It is an expensive piece of equipment but one which we feel is essential to our needs. In response to a previous appeal to the community we received a donation and were able to purchase one. However one is not enough and it is our intention to purchase more of these items. The cost of each evac+chair is a little over R10 000.00 and we would be most grateful if members of the Community could make donations so we are able to afford the chairs that we need.


Any queries in this regard should be made to the General Manager, Sylvia Collins or Myron Panovka on 031-201 3151.
---
Beth Shalom
A RARE PRIVELEGE
Annual General Meeting

A most successful Annual General Meeting was held at Beth Shalom on the 26th August 2012 which was attended by many members, visitors, and residents. Rabbi Avidan delivered a short message and the meeting commenced. A précis of the minutes of the previous AGM was read and adopted. In his report the President Solly Berchowitz paid tribute to the staff and volunteers who give so generously of themselves and who ensure that the residents are treated with the highest degree of care. He also thanked the various Trusts, Foundations, and individuals as well as the United Communal Fund who supported the work of Beth Shalom.
Solly paid tribute to Margaret Spector who has given many years of service to the Home, and thanked her for all she had done. He also awarded Honorary Life Membership to Marcel Nathan who was the immediate Past President.

In his report, the Hon Treasurer too made mention of the various benefactors who contributed so generously to the Home. Beth Shalom runs at a large operating loss every month, and it is thanks to those benefactors that the Home is able to continue to operate.
The two reports were seconded by Marcel Nathan who complimented Solly Berchowitz and Robin Levisohn on their outstanding contributions to the Home. Linda Nathan, the President of the Council of KwaZulu-Natal Jewry brought greetings from the Council and its affiliates. The reports were then adopted.

Stan Liansky introduced the guest speaker Ian McIntosh who gave a most entertaining and amusing talk on his life in Rugby. He was received with great acclaim and was thanked by Cecil Sher. The meeting closed and was followed by a scrumptious tea in the garden.
GALA CONCERT
This year the Beth Shalom Gala Concert sponsored by Friends of Music was held in the Minor Hall at the Durban Jewish Centre. Almost 300 guests and residents attended the concert which as in the past was arranged by Vera Dubin. There was a vast array of talent, and the concert was enjoyed by all who attended. At interval a lavish tea prepared by Beth Shalom was served.
Our thanks go to Vera for her sterling effort, and to all those members of the community who supported this function.
BETH SHALOM SPRING BRAAI
On Wednesday 5th September the Union of Jewish Women kindly sponsored a braai lunch for the residents of Beth Shalom and workers from Masada. Despite the rainy weather all who attended had a wonderful time and thoroughly enjoyed the chops, boerewors and chicken which was served with lovely salads. We were privileged to have Rabbi and Mrs Zekry with us as well as Rabbi Avidan and a contingent from the Union of Jewish Women.
These braais, held twice a year are greatly appreciated by the residents and we thank the Union of Jewish Women for their continued support.
Myron Panovka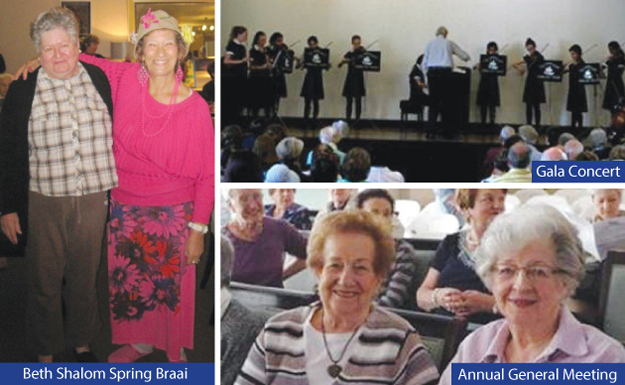 ---
Beth Shalom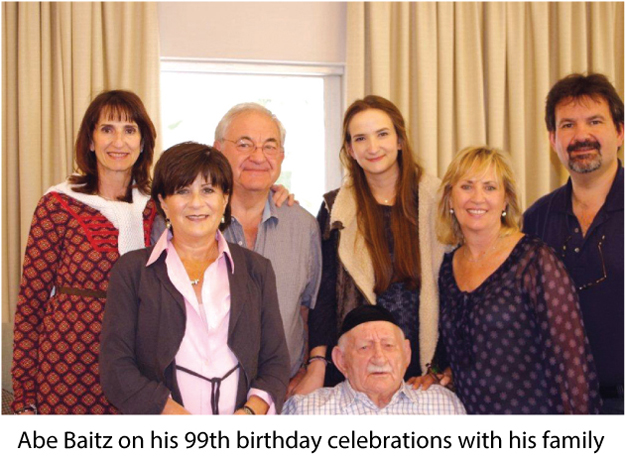 ---
Beth Shalom
A Rare Privilege
Beth Shalom residents were privileged to host a short concert by the talented musical prodigy Ethan Bortnick which was attended by almost all the residents as well as some visitors who were thrilled to hear the amazing piano techniques and singing of this young man. All who attended thoroughly enjoyed the wonderful music that was played which moved them deeply.

We are grateful to Shlomo Wainer and Chabad for ensuring that the residents were given a special treat as this was a morning to remember.
BETH SHALOM GALA CONCERT
Beth Shalom is pleased to announce that Vera Dubin has once again arranged a fantastic Gala Concert to be held at the Durban Jewish Centre on Sunday 19th August 2012 at 2.00pm in the Minor Hall in aid of Beth Shalom funds. Tickets at a cost of only R50.00 each are available from Gerselle or Bongi at Beth Shalom (Telephone 031-201 3151). Buy you ticket early to avoid disappointment.
The concert includes;
Durban Girls College Orchestra
Youth Brass Band – School of Music
3 Opera singers
The Kearsney School Boys' choir
Boris Kerimov and his wife Elena
Last year this concert, which is sponsored by Friends of Music in association with Beth Shalom, was a sellout and an outstanding success and we look forward to providing a fun-filled afternoon with some of Durban's most talented musicians and performers.
A lavish tea is included in the price of admission.
Don't delay buy your tickets today!!!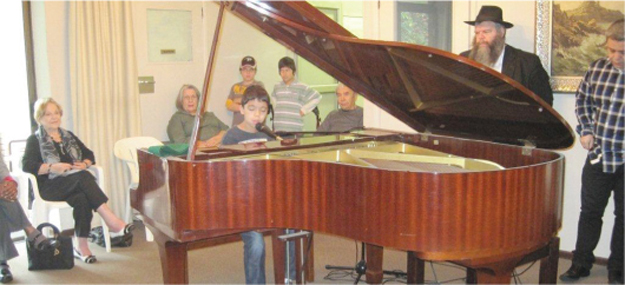 ---
Beth Shalom
Wish List
The biggest concern at Beth Shalom is safety for our residents, particularly in the event that there is a fire. Due to the ages and frailty of the residents an evacuation of the Home presents many difficulties.
We have sourced "evacuation chairs" which would greatly assist in the evacuation of the Home. They are expensive and have not been provided for in our budget. These chairs cost R10 000.00 each.
In addition, due to the frailty of many of the residents we are in urgent need of hospital beds with cot-sides for them. We need these beds for our semi-frail clinic and any assistance in this regard would be greatly appreciated. The cost of such bed is R9 000 and we require eight of them.
We are seeking sponsors for such chairs and beds and more information on these can be obtained from Myron Panovka on 031-2013151.
Our thrift shop is a very successful innovation and we are constantly in need of new and good quality second hand clothing. Any contribution in this regard would be greatly appreciated. We are also very proud of our extensive library and encourage members of the Community to donate books to it.
Bathrooms
In an effort to make the Home more comfortable and to maintain it, we are constantly refurbishing particularly the older part of the building. Thanks to a generous donation we have now refurbished all our Residents' communal bathrooms and are attending to the facilities on the ground floor.
Thank You
Beth Shalom thanks the members of the community for their unstinting support and care. Beth Shalom is dependent on the assistance that we get from the various members of the community and we are grateful to those who assist us in so many ways.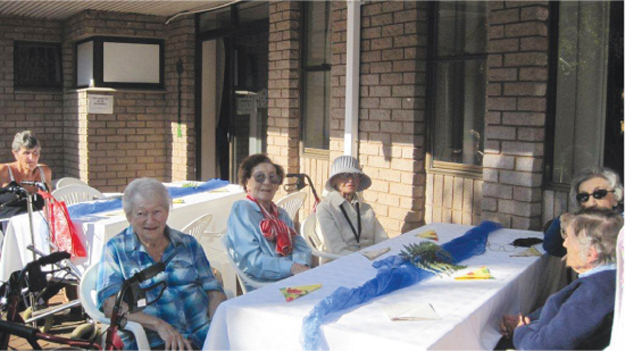 ---
Beth Shalom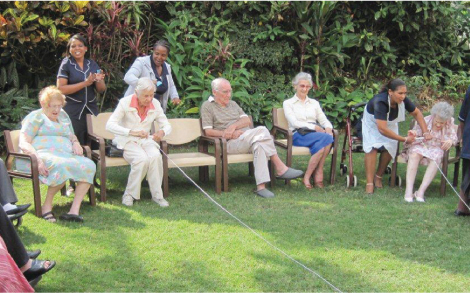 Our residents enjoying occupational therapy with our care-givers. Recently two of our care-givers have gone on a course to help stimulate our residents. It is proving lots of fun, for residents, visitors and the staff. We now have a daily activities programme in place.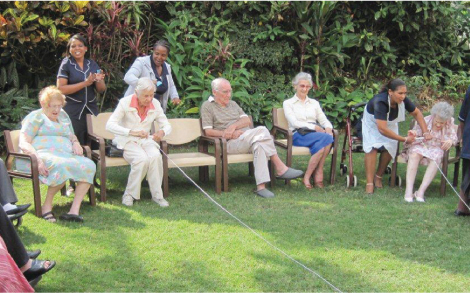 ---