EDITORIAL
Disgrace at DUT
- Prof Antony Arkin
A day after Leila Khaled spoke on the Durban University of Technology campus the Student Representative Council demanded that all Jewish students be expelled from DUT. SRC Secretary Mqondisi Duma said "As the SRC, we had a meeting and analysed international politics. We took the decision that Jewish students, especially those who do not support the Palestinian struggle, should deregister". All Jewish students who supported Israel and all students who are sponsored by the Israeli government should be kicked out.
The vice-chancellor of the university, Prof Ahmed Bawa, correctly called the demand of the SRC and the Progressive Youth Alliance "totally preposterous, unjust, unfair, unreasonable and unconstitutional". He went on to argue that it "was a deep violation of our National Constitution and every human rights principle". He said the university was committed not to "discriminate against any person based on their race, religion, colour, ethnicity, sexual orientation or political affiliation".
The following day in a "clarification" the SRC coupled Zionism with anti-Semitism as the sole example of racism. They called instead to deregister 'Zionists'. "Once more we repeat our position. Israel is an apartheid state that should be fully isolated, on this point we will not concede". This is the direct continuation of the Boycott, Divestment and Sanctions (BDS) strategy of anti-Israel activism, whereby Israel and Zionism are equated with colonialism, apartheid, ethnic cleansing and genocide. These words are not chosen because they somehow reflect reality, but because they are universally considered evil. The effect of the continuous repeating of Zionism / Israel = Evil is to create an intellectual climate in which physically ridding the world of Israel would be considered desirable, even noble.
DUT, having given Khaled an open platform to churn out her message that "violence is the mainstream and I-S-I-L (The Islamic State of Iraq, and the Levant) is a Zionist plot, now has the responsibility to recognize the anti-Semitism embedded in the institution. As Mary Kluk, chair of the SA Jewish Board of Deputies argued in Die Burger "welcoming hate-mongers like Khaled... sends out a message that it is legitimate to discriminate against Jews, something that runs completely counter to the South African ethos of non-racialism, equality and tolerance".
Eric Pickles, the British cabinet minister has warned in the Telegraph, "The history of anti-Semitism shows the worst atrocities can begin when ordinary people turn a blind eye to small acts of discrimination and minds drifts lazily towards a mainstream, even fashionable, acceptance of prejudice".
Having served for eight years as the Academic Vice-Rector and Acting Principal I am fully aware of the enormous support the local Jewish community gave the institution over many decades. It is hoped that the core beliefs in human rights, civil rights, pluralism and freedom of expression will again be its guiding principles. A fully integrated education program for all its stake holders must speedily be introduced. We all need to fully endorse the stated policy of both Israel and South Africa of two states for two peoples, living side by side in peace and security.
---
COMMUNITY NEWS
JEWISH NATIONAL FUND OF SOUTH AFRICA
Leanne Cramer

JNF SAYS:

The Phantom Tea Party email fundraiser was a great success. JNF Durban would like to thank Shereen Man from Logico Creative for the lovely emailer that was produced.

Leanne Cramer
Buy your tree certificate in the South African Forest to celebrate a special occasion, a barmitvah, batmitzvah or a festival, remember you can always send an electronic certificate.

Email:
leannetcramer@gmail.com
for more info.
JNF are looking for any volunteers to help with the Eco Centre in Hammarsdale, including advice, ideas, gardening and general green elbow grease.

GREEN TIP OF THE MONTH:
•
Remember to take your own shopping bag instead of buying plastic packets when you go shopping, easy way to remember is put your bags in the boot of your car.

---
COMMUNITY NEWS
PASS OVER CRAFT KIDS
Why we love it: This pretty goblet honours the prophet, Elijah -- but also makes for a special occasions drinking cup your kids will love after Passover.
How to do it: Spread glue around the wine glass and help your child wrap wool around it. Decorate glass with sequins or beads.

DO YOU KNOW: FACTS ABOUT PASSOVER

1. Coca-Cola makes a kosher Coke product for Passover. Regular Coke products include high-fructose corn syrup, but since many observant Jews do not use products made with corn during the holiday, the Kosher Coke uses real sugar. Kosher Coke products have a yellow cap.

2. Jews from Afghanistan (also Iran and Bukharah) have the custom of preserving a piece of the afikoman as protection against the evil eye. In Libya and Tunisia the afikoman was carried by sea travellers as a protection against storms at sea.

3. During Peach you should feed your pet "kosher for Passover" food. Since one can't own chametz in the house. it is permitted to feed pets kitniyot -- rice, corn, soy beans, etc. -- which Ashkenazi Jews do not eat on Passover. Some pet food brands actually make a special range of food just for Passover!

4. With the difficulty of finding kosher wine in Poland and Lithuania during World War the rabbinical authorities made an announcement to allow sweet tea in the Seder ceremony, instead of the traditional four cups of wine. The announcement states: "On account of the hard times and the great dearth in which we are living, the rabbis have found it necessary to announce that the poor people who do not have the means to buy wine for the Four Cups can, according to the law, fulfil the duty of the Four Cups with sweet tea."

5. Many Ethiopian Jews, who for hundreds of years endured persecution in their homeland because of their unique religious rites, left Ethiopia in two secret airlifts in 1984 and 1991. During Passover, to commemorate their past and celebrate renewal, some Ethiopian Jews break all their dishes and cookware and make new ones. The tradition is in keeping with the hope for emancipation and redemption that the holiday signifies.
---
COMMUNITY NEWS
ISRAELI JUNIOR MASTERCHEF TANTALISES MORE THAN JUST TASTEBUDS
Kendyll Jacobson

Masterchef SA and Australia watch out! Our kids in Durban will be ready to take over the culinary world very soon!

In the afternoon of Sunday the 23rd of February the Israeli Junior Masterchef was held at the Young Israel Centre for all the kids. Never did I expect the turn out that was to soon appear; 40 kids arrived ready to create dishes to wow the judges.

With a table covered by all different Israeli ingredients or traditional dishes there quite literally was a smorgasbord of ingredients at the ready to be used! Before the cooking commenced everyone decorated their own chef hat – because what is a chef without a big white hat?

Finally the fun with the food could begin... The first challenge was that they were only allowed to take three ingredients each to create their dish. Some were more 'traditional' and used peanut butter, chocolates and doughnuts where as others went for the extreme of gherkins, chickpeas and chocolate spread. After 20 minutes of dish compiling the ingredient table was opened again and extra could be added.

Finally we all sat and watched the presentation of each dish and its title. There were Chocolate Mountains, Fishy Surprises and even Mushy Messes.

Everyone then tucked into their creations and even offered me a taste – I must say that there are potentially some future Jamie Olivers in Durban. – Just before leaving we all sipped on a classic Israeli drink, Shoko, chocolate milk.
I have never been more excited and encourage than I am now after this event and please G-d may all my future events be as busy and fun as this.

---
COMMUNITY NEWS
Diary of Events
March 2014
3 7.15 pm Screening: "The Story of the Jews" DPJC
5 9.30 am UJW Friendship Club Beth Shalom
7.30 pm Lecture: Johann Chapout DH Centre
'Ideology and Crime in the Third Reich'
6 6.30 pm DUHC Chevra AGM Perling Hall
9 5.00 pm Beth Shalom Poker Night DJ Centre
10 7.15 pm Screening; "The Story of the Jews" DPJC
12 10.00 am WIZO 80th AGM DJ Centre
17 7.30 pm HOD Lodge Jaffa DJ Centre
19 10.30 am Sisterhood Friendship Club Beth Shalom
26 7.30 pm Screening: "No Place on Earth" DH Centre
All times and venues correct at time of going to press
THANK YOU
Thank you one and all, my wonderful son and daughter-in-law and other family members, and friends who have prayed for me. Without your support over the last seven months, my battle would have been very different. Needless to say this has been a very difficult time in my life, but I am now in remission. Special thanks to my doctors, Sharon Sklarchik and her team, and Sylvia Collins and her team.
You have no idea what your support has meant to me.
Enid Feigenbaum
---
COMMUNITY NEWS
Social & Personal
BIRTHS
Mazeltov to Hilton and Lesley Greenbaum on the birth of a granddaughter born to Tammy and Rob Levin in Johannesburg; to Valerie Driman and Ray Chudy on the birth of a great grand­daughter in Toranto; to Janie Wolman on the birth of a great granddaughter in Toranto; Carol Hart on the birth of a great granddaughter and to Tony and Linda Berman on the birth of a grandson born to Kelly and Alfie Cinamon in Cape Town. To Dr. Lionel Wolff on the birth of twin grandchildren born to Lisa and Nathan Peles in Sydney
BAR/BATMITZVAH
Mazel tov to the Allaluf family on Bat-El's Batmitzvah in Israel and to the Salomon family on Daniel's Barmitzvah.
ENGAGEMENTS
Mazeltov to Neville and Charisse Kluk and Charles Kluk on the engagement of their daughter/granddaughter Stephanie in London and to Mendel and Betty Green on the engagement of their grand-daughter Becky Klawansky to Lance Horwitz in Johannesburg. Robbie and Gill Sevel on the engagement of their son David to Elana Sanzul in Cape Town..
ANNIVERSARY
Mazeltov to Albert and Stella Aronoff on their 'Golden' wedding anniversary.
BIRTHDAYS
We wish a hearty mazaltov to Esmond Jacobson on his 93rd birthday; to Leah Maserow on her 90th birthday; to Mike Kuttner on his 70th birthday; to Marion Lurie on her 75th birthday and to Gayle Lewenstein on her 70th birthday.
CONDOLENCES
Deepest sympathy to Danielle De Gaye on the passing of her mother; to Gerard Groot on the passing of his sister, Didi Kalter Groot, in Holland and to Pessa Weinberg and Rhoda Spielkin
on the passing of their sister Vivienne Fruma Bester (nee Karpelowsky).
CONGRATULATIONS
Mazel tov to Jeanette and Ronnie Bank on their grandson Yossi's achievement. "We are very proud of our grandson Yossi, a pupil at King David Victory Park, who was chosen by his junior councillors as Youth Mayor of the Gauteng Junior Council.He follows in the footsteps of his father Warren Bank who was youth major of Durban youth council, as well as his brother, sister and aunt who were all members of the Durban and Gauteng Youth councils."
---
COMMUNITY NEWS
Above Board
Mary Kluk

Countdown to Elections, 2014

With 7 May now confirmed as polling day, electioneering is being stepped up countrywide. Leading up to the elections, the Board will be running a range of projects to stimulate Jewish interest and involvement, including public debates between the parties and introducing our community to what they stand for. Another important project we are involved with is in putting together a team of volunteers to act as election monitors, and thus far the response has been encouraging. We were also pleased with the good response to our registration drive, through which community members ensured that they were properly registered on the voters' roll.

The Nazi salute incident at the Durban Holocaust Centre in Perspective
South Africa is one of the few countries where the Holocaust is a compulsory part of the high school curriculum. This has provided much scope for the three branches of the SA Holocaust and Genocide Foundation in Durban, Cape Town and Johannesburg to reach many thousands of learners within our national educational system. As Director of the Durban Holocaust Centre, I am continually involved with visiting groups of Grade 9 learners and their teachers.

Sensitizing people as to the evils of prejudice is not necessarily easy. Young people particularly tend often to be irreverent and resistant to authority, and this sometimes manifests in inappropriate behaviour. This was underlined by an unfortunate incident that took place earlier this year at the Durban Holocaust Centre, when a number of learners were photographed making stiff-armed salutes and this image was subsequently posted on Facebook. Crass and insensitive as these acts were, it was important not to overreact but rather to use the incident as a learning opportunity for those responsible.
When approached for comment, I expressed the view that the youngsters had most likely not intended to be offensive, but that they nevertheless needed to understand why their behaviour was so upsetting and inappropriate. The school apologised unreservedly for the incident and has spoken to the youngsters concerned.

Parliament Hijacked for Anti-Israel Propaganda Stunt

Last month, the International Relations and Cooperation Portfolio Committee hosted what was billed as a "Solidarity Conference in support of the people of Palestine, Cuba and Western Sahara" in Parliament. Without exception, those chosen to speak were well known anti-Israel activists, and the entire event thus served as a platform for one vitriolic attack after another to be launched, unchallenged, against Israel. Several of those on the programme have made overtly anti-Semitic statements, such as Fatima Hajaig (who once claimed that the West is in thrall to Jewish money power) and COSATU's BonganiMasuku, whose anti-Jewish threats resulted in a SA Human Rights Commission hate speech ruling against him. The ACDP was the only political party present to protest against the one-sided nature of the event, and we have written to commend it for its principled stand. We have followed up the matter with government and the various political parties involved, conveying our deepest outrage over what we regard as a flagrant abuse of the Parliamentary process and seeking clarity as to what implications, if any, it has for South Africa's policy regarding its relations with Israel.

---
COMMUNITY NEWS
Elephant House
Sylvia Collins

Our Residents of Beth Shalom had an amazing morning visit to oldest house on the Berea. It is known as the "Elephant House" and was owned by various people including Alexander Murchie of "Murchie's Passage" fame. Elaine and Brian Agar who have owned and lived in the house since 1975, have lovingly restored it and it is now classified as a national heritage site. The house also serves as a popular B & B.

Elephant House is full of history and has lots of interesting objects that visitors are encouraged to examine. Our residents had a delightful time. It is well worth going to visit, so if you are interested please contact Elaine or Brian on 031 208 9580. I am sure that you will have an amazing experience and learn lots about the history of Durban, just as all of Beth Shalom's residents did. The house is surrounded by a most beautiful garden which takes you back to a time of peace and tranquillity.

All at Beth Shalom would like to thank the Community who have donated cards, lovely clothing and other items to the Home. We are most grateful as the items are very useful to us.

THANK YOU

Another big thank you goes to our wonderful residents, who assist with the daily activities in the Home. You are truly special and gifted people and the Home is better run with all your help and input. This help enables everything to run smoothly and efficiently.

---
COMMUNITY NEWS
REPORT ON THE TUBSHVAT FUNCTION HELD AT THE VICTOR DAITZ/JNF ECO CENTRE.
Leanne Cramer

The hardworking JNF committee was just delighted that all
their plans to bring the community to the Eco Centre to enjoy
Tu'Bishvat, came together.

The young and the old came. Thank you to those of you who
were there and helped create such a really great atmosphere.
The pictures show how much the youngsters enjoyed
interacting with the scouts who showed some exciting camp
crafts – did you know you could boil an egg in an orange?
Much fun was had with our own Zionist youth workers.

For the parents there was the interior Eco Centre and a Tree
walk around the outdoor classroom.

All was finished off with a really nice boerie role.
Who thought that when the idea to build this centre with
funding from the Victor Daitz Fund was first mooted, about
4 years ago, we would be now holding our 2ndTu'Bishvat on
the site?

The idea of thecentre is to bring in school children from the
area to learn about Eco-friendly issues which are now part of
their curriculum. We show the children how to manage waste,
how to conserve electricity and water and how to grow plants
in an eco-friendly manner. Our partners in this venture are the
"Department of Education" and "Durban Solid Waste" – and
they have been great.

We are now looking at working with the Durban University of
Technology – DUT. Their master's students, who are dealing
with food security, will be using our resources.

Our next major steps will be to upgrade the Out Door
Classroom and to start working with the surrounding
community.

If anyone who was there has any ideas for us or would like
to join us in the work we doto please contact us. Even ifyou
weren't there on the day we are open to ideas and new
members. Contact Us on leannetcramer@gmail.com

---
COMMUNITY NEWS
DHC
Alana Baranov

Every year on the anniversary of the liberation of the Auschwitz
death camp, the United Nations marks the 'International Day of
Commemoration in Memory of the Victims of the Holocaust'.
The theme for this year's commemorations is "Keeping the
Memory Alive – Journeys through the Holocaust".

This year, the DHC honoured this event on Tuesday 28th of
January with an outstanding presentation by internationally
renowned Professor Robert Rozette on the topic, 'How did it
happen in 1944? The Destruction of Hungarian Jewry'.
Our event opened with Director Mary Kluk welcoming our
guest Archie Findlay, the District Grand Master of the English
Constituency of KwaZulu-Natal, who addressed the audience
on the topic of the persecution of the Freemasons by the Nazis
regime.

An address from the United Nation's General Secretary Ban
Ki Moon was then screened before Prof. Rozette spoke, and
this perfectly encapsulated the tone and lessons of the evening.
'We must be ever vigilant against bigotry, extremist ideologies,
communal tensions and discrimination against minorities. And
we must teach our children well", Moon said. "Let us join forces
today on a shared journey to a world of equality and dignity for
all".

Rozette, the Director of the Yad Vashem Libraries in Israel, then
gave his address on the destruction of Hungarian Jewry, which
took place during the last 14 months of the war in Europe. By
that stage, there was much information about the Holocaust
and the question of how two thirds of the last surviving Jewish
community in Europe could be destroyed was explored.
Rozette has published research on the Holocaust in Hungary,
Jewish responses to the Holocaust and the historiography of the
Holocaust.

Over 200 people attended the evening, which was held in
the new upstairs auditorium, with many of the members of
the Freemason community in attendance in their full regalia.
Numerous guests mentioned to our team that this was one of
the most meaningful events they've attended at our Centre.
Thank you all for being part of it.
---
COMMUNITY NEWS
DIVOTE
Cheryl Unterslak

Our second letter reads:

Hello dear donor,

Let me share my feelings about the gift that you gave to me. My
name is Dana, and I lost my brother in a shooting attack at the
checkpoint in EinArik.

Our baby was born a month ago, and with it came lots of joy and
light to the whole extended family. Your special gift came to us with
perfect timing, because we found ourselves at a loss, and were
desperate to find a pram that would meet our needs and did not
cause us long term financial burden.

Both the baby bag and the pram were amazing. A lot of effort and
insight went into choosing all the items and gifts. We are confident
that our baby will appreciate these special gifts, as much as we do.
With love,

Dana and Ofer

A very special family donated, with love, the baby bag and
pram. The other items were donated by people who care and
understand the power of chesed.

How comforting the love and support must be to these two
families!

---
COMMUNITY NEWS
YOUNG ISREAL CENTRE
Jessica Johnstone

January has been an exciting month at the Young Israel Centre.
The calendar on our wall is rapidly filling up with exciting functions.

Cheder has started with a bang! We have had full classes and the
children are having a lot of fun! They learn about the weekly parsha and
are learning how to Daven and what the prayers mean.

Bat Mitzvah lessons are also happening at the Young Israel Centre and
the girls love them! Youth lunches and functions have been booked for
the upcoming months. Watch this space for more details!

Our Primary School children enjoying our Tu Bishvat activities
Norma Bloch

Doron Werner Joshua Aronoff Jade Friedman
Eden College TOP Achievers are awarded

If you would like to book a community function, are interested in
sponsoring a function at the Young Israel Centre, or would like to come
borrow a book from the Jewish Lending Library please contact me on
jess.johnstone@gmail.com.
---
COMMUNITY NEWS
TALMUD TORAH
Cheryl Unterslak

Talmud Torah has started again for 2014 and all the lessons are going
extremely well. Our attendance number has increased, and the Talmud
Torah team is thrilled to have included an additional six children who
we did not know about before. These six children attend various
schools in the Durban area.

There are some brand new and very exciting materials designed and
put together by Rabbi Vegoda. These are suitable for children up to a
Grade Seven level of schooling. We invite all junior and primary school
learners to attend. Learning together with friends is part of the fun of
Talmud Torah.

Talmud Torah Generations is a time where parents and children can learn together.

It offers an excellent "Family Team Building" environment and takes place on the last Sunday of every month. Every time a parent and child attends a Talmud Torah

Generations group they stand a chance of winning two tickets to Israel for that
child and parent. Every time a child attends a Talmud Torah class at the schools they also have an additional chance of winning the tickets.

Should any one wish to ask about the Talmud Torah lessons, please contact me on 083 7996440.

---
COMMUNITY NEWS
EDEN COLLEGE
Norma Bloch

Shalom,
The year got off to a busy start with the celebrations
of the festival of Tu Bishvat.

As we are so proud of our Eco friendly school, which has been
awarded gold flag status, we ensured that the trees planted
were all indigenous.

The primary school pupils really were excited to plant their own
special trees and even the extreme heat did nothing to dampen
their enthusiastic spirits.

They have undertaken to nurture these trees and in so doing will
learn the importance of preserving our beautiful environment.
The celebration was rounded off with delicious and refreshing
ice-cream and fruit salad.

Our high school pupils continue to impress and to achieve
excellent results in all spheres of their studies.
We extend a hearty mazeltov to Les Sol for his outstanding
matric results. Doron Werner, this year's Head of Judaica, was
awarded: the Sportsman of the year award; the soccer player of
the year award and the Cricketer of the year award. He received
full Academic colours for his brilliant results – 8 distinctions and
an overall average of 88%. Josh Aronoff received an academic
award for his outstanding 11 distinctions and overall average of
89%.

Jade Friedman is a member of the debating team: The team was
awarded "The Team of the Year" trophy. She has been named
best speaker on numerous occasions.She also received an
academic award for her excellent achievement of 7 distinctions.
We are thrilled and delighted at the accomplishments of our
pupils who continue to be a source of inspiration and nachas
to us all.

---
COMMUNITY NEWS
MORIAH
Shelli Strous

Our first term is well underway, and already it has been a fun filled one. The children thoroughly enjoyed planting a tree for Tu Beshvat.

They loved preparing the ground with plastic spades and pouring water from their little watering cans. Our artwork and song rings further
enhanced their learning about the special festival of Tu Beshvat.

Shabbat is celebrated weekly with great enthusiasm. From the giving of tzedakah to the baking of challah, the children know and love the
Shabbas rituals. We are delighted to welcome Jack Bronzin to the Moriah family and we wish him many happy hours at Moriah.

For further information about Moriah School, kindly contact Shelli Strous on 031 201 7439 (mornings).

David Friedman, Emma van de Weg
and Jack Bronzin

Tu Beshvat at Moriah Emma van de Weg, Michal Dogan,
David Friedman

---
COMMUNITY NEWS
DURBAN PROGRESSIVE JEWISH CONGRIGATION
Diane McColl

Simon Schama looks at the impact of the Jews and those
moments when the Jewish experience - what Jews have
thought and written, uttered, mourned and acclaimed - has
changed the fate of the world. Drawing on his scholarship, his
original viewpoints, and his own family history, Schama presents
a series about the Jewish story that is at once deeply historical
and bracingly contemporary.

Travelling the globe from New York to Odessa, Berlin to
Jerusalem, he tells ancient and modern stories that illuminate
the passions and perplexities of the Jewish people today. Sure
to capture a wide and appreciative audience, The Story of the
Jews rests at heart on difference between distinctiveness and
isolation.

Since the creation of the Bible, the Jewish world has been
distince, but never truly isolated. The Jewish story needs
to be told afresh because it is a story of our deep human
connectedness.

February and March proved to be busy months for the members of
the DPJC. Every Monday evening from 10 February till 10 March,
the critically acclaimed BBC series entitled 'The Story of the Jews'
has been screened at Temple David. Members of the congregation
who attended the screenings have praised the series calling it an
'inspiration' to learn more.

Sheila Shulman of Eden Crescent said, "I wish that the whole
Durban community could view this wonderful series".
The Sisterhood are also preparing for two important events;
Beryl Israelite will be celebrating her 90th birthday on
26 February with 3 generations of her extended family.
On 7 March Temple David will be hosting a special service for
International Women's Day of Prayer. The theme this year is
'Streams in the Desert'.

Netzer members met during February for a camp reunion.
It was a time to reminisce about the Summer Camp Nettivim and
the good times shared, and to reflect on all that was learned. Kendyll
Jacobsohn, Rosh Netzer Durban and National Mazkirah of Netzer
and the Netzerniks spoke about their favourite camp memories,
looked at photos and filmed a video for a national project. The day
ended off with a hands-on art project; making dreamcatchers which
were all very individual reflecting the creativity of each participant.

---
COMMUNITY NEWS
Obituary: Dennis Port - (Daniel Leib ben Shmuel Chaim)
The DUHC recently held a memorial service to honour the memory of Dennis Port who was one of the Durban community's most prominent and popular figures - a man of outstanding character in every sense of the word. As Dennis passed away in Las Vegas after a short illness and was buried in that city, his family decided to have a memorial service in Durban so that his family and many friends here could pay their last respects. Dennis' popularity and reputation was quite apparent when nearly 300 people attended the packed memorial service in the Perling Hall. This was testimony to how much Dennis meant to so many people in the wider Durban community, in addition to his family and close friends. This was a great honour for a man who had achieved so much for his large extended family, the Jewish community and South Africa.

Dennis was a cherished father, grandfather and great-grandfather, an ideal family man and a thorough gentleman with a warm and friendly personality. In business, Dennis was a respected professional in the clothing industry where he held top positions at leading firms. Dennis attended Shul regularly and was Gabbai at the Glenmore minyan for some time. He also enthusiastically attended and participated in communal events and activities. His most well-known achievements were in the sports world where his name became synonymous with excellence in water polo, representing South Africa and the Jewish community as a Springbok water polo player in international sport and participating frequently from as far back as 1957 in the Maccabi Games in Israel.

Rabbi Zekry opened the memorial service praising Dennis' life and achievements. Dennis' son Craig then addressed the gathering with an emotional tribute to his father. This was followed by a beautiful song sang by Dennis' grandaughter, Dana Blumberg. She sang the poignant "Ho Rav Choveil" ("O Captain! My Captain!")adapted by the famous Israeli songwriter Naomi Shemer after the death of Yitzhak Rabin and commonly performed or played at his memorial day services. Rabbi Zekry then led the congregation in the Memorial Prayer and the recitation of Psalm 23.

Dennis' colourful life and endearing personality will be always be remembered by all who knew him and the DUHC extends its sincere condolences to the family of this memorable man, who contributed so much to family and community in his lifetime.
---
COMMUNITY NEWS
UMHLANGA JEWISH DAY SCHOOL
Umhlanga Jewish Day School has gotten off to a brilliant start in 2014. The school, which now goes up to Grade 8, has been equipped with a specialized arts and science room. Available to the entire school but aimed at the senior phase, the new classroom "contains up-to-date art and science equipment and is an environment which will inspire creativity," says proud principal Lynn Ducasse.

The Grade 8 class is also equipped with a Promethean board – "the Rolls Royce of interactive smart boards" – and the Grade 8's have i-pad Airs and Macbooks available for their use.

But technology is worthless if not used in the pursuit of greater aims. Already students as young as Grade 4 are using the equipment to research chumash vocabulary, amongst other things. "We want to develop within the students a love of Hashem, Torah and learning," explained Head of Judaica Rabbi Mark Friedman at the first Parent's Information Evening held this term. "Our goal is to share the relevance and beauty of Judaism, thereby nurturing a positive and healthy Jewish identity."

Meanwhile, a mere 250 metres away, there's a unique new residential development aimed at the Jewish community in Umhlanga. '83 on Wager', as the development is known, is fast filling up with occupants.

Robbie and Terri Pillemer moved in late last year, so their children Coby (4) and Mikaela (3) could be closer to Umhlanga Jewish Day School. "Saying goodbye to the long drive to and from school added a chunk of time to our days," notes Terri. "It means a lot less rushing, more time to enjoy, and far fewer 'are-we-there-yet's!"

Of the community environment of the development, she says:
"I never realized how nice living amongst friendly neighbours would be. And that our children are growing up with this is a real gift."

But it's not just the children that are happy. "At 6 am on Sunday morning you can get in your car and be in the water at Bronze Beach surfing by 6:05. What a way to start the day!" enthuses Robbie.

83 on Wager has been professionally laid out by the Tongaat Hulett Group with quality building aesthetics, green areas, walking and cycling trails and security.

Move to 83 on Wager – we wager it's the best move you'll make.

---
COMMUNITY NEWS
ZIONIST LEGACY - ANNE HEYMAN
Gil Troy

Last month, the world lost a leading philanthropist and humanitarian, Anne Heyman, who died during a horse-riding accident at the too-young age of 52.
The founder of the Agahozo-Shalom Youth Village, she cleverly harnessed Israeli expertise and experience to help many orphaned during the Rwanda genocide – who now feel orphaned again. For those of us in the Young Judaea world, we lost someone whose life embodied the Jewish communitarian values and idealism we imbibed in the Zionist youth movement growing up – and someone whose warmth and goodness made her a dear friend and cherished member of our extended youth movement family.

Some people's lifeworks are exaggerated in eulogies; others' cannot properly be contained within a few short paragraphs, no matter how heartfelt. Anne was one of those larger-than-life doers. All the praise flowing in from all over the world is absolutely justified yet somehow dissatisfying. It misses Anne's mix of great public deeds and private grace.

Anne, a recovering lawyer, was best known as half of a New York power couple committed to "guerrilla philanthropy," leveraging charitable donations to trigger social and institutional change. Her husband, Seth Merrin, who founded Liquidnet, a company that, according to Forbes, "allows institutional investors to trade large blocks of securities without wild swings in prices," told Forbes when he made its "400 Richest Americans" list that simply writing checks to charity is "not fulfilling. Today's philanthropy," he explained, "is about getting your hands dirty and making a difference."

In that subversive, activist, creative spirit, and believing that "caring about others, the Jewish people and the State of Israel, is an imperative," Anne visited Africa in 2006 with a pioneering vision. Having been born in South Africa, she had a special sensitivity – which many American Jews lack – to Africa's challenges. Having met her husband Seth on Young Judaea's Year Course in Israel from 1978 to 1979, she had a particular awareness of Israel's resources and needs. And, having immigrated to America, she also shared the guilt so many of us harbor that, as we enjoyed the 1990s' boom, America did nothing to stop the slaughter of 800,000 Rwandans.

Seeking a systematic approach to the problem of Rwanda's nearly three million orphans and vulnerable children, Anne thought to apply the Youth Aliya model for Jewish refugees pioneered by Hadassah and the World Zionist Organization in the 1930s, and epitomized by the YeminOrde Youth Village today, to teach and empower these suffering youngsters.

One added bonus would be sending Israel's new Ethiopian immigrants back to Africa, this time as trained emissaries. A second bonus would be recruiting other young Jews, from North America and Israel, as counsellors and tutors.
It was a Zionist grand slam, bringing Young Judaean values to life. She inspired young people on three continents with a compelling, community-oriented, life-affirming project, using Israel as a framework. She fulfilled Theodor Herzl's vision of Israel helping Africa, while continuing the good work of David Ben-Gurion and Golda Meir in Africa, which anti-Israel Soviet propagandists and Arab oil bullies disrupted in the 1970s.

And she proved, as she told The Jerusalem Post last year, that "Zionism is not to separate us from the rest of the world, but to help us be a part of the nations of the world."

In retrospect, it sounds easy, obvious. In practice, it was anything but. It took two years to establish the village, which opened in 2008 – and it took Anne's persistence, networking, insight and generosity to keep it thriving. Today, 500 students are learning technical skills along with basic literacy, to become productive citizens – and happy people. Meanwhile, she and Seth supported many other worthy community-building organizations, including the Abraham Joshua Heschel School, the Jewish Community Centers of North America, the Schechter Institute of Jewish Studies in Jerusalem, and Young Judaea.
There will be others to ensure that Anne's projects continue. But there is no one to take her place. Given how much so many of us appreciated her presence, her absence will be felt ever so broadly and deeply.

The author is professor of history at McGill University and the author of eight books on American history, including, most recently, Moynihan's Moment: America's Fight Against Zionism as Racism, published by Oxford University Press

---
COMMUNITY NEWS
PURIM - HISTORY REPEATS ITSELF
Rabbi Yaakov Asher Sinclair

On 1 October 1946, after 216 court sessions, the International
Military Tribunal at Nuremberg delivered its verdicts sentencing
the leaders of the Nazi party to death by hanging. The author of
the following account, Kingsbury Smith of the International News
Service, was chosen by lot to represent the American press at the
execution of ten of those leaders.

Nuremberg Gaol, Germany ∙ 16 October 1946 ∙
International News Service

Julius Streicher made his melodramatic appearance at 2:12 a.m.
While his manacles were being removed and his bare hands bound, this
ugly, dwarfish little man, wearing a threadbare suit and a well-worn
bluish shirt buttoned to the neck but without a tie (he was notorious
during his days of power for his flashy dress), glanced at the three
wooden scaffolds rising menacingly in front of him. Then he glanced
around the room, his eyes resting momentarily upon the small group of
witnesses. By this time, his hands were tied securely behind his back.
Two guards, one on each arm, directed him to Number One gallows
on the left of the entrance. He walked steadily the six feet to the first
wooden step but his face was twitching.

As the guards stopped him at the bottom of the steps for identification
formality he uttered his piercing scream: 'Heil Hitler!'
The shriek sent a shiver down my back.

As its echo died away an American colonel standing by the steps said
sharply, 'Ask the man his name.' In response to the interpreter's query
Streicher shouted, 'You know my name well.'
The interpreter repeated his request and the condemned man yelled,
'Julius Streicher.'

As he reached the platform Streicher cried out, 'Now it goes to G-d.'
He was pushed the last two steps to the mortal spot beneath the
hangman's rope. The rope was being held back against a wooden rail
by the hangman.

Streicher was swung suddenly to face the witnesses and glared at them.
Suddenly he screamed, 'Purim Fest 1946.' [Purim is a Jewish holiday
celebrated in the spring, commemorating the execution of Haman,
ancient persecutor of the Jews described in the Old Testament]…
Streicher had been a Nazi since early in the movement's history.
He was the editor and publisher of the anti-Semitic newspaper
"Das Strummer." In May of 1924 Streicher wrote and published an
article on Purim titled "Das Purimfest" (The Festival of Purim). In
order to publish his vitriolic attack Streicher must have had a good
deal of knowledge about Jewish thought and practice. However we
can only speculate to what extent he was aware of the remarkable
parallels between Haman and his own execution. However, they
are indeed striking:

"And the king said to Esther the queen, 'The Jews have slain and
destroyed five hundred men in Shushan the capital, and the ten
sons of Haman...Now whatever your petition, it shall be granted;
whatever your request further, it shall be done.'

Then said Esther, 'If it please the king, let it be granted to the Jews
that are in Shushan to do tomorrow also as this day, and let Haman's
ten sons be hanged upon the gallows.' "

(Esther 9:12-14)

If Haman's ten sons had already been killed, how could they hanged?
Our Sages comment on the word "tomorrow" in Esther's request:
"There is a tomorrow that is now, and a tomorrow which is later."
(Tanchuma, Bo 13 and Rashi, Shemot 13:14).

In the Megilla, the names of Haman's ten sons are written very large
and in two columns. This is in distinct contrast to the style of the
rest of the Megilla. The left-hand column contains the word v'et
(and) ten times. According to our Sages the word v'et is used to
denote replication. The inference is that another ten people were
hanged in addition to Haman's ten sons.

If we examine the list of Haman's sons three letters are written
smaller: the taf of Parshandata, the shin of Parmashta and the zayin
of Vizata.

Those three letters together form taf-shin-zayin, the last three
numbers of the Jewish year 5707, which corresponds to the secular
year 1946, the year that those ten Nazi criminals were executed.
The Nuremberg trials were a military tribunal and thus the method
of execution was usually by firing squad. The court, however,
prescribed hanging. Esther's request "Let Haman's ten sons be
hanged" echoes down the ages, equally uncanny is that the date
of the execution (October 16, 1946) fell on "HoshanaRabba" (21
Tishrei), the day on which G-d seals the verdicts of Rosh Hashana
for the coming year.

As the Megilla recounts, a decree that the king has sealed cannot
be rescinded, and thus Achashverosh had to promulgate a second
decree to allow the Jewish People to defend themselves. In other
words, that first decree was never nullified.

Our Sages teach us that eventually the Jewish People will return to
G-d either voluntarily, or if not, G-d will raise up another despot
whose decrees will be "as severe as Haman" (Sanhedrin 97b).
When we look toward the place of our original encounter with
Haman and see the rise of a fanatic whose rhetoric rivals our most
vicious enemies, we should remember that history most often
repeats itself for those who fail to learn its lessons.

Note: In Russia, on the day of Purim 1953, Stalin collapsed from a
heart-attack, and subsequently his death, that prevented him from
carrying out his new plans for a deportation of two to four million
Jews to Serbia.
---
MATRICULANTS
Hashalom extends Mazaltov to the 2013 Matriculants on their excellent results
---
JNF
JNF Open Gardens
Sue Edmunds

Everyone a Winner
THIS PAST SUNDAY I HAD THE BEST DAY I HAD HAD IN MONTHS WHEN MEMBERS OF THE COMMUNITY OPENED THEIR GARDENS TO KEREN KAYEMENT L'ISRAEL (JNF – JEWISH NATIONAL FUND)
Our local JNF committee decided that given that JNF is the one of the oldest "Global Green" organizations we would like to share this thought with the community. The way we did this was by asking the community to open their gardens to our viewing.
Five Gardens were visited. Each one unique but with two common themes. Each family just love their garden and showed me around with passion. All were so pleased that they were showing them for KKL/JNF.
The first one was the lovely town house garden of Jenny and Cecil Kahn lovingly tended over the years.
Right next door is another corner of paradise,where birds are encouraged to visit the Garden of Linda and Marcel Nathan.
From there I visited the so very interesting garden of Nicole and Allan Gershanov.Nicole has established a totally Indigenous experience, with butterflies, birds goggas and snakes!
Then on to the very new and exotic garden of Dave and Cheryl Unterslak, also a town house garden.
And finally to the amazing children's garden of Lauren and Warren Shapiro.
Thank you all.
I do know that there were other gardens, but the homeowners were not available this past week. I will visit them in time for the next edition of HASHALOM.


---
Chaverim Project
Shelli Strous, Co-ordinator

The Grannies and Grandpa Reading project at the Berea Primary School is an ongoing project that continues to pour love and warmth into the lives of the children at this school.
The volunteers from our community in their own quiet but determined manner, offer their support and assistance to the various teachers and this is greatly appreciated.
We were recently invited to the end of year tea where the grannies and grandpa were honoured and thanked by Bridget MacWilliams, the newly appointed principal who has coordinated this project for over 10 years.
Sadly we have said goodbye to our stalwart grandpa Cecil Norton, whose many years of input were well noted. I take this opportunity to thank Rabbi Zekry for his support of this project and to thank the dedicated volunteers for their immense contribution.
---
Community News
PAST TENSE
Pundit

75 YEARS AGO: HASH0LOM December 1938

THEY SPEAK OF JEWRY
"Had the Christian conscience the power to speak in terms of the absolute earlier in the course of the oppression of the Jews it might have been that the hand of the persecutor would have been stayed" - Sir Wyndham Deedes.
"All I ask is that the individual, prepared to enjoy the benefits and the advantages of South African citizenship, shall be as ready to assume the loyalties and the obligations which citizenship entails. I have never known the Jewish section to be unready in this regard….." Gen. J.J. Pienaar, Administrator of the Transvaal
"When I attended the recent Nationalist congress as a delegate and listened to the leaders attacking the Jews I felt that I, for one, had been bluffed. The horrible happenings to Jews in Germany warns me further against this form of madness" - "Free State Catholic" writing in "The Friend".

NEWS OF THE WORLD – JEWISH NOTES FROM HERE, THERE AND EVERYWHERE
Italian Attack on Pope
Roberto Farinacci, the Jew-baiting Minister of State, attacked the Pope and the Vatican for their friendliness towards Jews and hostility to racists in a pamphlet in which he described the Vatican as "a nest of Semites and an ally of Jews, Freemasons and Moscow".
U.S. Statesman's advice to Jews
Mr. Harold L. Ickes, Secretary of the Interior, told a memorial meeting in St. Louis that the late Benjamin N.Cardozo's years on the Supreme Court Bench refuted the contention that the presence of Jews in public life fosters anti-Semitism.
A Christian Gesture
When unknown hooligans in Sopron, West Hungary, tarred the walls of the Synagogue recently, the local Society of Catholic Working Girls wrote to the Rabbi offering to wash away and scrape off the tar. Their fine-spirited offer was accepted.
Peril of Czech Jews
For the Jews of Czechoslovakia, the dismemberment of the country has been calamitous. Thousands of Jewish families have suddenly been uprooted from their homes and those whose homes are situated in "rump-Czechoslovakia" are faced with a growing threat of racial hostility.
The Jews in the Sudeten area had some warning of the dangers facing them, but hundreds of Jewish families who never expected to be transferred to Germany, suddenly found that if they did not want to fall into the hands of the Gestapo they had to evacuate their homes within a matter of hours.
Instead of 30 000 Jewish refugees who were expected as a result of the Munich Agreement, Czechoslovakia now has more than twice that number. All this has worked to the detriment of the general Jewish position in Czechoslovakia.

THE SOUTH AFRICAN STAGE
Discipline to save Democracy
Are Dictatorial methods permissible to save Democracy? It is understood that the Union will shortly take steps to ban Nazi and Communist organisations in South Africa. The Government feels that it has allowed subversive foreign political movements, which operate primarily with the object of ultimately overthrowing the State, to go on long enough unchecked.
Parsons and teachers too
General Herzog "literally took his life in his hands" when he denounced political predikants and teachers in the heart of the Orange Free State..
The Riots
Moderate opinion has been unanimous in condemning the Johannesburg riots and the desecration of the Benoni Synagogue. The Nationalist Press has suggested that if someone intended to harm the Jews, he would have chosen a newer and more valuable building. It was accordingly asked whether the damage was not perhaps caused by people as part of a propaganda campaign conducted by the English language Press for the aim of rousing sympathy for the Jews and placing the blame on Christians and perhaps even on Afrikaners.
In Defence of Germany
"Die Burger" expressed doubt whether recent reports of persecution of Jews in Germany were "not very one-sided and exaggerated" and went on to say:
"For the Jewish nation, regarded as an undesirable element in more and more countries and with nowhere a home of its own, one can – irrespective of whether it brought all this on itself or not – feel pity. This, however, cannot alter the fact that South Africa has no room for more Jews".

IN TOWN AND OUT
Congratulated
• Master Abel Torf on his barmitzvah;
• Mr Harry Friedland and Miss Beattie Sandler, respectively Chairman and Secretary of the 1938 Entertainment committee , and Miss Mena Lipinski and Mr Eddie Leonard, on their respective forthcoming marriages;
• Miss Anna Levy and Dr Sidney Shapiro and Miss Cissy Rothstein and Dr Isidore Green, on their respective engagements
• Mr & Mrs G Amoils (nee Joyce Droyman) on the birth of a daughter;
Britain and Palestine
It was reported that the Woodhead Commission had found that the partition of Palestine was impractible It had been rejected by the Arabs and accepted with grave misgivings by the official Jewish sources. The British Government was now to hold separate conferences with both parties. It reported that so far from Palestine costing the British taxpayer money, it was a handsomely paying proposition for Britain.

50 YEARS AGO : HASHALOM December 1963

MEMBERS IN THE NEWS
Congratulated
• Mrs Rose Levy on the occasion of her 90th birthday
• Evelyn Abel and John Kosviner and Wendy Friede and Jackie Schaffer on their marriages
• John Moshal and Anna-Maxine Abelsohn, Steve Barnat and June Fridjohn, and Myra Hirshovitz and Dennis Monk, on their respective engagements;
• Alf and Rose Stiller and Louis and Edie Ditz on their thirtieth wedding anniversaries;
• Harry and Beattie Friedland, Pam and Victor Jacobs, and Morrie and Vera Levitan on their Silver Wedding anniversaries;
• Mr & Mrs Aaron Cohen on their fifty-third wedding anniversary;
• Brian Abrahams on obtaining his B.Comm Honours degree with distinction;
• Ethne Miller on qualifying as a physiotherapist at Wits University;
• Barry and Doryce Isaacs on the birth of a son and Leon and Sandra Pevsner on the birth of a daughter;
• Jeffrey Roberts, son of Mr & Mrs Ken Roberts, on his barmitzvah.
Book Review – "Stars of David"
This entertaining review was accompanied by photographs of Okey Geffen (Rugby Springbok), Ted "Kid" Lewis (World Boxing champion), Pinky Danilowitz (Springbok men's bowls) and Sylvia Dyne (women's bowls – won SA singles championship four consecutive years).
Durban United Hebrew Schools
In the course of the AGM, the Regional Director of Jewish Education, Mr Sam Ernst reported the attendance at the Schools as follows:
Nursery Schools 135
Afternoon Schools 130
Day School (Primary and High School) 335
How times have changed!


---
CHIVA South Africa masterclass
Urgent paradigm shift in treating HIV positive adolescents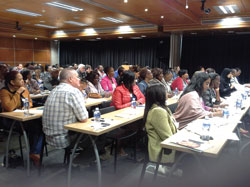 Alana Baranov

"What is needed is a paradigm shift in how we treat adolescents", says Professor Mark Cotton, the Director of Children's Infectious Diseases Clinical Research Unit at University of Stellenbosch. Just one of the impressive presenters at CHIVA South Africa's recent Masterclass, Cotton continued, "This gathering is ground-breaking as adolescent health has been severely neglected. Work in HIV will open the way for improved health facilities for all", he continued. Adolescents, defined as those aged 10 and 19 years old, contribute significantly to shaping the future course of the HIV epidemic. In South Africa, an estimated 334 000 children under 15 are living with HIV.
Entitled 'The clinical management of adolescents living with HIV', the Masterclass was convened by CHIVA South Africa, together with the KwaZulu-Natal Department of Health and Department of Paediatrics and Child Health, and was held at the KwaZulu-Natal Research Institute for Tuberculosis and HIV, Nelson R. Mandela School of Medicine on August 21st.
CHIVA South Africa is an NGO that focuses on providing critical training and support in paediatric and adolescent HIV treatment and long-term management for health professionals fighting the AIDS crisis in Southern Africa. Over the past eight years, the organisation has sent more than 150 volunteer teams of medical practitioners from the UK to help train nearly 20 000 South African health professionals in all aspects of the long-term treatment of children and teenagers living with HIV. As a result of this remarkable collaboration, more than 70 000 children in KwaZulu-Natal are now on lifesaving anti-retroviral treatment. In response to the growing need, CHIVA South Africa launched their dedicated Adolescent Programme in 2008, together with the KZN Health Department and Nelson Mandela School of Medicine. This program develops and delivers workshops aimed at healthcare professionals treating adolescents in KwaZulu-Natal and supports potential strategies to address the health system challenges in providing services to adolescents living with HIV.
One of the most striking points made during the presentations, which covered a variety of topics on the issue including the long-term complications of anti-retroviral therapy; neurocognitive development; and new policies on adolescents living with HIV, as well as the latest research in adolescent HIV, which showed that currently no adolescent health specialists exist. In South Africa and around the world, hospitalized adolescents are placed amongst adult patients in the wards and this can be highly problematic - adolescents living with HIV bring unique challenges in which paediatric and adult services have limited experience. This growing population of HIV infected young people must learn not only to live with a chronic illness but also deal with the emotional and psychological issues of having a highly stigmatised infectious disease and the impact of this on their sexual health, relationships and emotional wellbeing.
Attendees on the day consisted of senior doctors and nurses, all clinical providers who are working with young people. One of the most popular sessions of the day was the on 'Viral resistance and ARV management in adolescents' by Professor Deenan Pillay, a Professor of Virology who is the Head of the Research Department of Infection & Honorary Consultant Virologist at University College London. This topic generated an outpouring of questions and elicited an interesting debate from the floor. "The Masterclass was incredibly informative and I learnt a lot from it – CHIVA South Africa really equips us for the challenges we face in dealing with adolescents and other young people with HIV", said Dr Lebo Gumede, one of the participants who took part.
Juliet Houghton, the Director of CHIVA South Africa, describes the Masterclass as the beginning of the next stage of the journey, and ultimately the success, of the CHIVA paediatric HIV programs. The increase in access to and the life-prolonging effect of antiretroviral therapy (ART) means that more children who were infected through mother to child transmission are surviving into adolescence and adulthood. At the same time, the increased availability and uptake of testing has allowed more adolescents who have been infected during adolescence, to know their status. "As children infected with HIV are growing up, it has become vitally important that they are enabled to move forward in a healthy way into adulthood. It was also crucial that the lessons learnt from CHIVA South Africa's programs in KwaZulu-Natal could be shared and put into practice in other provinces", Houghton said. CHIVA South Africa is currently working on replicating its successful model from KwaZulu-Natal into the Eastern Cape and Northwest Province.
The founder and executive director of CHIVA South Africa, Dr Karyn Moshal, summed up the essence of the event and the critical focus for CHIVA South Africa going forward, "There is however, yet another challenge. Instead of dying of AIDS, children with HIV are now growing up-once a life has been saved, there is a responsibility to make it one worth living. In the face of adversity these young people are breath-takingly thoughtful and devastatingly realistic about what life has in store for them, and yet they remain full of hope-they deserve the best and most compassionate care we can offer".


---
SA JEWISH BOARD OF DEPUTIES
47th National Conference and Gala Dinner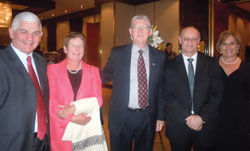 Linda Nathan

Both the SAJBD National Conference and Gala Dinner were held amidst a wonderful spirit of celebration and goodwill. The Board leadership and the Professional Staff's tireless efforts were rewarded with events that were memorable, impacting and resounding successes.
Esteemed guest speakers and facilitators provoked stimulating debate and interaction, enhancing the conference, which took place at the Sandton Sun Hotel. Messages were brought to the gathering by World Jewish Congress Secretary General Emeritus Michael Schneider and Eliseo Neuman, representing the American Jewish Committee (Africa Institute).
The opening session, Creating "Open Spaces" in South Africa, was facilitated by Tony Leon, former DA leader and SA Ambassador to Argentina. The discussion was hard hitting with provocative questioning by members of the audience to the panelists, Prof Rob Moore (Wits Deputy Vice Chancellor), Joan Fubbs (ANC MP) and Mary Kluk (Chairman SAJBD). Prof. Moore responded to questions with regard to the Yossi Reshef concert issue which negatively thrust Wits into the political limelight. Ms. Fubbs emphasized that effective social cohesion can only come about through consultation and participation and answered numerous questions on government policy in her capacity as Chairman of the Parliamentary Portfolio on Trade and Industry. She ensured all present that government would not sit by idly when safe spaces for dialogue were being compromised. Mary Kluk spoke on "creating free space in our community"
The second session, ably chaired by Stephen Grootes, host of Midday Report, Talk Radio 702, was entitled "Imagine a World without Hate". Panelists included Minister of Justice and Constitutional Development Jeff Radebe, Michael Whine, an authority on combatting hate crimes in the UK and EU, Mervyn Smith, past president of the SAJBD and Gauteng Board Chairman Jeff Katz. Radebe assured all present that government recognized that hate crimes constituted a particular category of offence and that this needed to be reflected in the way they were dealt with by the courts. He also praised the Jewish community for its intrinsic involvement in the fabric of anti apartheid activism in SA and to the delight of the audience sang a rendition of John Lennon's song "Imagine", in the hope of being able to realise the dream of living in a world governed by peace.
Later in the day, representatives of six African countries came together for the 15th conference of the African Jewish Congress. Countries represented were South Africa, Mozambique, Swaziland, Mauritius Lesotho and Botswana. A special AJC Distinguished Service Award was bestowed in absentia to Zimbabwe's representative Sam Bentar by the AJC Spiritual Leader Rabbi Moshe Silberhaft. Israeli Ambassador Arthur Lenk, whose brief also includes Mauritius, Lesotho and Swaziland participated in the discussion and pledged assistance where necessary. Mrs. Ann Harris, widow of Chief Rabbi Cyril Harris z'l reported on the building of a Holocaust Museum in Mauritius. Tribute was paid to the late Harold Pupkewitz, a founding member and Vice President of the AJC who passed away in Namibia last year. Elected were President AJC Mervyn Smith and Vice Presidents, Sam Benetar (Zimbabwe) , Richard Lyons (Botswana), Jeff Ramokgadi (Swaziland) and Mrs. Ann Harris.
The Gala Dinner celebrated the 110th Anniversary of the SAJBD and was attended by an impressive guest list, including Dr. Nkosazana Dlamini Zuma, former cabinet minister and current chair of the African Union Commission who was the keynote speaker, Israeli Ambassador Arthur Lenk and his wife Judy, Western Cape Premier Helen Zille, Minister of Home Affairs Naledi Pandor, Governor of the Reserve Bank Gill Marcus, representatives of twelve embassies and a range of leaders from other faith communities. In her address, Dr. Dlamini Zuma complimented the Board and the community for the role they continue to play in the fields of job creation, education and skills development, striving to create a brighter future for South Africans across the spectrum.
South African Zionist Federation Chairman Avrom Krengel brought a message, assuring that Jewish leadership will continue to lead with dignity, passion and dedication to our community, to the Republic of South Africa and to the State of Israel.
The Eric and Sheila Samson / Mendel Kaplan Award was presented to Prof. Michael Katz and to Ms.Isla Feldman who have served the SA Jewish Community with devotion for many years.
Well known journalist Benjamin Pogrund, was honoured with the SAJBD Humanitarian Award for the role he played during apartheid as a journalist in his pursuit of justice as he championed the cause in the fight to create democracy and equality for all. Pogrund was described as "a man who is powerful, principled and who worked tirelessly to expose and denounce the atrocities of apartheid to the world."
Pogrund responded, speaking of the pessimism on the current round of Israeli - Palestinian peace talks and the lack of trust between the sides. He spoke of his career in journalism, paying tribute to those journalists who during apartheid had significantly affected how news got out, despite government intervention to silence it.
The evening ended with the singing of Nkosi Sikelele Afrika and Hatikvah, accompanied by Buskaid, who had entertained the audience throughout the evening.
---
Ruth Wolfson's 103 Year Birthday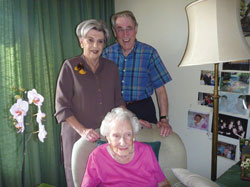 Brenda and Alan Magid with Ruth Wolfson - an amazing 103 years old.
---
Community News
From Great Depression to Skype, Abie turns 100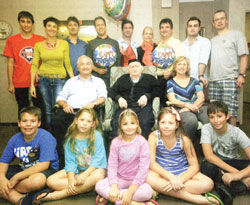 Abie's thoughts on turning 100 are: "I don't know what all the fuss is about."
Abie's family organised two celebrations, one at Beth Shalom and another with family and close friends at his grandson's house. He has three children, nine grandchildren and 22 great-grandchildren, 11 of whom made it to Durban for the celebration. People had come from Australia, Canada, US and Johannesburg and Durban.
While Abie's hearing and eyesight have now started to fail, he will sometimes Skype with his family.
Abie was born in Riversdale in the Cape. His family soon moved up to Oudtshoorn and then to Johannesburg. His siblings grew to the robust number of 10. His mother passed away when Abie was 15 years old. He dropped out of school and moved to Newcastle to work as a shop assistant.He later moved back to Johannesburg and started selling furniture. First he used a horse and cart, taking three days to travel from Johannesburg to Springs. He eventually graduated to using trucks when that became the preferred form of transportation.Abie began opening shops and eventually settled in Durban.
In 1938 he married Rachel Sachs, a woman he was married to for over 50 years. She passed away in 1992.

Acknow. The Daily News (edited)

Editorial note: The community wish the Baitz family many more happy years together
---
JNF
Durban Solid Waste Award to JNF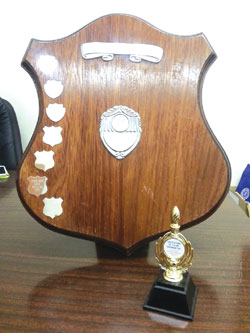 Suzanne Edmunds

JNF was thrilled to receive an important "Cleaner Environment Award" from Durban Solid Waste/Keep Durban Beautiful at their recent AGM. This is to acknowledge The Victor Daitz Foundation/Jewish National Fund Ecological Education Centre, in Hammarsdale.
The centre is built on the property of the Department of Education and is managed on a day-to-day basis by Durban Solid Waste.
The funding to build was provided by The Victor Daitz Foundation and the operational funding is provided by JNF.
This is proving to be such a success story. We have hosted teachers' workshops, classes from the surrounding schools and visitors from all walks of life. In addition, the surrounding community is becoming involved in tending to the garden, where fruit trees and vegetables are grown and this is in the first year of activity. We have a lot more plans.
The partnership between all the stakeholders has proved to be very successful.
The photographed shield was handed to JNF at the Durban Solid Waste AGM, on 26 June 2013, entitled "Association of Clean Communities".


---
Community News
Wedding Celebrations 2012/2013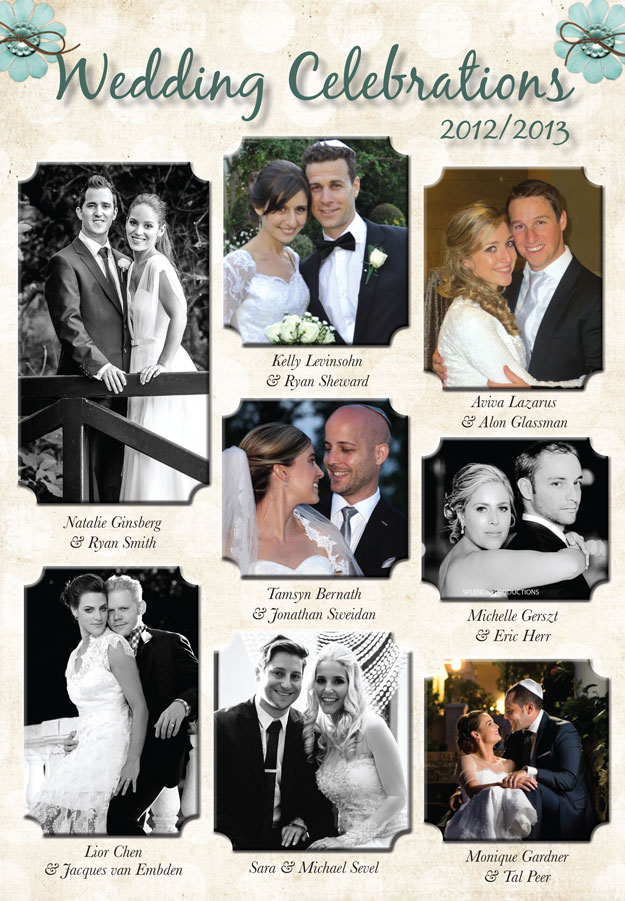 ---
Israel United Appeal - United Communal Fund
'It is your duty, and your privilege, to be involved' IUA – UCF Campaign 2013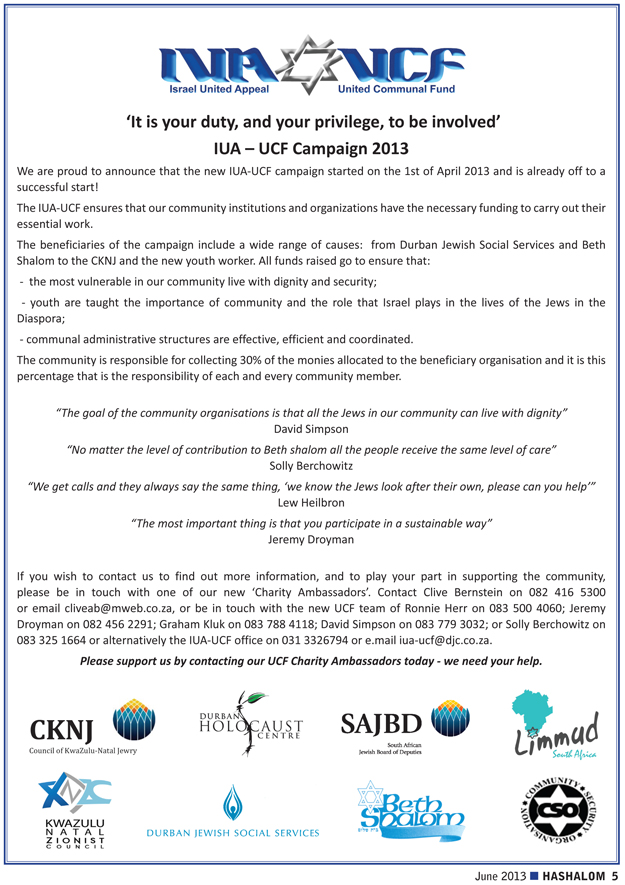 ---
Community News
Humphrey Immerman - a dog's story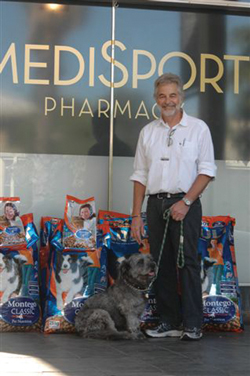 Hi,
My name is Humphrey Immerman and here's my story. Just over a year ago I had a very bleak future. I was found abandoned and injured in Phoenix, Durban and was rescued by the SPCA. The next seven weeks were spent in a small cage at the SPCA awaiting possible adoption. My time was running out fast when my new Mom and Dad adopted me.
I settled in at my new home but remained very withdrawn and nervous for the next 2 to 3 months. Last year when "Mandela Day" was approaching my dad, Alwyn Immerman was inspired with a great idea. He is a pharmacist at Umhlanga Medisport Pharmacy and I went to work with him to repay my debt to the SPCA and help feed other animals being housed there.
Lying very quietly next to the collection bottle proclaiming "Please give generously to the SPCA for Mandela Day, because that's were I come from" Humphrey Immerman.
The rest is history. The generosity of the Umhlanga Medisport Pharmacy customers has been astounding. The promotion continued as "make every day a Mandela Day" . When the funds reach R1200 we contact Montego Dog Food Company situated in Glenhills. The dog food is then purchased and delivered to the Pharmacy. The SPCA collect shortly thereafter.
In March 6 truckloads of food were collected which fed almost 30 cats and dogs for the whole month. The photo was was taken outside the Pharmacy with yours truly Humphrey and the dog food ready for SPCA collection.
Yours faithfully, Humphrey Immerman


---
Community News
PAUL HARRIS AWARD FOR VERA DUBIN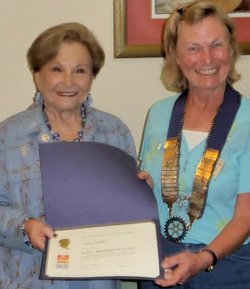 Vera Dubin, the doyenne of classical music in Durban through her highly active Friends of Music, was recently awarded the prestigious Paul Harris Fellowship Award from the Rotary Foundation of Rotary International.
The citation reads "in appreciation of tangible and significant assistance given for the furtherance of better understanding and friendly relations among peoples of the world."
"I feel incredibly honoured," says Vera Dubin, "and it is good to feel acknowledged for the work I have done for classical music over the years."
Dubin created the Friends of Music in 1982 when the city had disbanded its orchestra and lovers of classical music were left in the lurch. With sheer dogged determination and commitment, she persuaded funders, donors and sponsors to support her in her endeavour to bring top class soloists to Durban to perform for her growing number of supporters.

Acknow. http://news.artSMart.co.za


---
Israel United Appeal - United Communal Fund
Support the Community!
The Torah tells us that the world is built on three things: love, prayer and charity.

The mitzvah of charity, or tzedakah, is of central importance to Jewish life and one of the highest forms of this act of righteousness is to support one's community.

With the announcement of an exciting new team heading the UCF, led by Clive Bernstein, the CKNJ would like to encourage every member of the Durban Jewish community to support our community institutions and programs in whatever way they can.

We have an obligation to ensure the continuation of our community and Jewish life into the future, and even the smallest donation will make a difference.

Supporting a variety of organizations and institutions, from Durban Jewish Social Services and Beth Shalom to the CKNJ and the new youth shaliach, the UCF collects funds to ensure that:
- the most vulnerable in our community live with dignity and security;
- youth are taught the importance of community and the role that Israel plays in the lives of the Jews in the Diaspora;
- communal administrative structures are effective, efficient and coordinated.

The UCF's new 'Charity Ambassadors' will be reaching out to the community in the next few months and we call for your support for this important initiative.

For any more information on the UCF and how you can donate, contact Clive Bernstein on 082 416 5300 or email cliveab@mweb.co.za, or any of the new UCF team of Ronnie Herr on 083 500 4060, Jeremy Droyman on 082 456 2291, Graham Kluk on 083 788 4118, David Simpson on 083 779 3032 and Solly Berchowitz on 083 325 1664.


---
Conversion and more....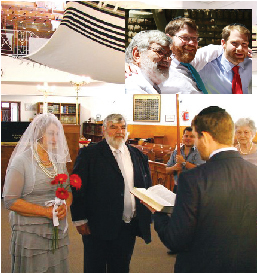 Richard Thurgood
We spent three and a bit years in the conversion programme, going to weekly classes together, (Taught by our son who had high expectations of his parents!) observing Shabbos and Chagim, we knew our lives were changing for the better. This process was an amazing, uplifting experience where we learned much and found so much common ground between us despite being married for over 30 years. Charlotte and I felt the unwavering support from members of our Jewish community in Durban, from offering accommodation close to the Shul in Silverton Road, to guidance in Davening and so much more. How lucky we are to have so many wonderful people in our lives.
The day came for us to meet with Rabbi Zekry and Rabbi Kurtstag at the new Shul at Izinga. It was an emotional meeting which culminated in me going through the Mikvah, reciting Shema in front of the Aron Kodesh and laying Tefillin, while Charlotte called Cape Town to arrange a wedding! With efficiency and flawless organisation, our daughter-in-law Aviva and daughter Miriam arranged decor, catering and telephonic invitations to family and friends who were on holiday in Cape Town. We were told to have suitable wedding attire and a new wedding ring and present ourselves in Cape Town by Tuesday morning 18th December, just 5 days after my conversion!
On the Shabbos before the wedding, Yael Sapo and her daughter Keren arranged a Shabbos Kallah for Charlotte with friends; the kindness of this community never ends! Thanks girls!
Our chuppah was so meaningful! Jeremy our eldest son and Charlotte's sister Ruth walked me to the chuppah while Charlotte came arm in arm with her oldest sister and her 3 'girls', Miriam, Aviva and baby Shalva. Aviva's cousin Rabbi Yochanan Ziegler sang for us and our son Rabbi Sam married us in his Shul, Beit Midrah Morasha. We were surrounded by people who mean so much to us. What an experience to be married by our son! We give gratitude to Hashem for the opportunity to travel this journey and to all our family and friends who have and continue to give us so much support. Thank you one and all.
---
JNF celebrates TuB'shvat
Danielle Burne and Eden Shapira planting trees at the Victor Daitz Foundation/Jewish National Fund of Durban Education Centre to mark TuB'shvat.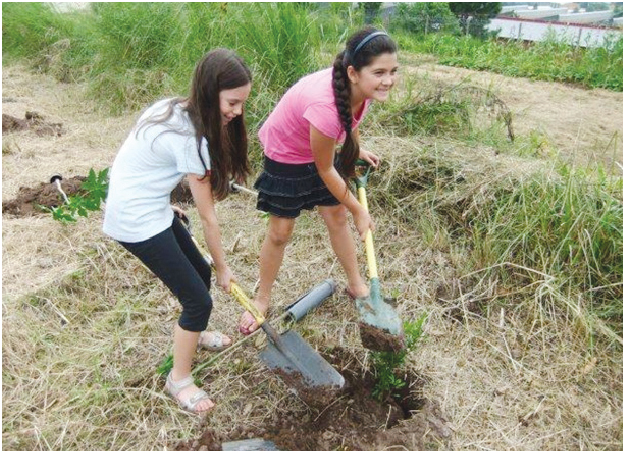 ---
In Experiencing real freedom,
the importance of boundaries
Dasee Berkowitz
We have a love-hate relationship with boundaries. We hate being confined or told what to do. Many adults don't like having a boss, and many schoolchildren get annoyed when the answer is "no." Boundaries limit our
individuality, intrude upon what we want to do and sometimes feel like an arbitrary obstacle to getting what we want.
For children, limits of time (bedtime), sources of enjoyment (how much ice cream for dessert) or behavior (being scolded for shooting a toy bow and arrow around the living room) can seem like arbitrary rules that stymie their ability to fully enjoy the activity at hand in favor of some far-off goal that only their parent understands. As a grown-up, when I see a sign that says "Keep off the grass," I want nothing more than to frolic in my bucolic surroundings.
But we also love boundaries because we know that without them, life would be chaotic.
As a parent, we know setting firm boundaries helps us raise our children and run our households. As a global citizen, we know that boundaries help us create civilized societies. And as Jews we know that boundaries help define who we are and what our purpose is.
No holiday helps us understand this more than Passover. The form of the holiday is all about boundaries. The flow of the seder - not to mention the very word itself, which means order - requires us to take each step at a time, in a certain sequence. The rabbis teach that one does not fulfill one's obligation of the seder until we have completed speaking about the pascal
offering (pesach), matzah and the bitter herbs (maror).
The themes of Passover also require a degree of prescriptive recitation. On seder night we travel from slavery to freedom, from being idol worshipers to worshiping God, and in the words of the haggadah, from degradation ("genut") to praise ("shevach").
We understand these central themes of the holiday by the rituals on seder night. We have particular symbols on the seder plate. We ask four questions, hinting to us that our ability to ask questions itself is an act that reflects our status as free people. We drink four cups of wine, which relate to four languages of redemption from the Torah itself, when God says, "I will take you out from under the burdens of Egypt"; "I will save you from their bondage"; "I will redeem you"; and "I will take you to me as a people."
Recited in this sequence, we are encouraged to reflect how liberation from Egypt is a process from physical subjugation to forging a new relationship with God.
Our story of liberation is a carefully scripted narrative. And while creativity is not only allowed on seder night but encouraged (in fact the haggadah itself exhorts, "anyone who increases the telling of the story of the Exodus from Egypt is praiseworthy"), the prescribed ritual matters.
It's counterintuitive. If we are celebrating freedom, why can't we be free to choose how we want to celebrate a holiday of freedom? A Jewish Woodstock? An intellectual salon contrasting the haggadah with other literary works of freedom? Freedom drum circles with a "L'chayim" to Elijah at the end?
Freedom from slavery is one kind of freedom that we celebrate on Passover, but that is only half of the story. We were liberated from Egypt not to wander as free spirits in the wilderness but for a purpose -- to serve God. The words are interesting here -- we escape from "avodah kasha" ("difficult labor"), which the Egyptians forced upon us, to "avodat Hashem" ("worship of God") and a system of life that God reveals to Moses and the children of Israel at Mount Sinai 50 days later. The fulfillment of Jewish freedom is a life of commitment, direction and purpose.
We can understand what a purpose-driven freedom means from the Pirkei Avot (the Teachings of our Fathers) interpretation of the verse from Exodus, "the word of God was harut [engraved] on the stone tablets [that Moses brought down from Mount Sinai.]" (Exodus 32:16) In Pirkei Avot 6:2, Rabbi Joshua ben Levi writes, "Don't read carved [harut] but rather freedom [heirut], for there is no free person other than one who is occupied with Torah."
Here there is a word play between "engraved," which connotes rigidity, and "free." If we neglect a relationship with the Divine, which is established here through the study of Torah, and more broadly with our Jewish tradition and the ethical system that has been passed down to us through the generations, then we lack freedom.
One of the lessons of Passover is that only within boundaries and structure can we experience true freedom. When we create appropriate physical boundaries for our children, they are able to play and express themselves freely. When we embrace the boundaries of Jewish commitment through holiday and Shabbat celebration and learning, we open up for ourselves the contours of a meaningful life. We fill our lives with the grand narratives (of pursuing justice and working to free slaves) and lofty ideals (like the importance of Shabbat and turning off our ego-driven selves for a day to become attuned to our souls.)
And when we see that our duty as global citizens requires us to put others' needs before our own desires, we create caring societies.
This Passover, celebrate the commitments you have made - to your family, your Jewish community and the world, and feel truly free.
Acknow. JTA
---
Community Security Organisation
It Is Time For You To Be Part Of Our Amazing Family.
We Need You Now More Than Ever

As you are no doubt aware, the CSO consists of members of our community, and we are looking for new members to join us. We feel that it is very important that at least one member of each family unit be a member of the CSO, which will not only be a help in protecting yourself but also your family from potential harm.

I am calling upon all of us in the community to become involved with the CSO. When taking into consideration global trends we need to take every possible step to ensure the safety and security of ourselves and our community.


The CSO has been running since the early 1990's and we consist of members of all ages and gender.
We consider ourselves a big family who train together, work together and get together on a casual basis. Our team integrity is very high, and we take what we do very seriously.

By joining us, you will not only assist in protecting the community, but also ease the load of our existing members by boosting our numbers. From a time point of view we are looking at calling on you once a month, but will explain all at our meeting. We are planning a get together - date, time and place still to be decided, during which time we will discuss various issues as well as personal security.


Please contact us on 031 368 2653 or email us on marges@cso.org.za if you are interested.

Looking forward to meeting you.

OZ BILU


WE PROTECT JEWISH LIFE AND THE JEWISH WAY OF LIFE
---
Letters to the Editor
Anthony Lange writes….
Prof Antony Arkin's editorial of Dec/Jan 2013 entitled "Christian Zionists and Jews are Natural Allies" is misguided and misleading. Arkin begins by quoting Rabbi Goldman wherein he says "We Jews have never been comfortable with interfaith activities, because all too often in history there were other agendas", as indicative of the narrow mindedness and intolerance of orthodoxy. He then proceeds to explain Anti-Semitism as the early church's attempt to separate Christianity from Judaism and while this is true, he uses this truth to advance a fiction. The fiction being that there are Christians and then there are Christian Zionists and while the Christians are responsible for anti-Semitism, the Zionist Christians actually love us, like there are moderate Muslims and fanatic Muslims who both singing from the same sheet. This he does by bringing their quote from Bereshit "I will bless those who bless you, and those who curse you I will curse" as their new found basis for their 'hundreds of millions' (of dollars) in support of Israel and her people. He then continues the fiction when he asserts that there exists something called "Replacement Theology" (where the Jews are disinherited of G-d because of their rejection of Jesus) as being contrary to the teachings of Christianity and that Christian Zionists have somehow, single handily, revolutionised Christianity by miraculously claiming that G-d's covenant with the Jewish people has in fact been eternal all along. He ends off by further quoting Rabbi Goldman to the effect that as Jews "... we mustn't be afraid, intimidated or uncomfortable with other people and other faiths", in a disingenuous attempt to poke fun at what some might, mistakenly, take to be a contradiction in Rabbi Goldman's view on the matter. What a chocham!

But the real fiction is when he reminds us that "Christian Zionism has since become a loud voice against anti-Semitism", forgetting, perhaps never knowing, the Talmudic adage which instructs us "If you hear the nachash (devil) speaking the truth, don't believe it. Remember, it is the nachash that is speaking". It is precisely this type of dangerous and expedient double-speak that has alienated more respectable Jews from mainstream Judaism than anything else. While I can understand Rabbi Goldman's reluctance to go into any great detail, I on the other hand have no position to protect and therefore I call it as it is. What possible reason could Christian Zionists have in their support of Zion other than their belief in the mass conversion of ALL Jews to Christianity, once ALL the Jews have returned to Zion, followed by Jesus's "second coming" to offer the Jews a second chance at redemption. It goes without saying (but I will say it anyway) that in order for this to happen, without their support of the state of Israel, Zionism and the Jews (as collateral), the Jesus myth is doomed, both in the present and the future.


Truth is, that while we beat our breasts on Yom Kippur, year in and year out, paying lip service to "ain lanu melech el ata" (we have no king but you), we as Jews have forgotten the distinction between Political Zionism and our Eternal Connection to the Land of Israel, all the while, striving to become like the nations of the world, forever looking for love in all the wrong places. The bottom line is that merely by entertaining the notion that as Jews, we should welcome the support of those who would just as soon, see us snuffed out is sheer folly. In the words of Ahad HaAm "Let those who still have this feeling (true love for Judaism and Zion) remain within the fold: let those who have lost it go elsewhere. There is no room for compromise".
---
Letters to the Editor
Dedee Levy writes….
I would to respond to the article about Talmud Torah written By Cheryl Unterslak in the December 2012 edition.

My son, Jonathan, attends Crawford College.
I chose this high school because of the academic excellence and demographics.


He has attended Talmud Torah since its inception two years ago. His knowledge about all aspects of Judaism has increased immensely. Jonathan has given our family many shiurim about all the Jewish Holidays, Jewish life as well as Israel.

He has formed a special relationship with Rabbi Vegoda, one of admiration, respect and mentorship. They have contact on a regular basis. Jonathan really enjoys the shiurim that Rabbi Perez gives and feels honoured, that the head of the Yeshiva takes time out of his busy schedule to teach them.


Cheryl has done an amazing job at heading the Talmud Torah initiative. I would like to thank John Moshal for bringing Jewish education to Jewish children that don't attend Jewish schools.

The Talmud Torah initiative is a great success and Jonathan is living proof of this. I look forward to many more years of Jewish education by the Talmud Torah team.
---
Jewish Matriculants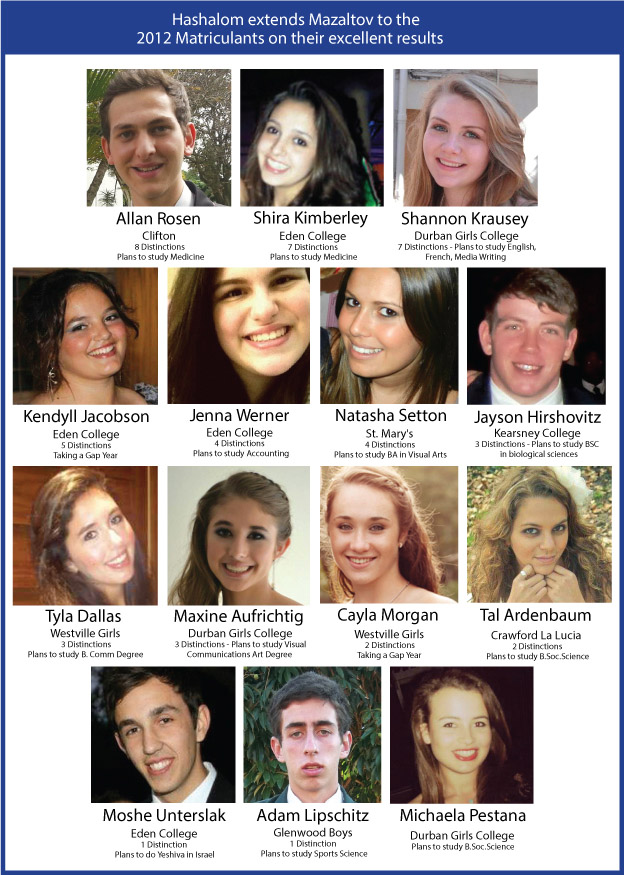 ---
Obituary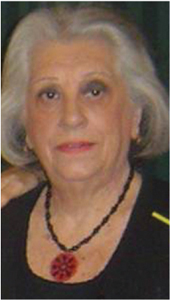 It was with profound sorrow that we learnt of the passing of Shirley Chesler z'l Shirley was a valued and active member of the Union of Jewish Women Executive Committee for many years, having joined in September 1992. She was always cheerful and willing to help wherever and whenever possible and participated in all aspects of our work in our own community and with several of our outreach projects. In recognition of Shirley's dedication she was the recipient of the Freda Kapelus Award for meritorious service.

Shirley was the "bow queen", glamourising our Golf Day trays of biscuits and the prizes with her trade-mark bows. In fact there can be few families in Durban who received special occasion gifts that did not bear Shirley's bows.


Shirley will be fondly remembered by all who knew her.
We wish her family "long life".
---
Adam Lipschitz - A Sportsman of note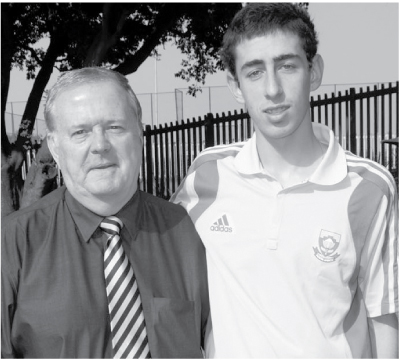 Adam Lipschitz has excelled in long distance running this year, culminating in his representing South Africa in the 3000m steeplechase at the IAAF World Junior Championships held in Barcelona from 10th - 15th July 2012. Earlier this year he was placed second junior in the South African 10km championships, running a time of 31:16, as well as running the fastest junior 3000m steeplechase time this year with a time of 8:54.49.

Adam, a pupil at Glenwood Boys High School, is a very modest young athlete. He was recently invited as guest of honour at Penzance Primary School Sports Day, and addressed the pupils and parents on what it takes to achieve success in athletics. Well done, Adam. We hope you go on to represent South Africa at senior level soon. Caption for pic attached: Adam Lipschitz, guest speaker at Penzance Primary School Sports Day, met up with his former headmaster


Mr Colin Madgin.
---
KZN Launches its first Ecological
On Wednesday, 22 August 2012, KwaZulu-Natal opened its first Ecological Education Centre, aimed at providing environmental education to learners in the greater Durban area and beyond, and spreading awareness of sustainable practices in communities.

The R560 000 centre in Hammarsdale, is a groundbreaking initiative of the Jewish National Fund of South Africa (JNF), funded by both the JNF and The Victor Daitz Foundation, in partnership with the DSW Cleansing and Solid Waste Unit of the eThekwini Municipality and the Department of Education.
In line with the Department of Education's environmental awareness curriculum, DSW will be providing Education Officers and compiling lesson plans to make sustainability a reality to the leaders of tomorrow.

Inspired by a similar centre funded by the JNF in Mamelodi, Suzanne Edmunds, CEO of Project Build, which built the facility, who is also a representative of the JNF, approached Moses Mogambery, Chief Education Specialist of the KwaZulu-Natal Education Department's Pinetown District, with the idea of building a centre in KZN. Together they set up a series of meetings between the sponsors and the Department, which resulted in the formal agreement.
"It was soon realised that the eThekwini Municipality could play an important role in the running of the centre," said Mogambery. Consequently, Robert Abbu, Deputy Head Strategic & New Development and his education team at DSW's Cleansing and Solid Waste Unit, which has a strong environmental education programme, joined in the discussions to dovetail the City's environmental programme with that of the Department of Education.

The centre will be encouraging learners and the community to use environmental resources in a sustainable way through environmental education programmes. Trained staff will be at the centre daily to assist with the training, administration, bookings and literature.
"The project is ideally situated in the heart of the residential area of Hammarsdale, enabling the local community to benefit directly. Learners in the surrounding schools will have direct access to training, resources and facilities," said Abbu. Over time other service units, including Electricity, Water and Parks will be incorporated into this project and DSW will establish similar programmes for learners in other areas within eThekwini Municipality.

"Having expert educators provides real life meaning to the environmental education curriculum. Learners are provided with hands-on experience that reinforces their theoretical classroom learning on environmental issues, which is also foundational to other subjects, such as Natural Science, Geography and Life Orientation," Mogambery commented.
"Local women, who are part of co-operatives, tend the garden at the centre, to enhance the agricultural practice of the local community. "The centre addresses the serious issues around sustainability of our environment. The Ecological Education Centre is a small but very significant step in taking sustainable action to reclaim past environmental losses and take precautions for the future," he added.
The opening was well attended by local dignitaries from Education and DSW and the Durban Jewish community, including Brian Moshal managing Trustee of The Victor Daitz Foundation who gave an interesting overview of the work of the Foundation .
He spoke about Victor Daitz and the importance of education to the Foundation; members of the gathering were enchanted by the story of Victor Daitz and the vision of the Foundation for the wonderful work they do in our provincee. Also attending were Trustees of the JNF Trust, member of the JNF Working Committee, leaders of the KZNC and the DUHC, DPJC, the CKNJ. Also present from Johannesburg were Chaim Cohen the National Chairman of JNF with Benji Shulman and Amber Cummins of JNF.
Shereen Mann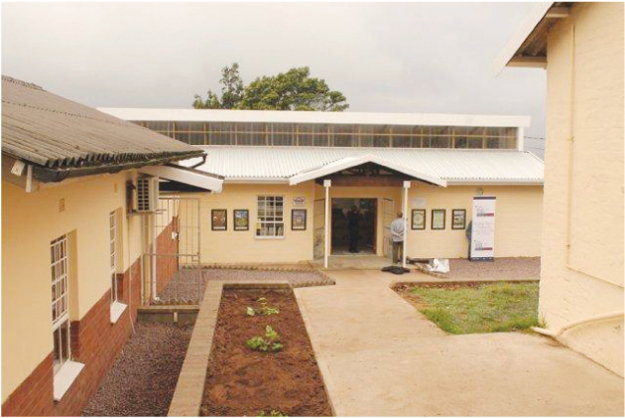 ---
SA Zulu King accepts invite to visit Israel
King Goodwill Zwelithini has accepted an invitation from Israel's ambassador to South Africa, Dov Segev-Steinberg, to visit Israel early next year, according to the embassy in Pretoria. An embassy statement said the king "vowed to use his official visit to explore ways to intensify the co-operation between South Africa and Israel, and especially between the Zulu people and the Israeli people."

The Zulu are South Africa's largest ethnic group, with an estimated population of more than 10 million.


The announcement came a day after the South African government reiterated its policy of discouraging its citizens from visiting Israel to protest Jerusalem's treatment of the Palestinians. The government also announced earlier this year that products originating from Jewish settlements in the West Bank would be labelled as from the occupied territories instead of Israel.


"The decision is left to the individual or the organization that is invited to visit Israel," said South Africa's deputy minister of international relations, Ebrahim Ebrahim, at a news conference Tuesday. "There has been a policy of discouraging because we believe Israel is an occupying power and is doing all sorts of things in the Palestine-occupied territory which has been condemned by the entire international community."

His Majesty King Zwelithini, who has been to Israel before, will look into "new possibilities to cooperate with Israel in the fields of health, agriculture and education amongst other areas of interest for the benefit of the Zulu people," the embassy statement said.


Segev-Steinberg told the South African website MyShetl that the king's commitment to visit is "a sign that Israel still has good friends in this country, friends who are happy and willing to share experiences and ensure love and respect for Israel."

Acknow. JTA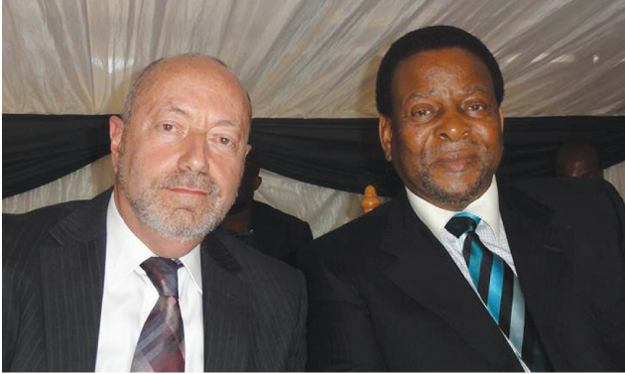 ---
Letter to the Editor
Readers comment on our website!
Judith King writes…
Many thanks and mazeltov for a beautiful, easy accessible on- line version of the magazine. As a Media and Communications practitioner, I know what an enormous amount of work is involved in setting up and maintaining a good website and handling all the knowledge management behind it.
Meryl and Basil Ostilly wrote...
Well done! Have just opened your electronic July issue and it is amazing!
Grant Maserow writes...
Great website and well done to you all on this endeavour. It is easy to manoeuvre and easy to access.
Sue Edmunds writes...
This is too wonderful. Sh'koach to all concerned.
Esmond Jacobson writes...
Hearty congratulations on your new outstanding website.
---
SEM Trust
Winter Camp 2012, Building lasting Relationships
SEM Charitable Trust Diversity Camp was an unforgettable week of building lasting relationships a trying to squeeze in as much fun in and discovering a little more about oneself as an individual.

Young people from Durban and surrounding areas had the opportunity of experiencing activities some for the first time e.g. High Ropes. Low ropes, teambuilding activities such as rafting and Kayaking. With the varied activities the young people had the opportunity to develop a sense of accomplishment on completing a task. Camp is not about us but about the campers, the team ensures that they are safe, learning and growing while having loads of fun in the process.
In the evening we enjoyed camp fire, chats and time with new friends, with the much anticipated talent show on the last day every body was excited.

Krissy stated that "camp was a lovely experience because I got to meet people I never thought I`d meet and everyone was comfortable with one another no matter what skin colour ,we were family , we also learnt a lot on leadership." Andrea Gabin said "this was her first camp experience it left her with skills and good memories." Whilst on camp I was taught leadership skills and experience that was life changing.
It is always very refreshing to see young people blossom and the SEM team Sarah Radomir, Earl Warner and Antoinette Van Niekerk will continue to host Diversity camps such as these to allow young people to grow in self – knowledge and to formulate resolutions in growing in character after the camp.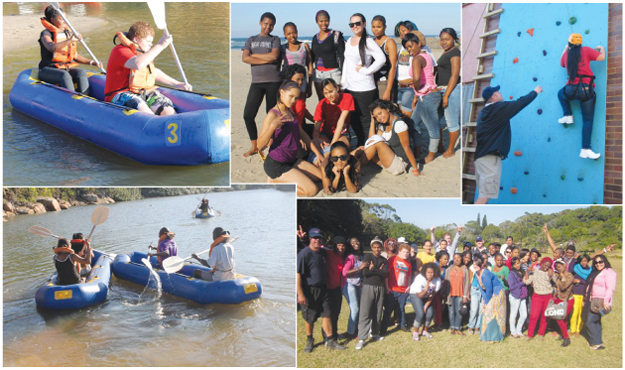 ---
Rosh Hashanah 75 years ago
Extracts from HASHOLOM – ROSH HASHONAH ANNUAL Tishri 5698-September 1937.

The Editorial commences with a quotation from a speech made by General J.C. Smuts:


"I look forward to the Spinozas and the Maimonides of the future…… There is no reason why Israel should not hold aloft once more the banner of the spirit among the other peoples of the earth. That was your mission in the past. I hope it will be your mission in the future…"

Amazing to think that he made the speech at a reception given in his honour in Johannesburg by the South African Jewish community in November 1919. How prophetic!


The Annual includes some 75 pages (including advertisements and illustrations) of informative and topical articles and stories by well-known international and South African writers.

The remainder of the Annual contains reports of Club and Communal activities which were numerous, varied and regular.


The Culture section reported on four lecture evenings, a Living Newspaper 2006 (in which I assume that the particpants had to imagine the world 70 years later) and four intra – and inter – Club debates on controversial topics.


The Dramatic section reported having produced three plays and play-readings (including a Yiddish play) and that another was in production at the time of reporting.

The Entertainment section had promoted three stage productions, four very popular "flannel dances" (whatever that means), a General Knowledge evening (?Quiz Show), New Year's Eve, Coronation and July Handicap cabarets as well as a Birthday Ball, an evening of recorded Operatic music, a Children's Party, a Mock Broadcast and a Sports Evening.


The luncheon section reported no less than seventeen luncheons held in honour of various dignitaries, including Vice-Admiral Sir Francis Tottenham, Miss Molly Picon,Mr & Mrs F.C.Hollander (Mayor and Mayoress of Durban) and Vladimir Jabotinsky.

The Library, (which still exists) reported the purchase of 161 new books which brought the total to 2725 volumes. During the year 2438 books were issued to members. (The number issued in 2011/12 – nil).


The Annual also contains full reports from the Club's Ladies' Committee and the Club's Sporting (Tennis, Squash and Bowls) sections. Moreover, the Durban United Hebrew Congregation, the Council of Natal Jewry, the Durban United Talmud Torah, the Durban Zionist Association, the Hebrew Order of David, the Durban Jewish Ladies' Guild, the Durban Women's Zionist League, the Durban Zionist Youth Society and the Durban Jewish Benevolent Society each provided the Annual with a full report of their activities.


The Durban Jewish community of 1937 was obviously kept very busy. And remember World War 2 was less than two years away.

"Pundit"
---
Community News
Chelsea Eyes International Rink
Ice skater, Chelsea Jacobs skated into second place at the SA champs figure skating competition in Kempton Park recently.

The Musgrave resident came second in the juvenile section which featured 17 competitors. At the KZN inter-provincial figure skating competition last month, Chelsea came first. Chelsea was given her first pair of boots when she was three years old as she spent a lot of time in the ice rink skating with her older sister.
She was four years old when she started lessons and has, over the years, honed her skill making her one of the country's exciting young skaters. Last year she participated in the Rooster Cup in Paris, France.

She has obtained the qualifying score to compete internationally again this year.
Acknow. Lauren Boyle, Berea Mail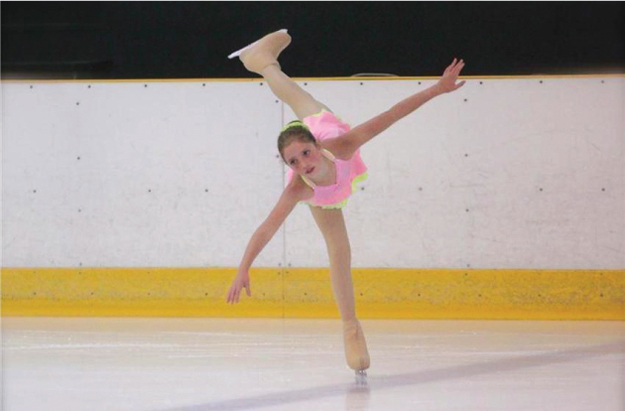 ---
Community News
Durban Has Got Talent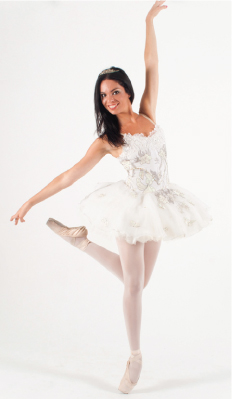 "My life was designed to be In the dance world….to be on stage, to perform, to choreograph and teach other young talented dancers".

After matric Rachel Abrahams spent a year with the SA Ballet Theatre in Johannesburg before returning to Durban where she has been dancing as soloist with the Breakthru Dance Company and South Africa's top choreographer David Gouldie.
She has completed three Modern Teacher's Diplomas and is currently contracted with the Durban Playhouse Company where she is working with world renowned choreographer Adele Blank from Cape Town. She will be performing in a 40 minute piece title "Worlds Apart" at the Women's Arts Festival which takes place on 10th and 11th August.
---
Community News
Do you perhaps have these books?
An audit at the DUHC Chevra Kadisha office has revealed that the following books, available on loan to mourners, are missing:
1. The Jewish way in death and mourning
2. Illness and crisis – coping the Jewish way
3. Mourning and remembrance
4. Dignity beyond death
5. Soul searching
6. Remember my soul (2 copies)
If you borrowed any of these books and inadvertently still have them in your possession, please contact Linda Gordon on 031 332 2282 or 082 820 4852 to arrange for them to be returned.
---
Community News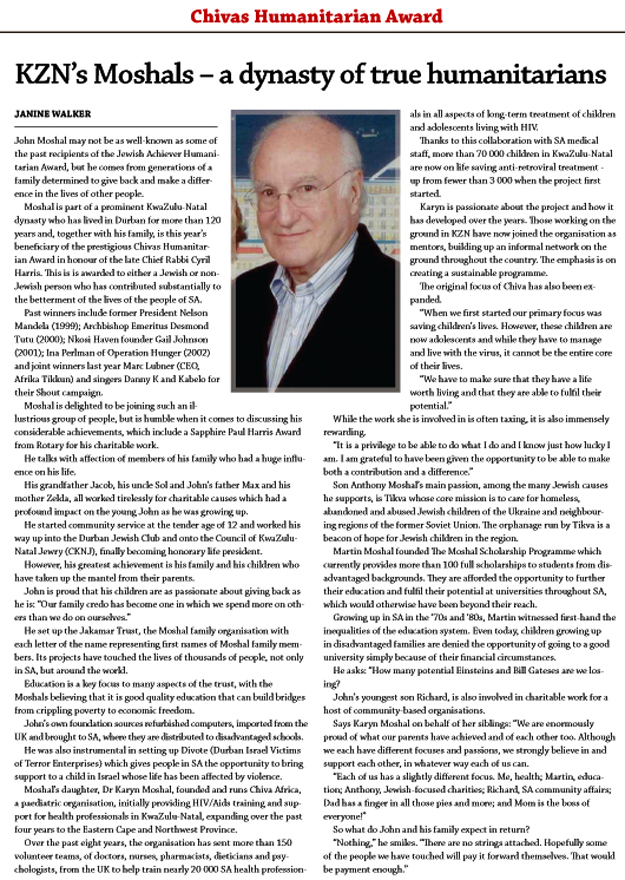 ---
Community News
Hashalom 75 years ago - August 1937
The Hasholom (note the second "o" replacing the former "e") committee consisted of Chairman Mr C R Fridjohn (later a doyen of Durban architects), Joint Editors

Mr (later Senator) Leslie Rubin and Mr Samuel Ernst (later Natal Director of Hebrew Education).

Some mouth-watering advertisements:

"1937 Dodge priced as low as £295"

"Rosh Hashanah individual greeting cards, printed with your own name and address

12 for 10/-, 25 for 12/6, 50 for 15/- (including envelopes).

"Dunlop bowls per set of 4 - £6/10-, leather bowls bags, square shape – 4 bowls 32/6

Men's bowling shoes – pair 25/-"

"Grey flannel trousers – ready to wear 7/9"

(For the young (those born in the last 50 years R1.00 = 10/-; R2 = £1).

The editorial, under the heading "Building & Breaking Palestine" contained an adverse analysis of the report of the Royal Commission on Palestine and the British Government's statement thereon.

An article on the same topic included a quotation from the 'Natal Mercury" of July 8th which concluded:

"Palestine has re-enacted the history of Ireland, and unless more courageous & enlightened statesmanship than was visible in solving that problem is brought to the solution of this one, Britain's experience may be a repetition of her previous unhappy experience".

The column "NEWS OF THE WORLD – JEWISH NOTES FROM HERE, THERE AND EVERYWHERE" contained, unfortunately, news only of anti-Semitic and Nazi incidents in Italy, Roumania, Algeria, Danzig and Japan.

The July Ball "was held under the patronage of His Excellency the Governor-General and Lady Duncan, His Majesty's High Commissioner for South Africa and Lady Clark, Vice-Admiral Sir F.L.Tottenham, His Honour the Administrator & Mrs Graham Watson, His Worship the Mayor of Durban & the Mayoress and the attendance at the City Hall numbered between thirteen and fourteen hundred which included many visitors from the country"

"We learn with considerable pleasure that Mr. F.C. Hollander J.P. M.E.C. & Mr I Geshen have been awarded Coronation Medals".

The Music Section had produced the Musical comedy "Mercenary Mary" at the end of June 1937. The critique in Hasholom contained the following:

"Mr David Cohen….drew from his orchestra all the support required by the players…

Leslie Rubin, the lisping husband of Mercenary Mary of the "silly ass type, gave a character study which will long be remembered….Sonny Tomson was the "find" of the show. Edouard Seligman carried off the part of the crusty old English gentleman in good taste. A small part was well interpreted by Maurice Cohen. David Basckin showed that he is capable of good things in this type of work. Wilfred and Harold Berman had the onerous task of tacking about forty and sixty years respectively onto their ages & acquitted themselves with credit. The butler was well played & danced by that "old hand" Sidney Smo. On that chic personality, Lilian Cohen, devolved a very large part of the production, which Lilian acted, sang & danced to perfection. Ruby Gevisser in the name part gave a flawless performance.

"In Town & Out", the "social and personal" column, contained:

"Congratulations to Bina Rubinstein & Dave Stange who were married during the month.

Our best wishes to Hannah Jacobson & Henry Franks who were married during the month.

We wish to congratulate Miss Thelma Stiller & Mr Mervyn Gild who were married during the month.

Bon Voyage to Mr H Zulman who has left on a trip overseas.

Mrs I A Maisels (Muriel Freed) is on a visit to Durban"
---
Community News
1000 HILLS YOUTH AND PUBLICATION PROJECT
SEM Charitable Trust, a private British Trust based in Umhlanga Rocks, has partnered with Africa Ignite on a Journal and Publication project. This was a fantastic opportunity for youth from The Valley of 1000 Hills, KwaZulu-Natal to tell their stories and is an excellent form self development.


The CEO of Africa Ignite, Wilna Botha, said that they, as rural a development agency saw the need to invite high school youth from Botha's` Hill area to share their stories. The stories have been compiled and edited by the selected participants and will be published later in a book for distribution to various stakeholders.

The stories play an important role in hearing the voice of the youth to bring about change and to raise awareness of the common issue that our youth face within South African today. Antoinette Van Niekerk of SEM Charitable Trust hopes the book will inform the relevant people on services that will improve the lives of youth today. It is refreshing to see youth express themselves in the hope for a positive future. A learner from Kwantebeni High School, Nkululeko Dladla, said telling his story made him realize that even as youth, they are able to voice their concerns and brings about change in the process.


Sarah Radomir, one of Trustees' for SEM Trust hopes that this continued seed planting will spread to other areas in KwaZulu– Natal.
As youth Champions the participants will make a positive contribution of change within their community. 'Umuntu ufunda azafe'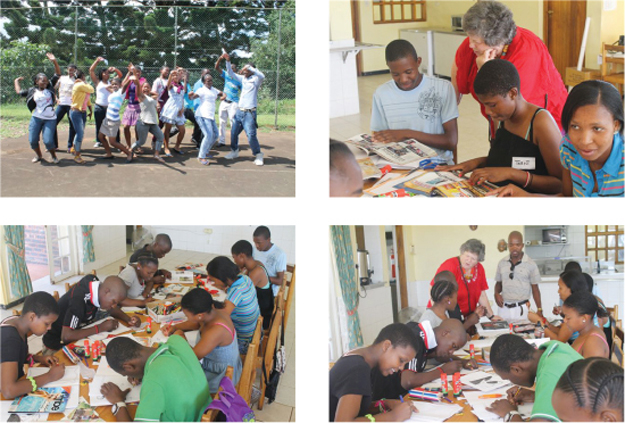 ---
Community News
Wedding Celebrations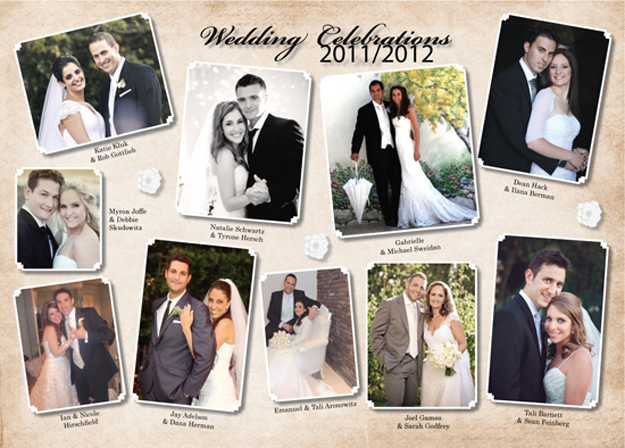 ---
Community News
A GOOD IDEA GONE WRONG
Between Mincha and Kabbalat Shabbat one Friday night, I was chatting to one of the pleasant young Kollel member, who expressed surprise that Durban had such an excellent magazine as Hashalom. I told him proudly to his astonishment that it was over 50 years old. Then I thought what a good idea it would be to have an article in Hashalom containing extracts from 50 or 25 years ago. So I made the suggestion to the editor.
His comment" " Good idea. You write it" That's what went wrong with the idea. Then I thought that the right place to start was with the first issue and here are some of the gems from Volume 1 No. 1 of "HASHOLEM" dated September 1923 which was described, somewhat parochially, as "Issued by the 'The Durban Jewish Circle' devoted to the interests of Durban Jewry". Read on. You may find mention of your parent, or more probably your grandparents if you are a member of an ODJF (old Durban Jewish family).

All the material in this first issue appeared under various noms-de-plume. The editorial, written by "Digest" celebrated Peace in lyrical terms: "It inspires one with lofty thoughts and noble ambitions, for does it not stand for progress, prosperity, concord and happiness?"
"Radius" wrote "Circle Notes" which expressed confidence in the future of the Entertainment Section because it was "in charge of our energetic Hon. Secretary, Mr Max Wolpert".

"Broadcaster" conveyed some gossip including "That the Misses Ella Blumenthal and Thelma Sher are millionairesses now - in Germany" – a bittere gelechte – then as now!!!
"Aunt Sarah" in a column headed "FOR LADIES ONLY" purported to report in humorous vein about the clothes worn by prominent members of the Circle at "the Circle Monthly Dance") Fancy a time when a MONTHLY dance was well-attended by the prominent members of the community!!) As Aunt Sarah was still writing in later issues, it seems clear that the "prominent members of the community" were not sufficiently concerned about their dignity to penalise Aunt Sarah by depriving her of her column".

A column headed "ISRAEL REDIVIVUS" demonstrated that Zionism was already treated seriously in Durban. HASHOLEM had its anonymous in-house poet "A.LEX" whose contribution speaks for husbands through the ages:
You always say my wife looked nice
In lemon crepe de chine,
But not a word about poor me,
Her husband long and lean.

The trimmings and the flouncings,
That adorn my wife's best frocks,
You write of in this Journal,
But what about my socks?

No word about my dress suit,
My shirt, my studs, my bow,
But only of the wife's fine dress
(For which I still do owe).

It isn't fair, I do protest
To favour thus my spouse,
And on behalf of all the men
I send this month's "Great Grouse".

And all this was only four years after the end of World War 1.

---