COMMUNITY NEWS
Union of Jewish Women
On behalf of the Union of Jewish Women, I wish you & your families Shana Tova u'Metuka May we all be inscribed and sealed for a year of health, happiness & fulfillment in what we achieve. We pray for peace in Israel and the world. Have a meaningful Fast.
Sincerely,
Tessa Goldreich
Executive Chair
---
COMMUNITY NEWS
Union of Jewish Women
The Union of Jewish Women was, once again, very proud to partner with the SAJBD- KZN Council (formally the CKNJ) in arranging the Community's participation in Mandela Day.
Very sincere thanks to everyone who participated and/or donated to this meaningful event. 1000's of sandwiches were made and distributed to the Issy Geshen Lamontville Aged Home, Durban Children's Home, I Care, Chesterville Schools Association, Jabula Day Care Centre and The Denis Hurley Centre.
---
COMMUNITY NEWS
Union of Jewish Women
The Union of Jewish Women is fortunate to have the support of "star knitters" at Beth Shalom, Barbara Daniels, Rhoena Gafen, Elaine Goldberg, Helen Leibowitz, Leah Maserow, Gill Salakov, Lynette Sterling and Anne Wolf.
They help support the UJW by providing an endless supply of beanies for Israeli soldier and kiddies with cancer, jerseys for children and baby blankets.
40 AND DOING WELL
Jeannette Landy has stitched together hundreds of squares knitted by the Beth Shalom ladies to make 40 baby blankets. Thank you Jeannette and keep going strong!
Well done ladies, keep up the good work.
---
COMMUNITY NEWS
Union of Jewish Women
The Union of Jewish Women's closing function for 2015 was an absolutely memorable morning.
Gayle Lewenstein was very insistent that the UJW host a "Women of Courage" Function which she graciously convened. John and Brian Moshal very generously sponsored the morning in memory of their mother, Zelda z'l.
The response from members and the public was overwhelming and almost 300 ladies listened in awe to the stories told by the speakers, each one of whom a Woman of Courage.
The décor was elegant and the catering scrumptious. Well done to all members of the UJW Team.
---
COMMUNITY NEWS
Union of Jewish Women
Mitzvah Day International has become an annual "green" letter day in the Union's calendar.
Members of the committee enthusiastically participated in arranging a special morning tea at Beth Shalom. The residents and guests, from Eden Crescent, were treated to singing by the Issy Geshen Home Choir. Ernie Aaron helped keep the fun going with a short "stand-up" comedy routine followed by the Beth Shalom staff and carers bringing things to a rousing close with their harmonious singing and high-kick dancing with participation of residents and guests alike, though not quite as energetically!! Thank you and well done to everyone for making this, to quote a resident, the "best ever" Mitzvah Day.
---
COMMUNITY NEWS
Union of Jewish Women
The response to the Challah Bake 2015 was overwhelming. The challot must have tasted delicious because they all
look delicious. Thank you one and all for your support. We have begun arrangements for a "bigger and better" Challah Bake 2016.
Watch this space and your emails for the date.
---
COMMUNITY NEWS
Union of Jewish Women
Talk by Philippa Sklaar
The talk by Philippa Sklaar about abusive relationships was well attended. Admission was by a donation of tinned food, which was then distributed to "safe houses".
Bingo at Beth Shalom
The Union of Jewish Women's monthly Friendship Club bingo mornings at Beth Shalom are enjoyed by the young, the younger and the youngest. It's always great fun during the school holidays!
---
COMMUNITY NEWS
Union of Jewish Women
27TH CONSECUTIVE ANNUAL GOLF DAY.

The success of this venture is due to the ongoing, loyal support of our magnanimous benefactor LIBERTY LIFE and all the other generous sponsors, our amazingly generous prize donors, our sporting players and the dedicated, hardworking Union ladies. Without any of you the day would not "happen". Diarise the next Union of Jewish Women Annual Golf Day on Thursday 25/8/16. See you there!!
---
COMMUNITY NEWS
Union of Jewish Women of South Africa
The Union of Jewish Women Durban launched their bi-annual 33rd Jewish Community Fund (JCF) campaign on Tuesday, 2 June at a very special, warm and informative evening which was thoroughly enjoyed by all who attended. The ladies were treated to an outstanding cooking demonstration by Tal Smith of Sababa Cookbook fame who created the most delicious dishes from hummus, Barley Salad and Baba Ganoush to Butternut and Blue Cheese Quiche and Baklava. The JCF Campaign fulfils a real need in our community by bringing immense joy, hope, comfort and encouragement to our various beneficiaries which include Beth Shalom; Masada; Durban Jewish Social Services; Jewel House; Durban Holocaust Centre; CSO; the Chevra Kadisha; our various Youth Movements; schools; Shuls; Talmud Torah and the Young Israel Centre. Through the JCF campaign, our generous donors are able to feel empowered by playing their role to uplift our community in providing much needed support to our fellow Jews. We therefore urge all the Jewish women of Durban, to please identify with our campaign and support us by pledging today and making a real difference, it is the right thing to do. Without your generosity, we will not be able to achieve our goals. For more information, please contact Tanya on 083 4484674.
---
COMMUNITY NEWS
Union of Jewish Women of South Africa
It was one of those months when hardly a day went by when UJW committee members were not attending meetings, assisting those in need or visiting projects .
The South African Riding for the Disabled Association accomplishes amazing results in helping improve the quality of life of disabled children. Taken from wheelchairs and placed on horseback with the aid of volunteers who walk the very docile ponies these children are able to enjoy riding through the forest.
As individuals members of the UJW committee responded to the appeal from the CKNJ to help victims of Xenophobia. And as mothers concerned for the plight of children and outraged at the effect of the violence on families the Union associated with the Communities' effort and added to the collection.
Unfortunately our schedule was too full to be able to host Rod Smith for a third time. However his visit to Durban was not unattended by Union members, who were once again interested in his advice on family relationships.
Yom Ha'atzmaut is always a fun time for the committee who enjoy participating in the preparation and "manning" a stall at the Community celebration. This is evidenced by the smiling faces in all the photos!
---
COMMUNITY NEWS
Union of Jewish Women of South Africa
What a morning. The Union of Jewish Women's 4th Annual Morning of Cards in memory of Maureen Baitz z'l was, to put it mildly, simply stunning with scrumptious eats provided and exceptional prizes arranged. Well done and thanks to all the ladies for their input to ensure a success and sincere thanks to all the players.
Raffle prize winners: Sally Walker, Bernice Letchert, Tanya Rawson, Ruby Goldberg and Val Alice.
---
COMMUNITY NEWS
Union of Jewish Women of South Africa
Save the date
You are cordially invited to attend the
UNION OF JEWISH WOMEN
Durban
77TH ANNUAL GENERAL MEETING
Wednesday 20th May 2015
10a.m.
Durban Holocaust Centre Media Room
The Chairman and Executive Committee
of the Union of Jewish Women - Durban
wish you a Chag Pesach Kasher v'Sameach
and thank you for your ongoing support,.
The UJW Durban goes green!
International Mitzvah Day has become a "green letter" day in the Union's calendar. To mark the day the UJW is always delighted to arrange a special function for the enjoyment of members of our own and the wider community.
Graham Rich, who will be recalled as the comedic "dame" in the ice pantomimes, provided the entertainment for the residents of Beth Shalom, the Masadaniks and invited guests. The morning was exceptional and several requests have been received to invite him back again. Residents of the Issy Geshen Lamont Home were special invitees and after the scrumptious tea they were provided with packed "goodie bags" to take home.
Thanks to the Union members and Beth Shalom staff who helped ensure the success of the morning.
---
COMMUNITY NEWS
Union of Jewish Women of South Africa
UJW end of the year awards
At the end of last year the 14th Gemilut Chasadim Award in memory of Jean Kluk z'l for a student at Eden College was presented to Oren Cohen, yet another worthy recipient. It is interesting to note that the majority of the 14 recipients are either children or grandchildren of dedicated Union of Jewish Women volunteers or other communal volunteers.
Last year another UJW award, very kindly sponsored by Graham Kluk in memory of his mother, was established at the Umhlanga Jewish Day School. The award was presented to Rachel Cohen, a young lady who epitomises the kindness Jean Kluk z'l, who was well known as a UJW volunteer.
Yet another "new" UJW award was established and presented at a function at the end of 2014, for regular participation in the Talmud Torah programme. The first recipient of this award was Daniel Heilbron. We commend Daniel for his dedication.
In each case the award recipients are nominated by their teachers. Kol HaKavod to each of them. We hope they maintain these standards well into the future.
IN MEMORIAM FUND
For a one-time contribution of R36, or more, you can perpetuate the name of a beloved departed. This fund is ongoing and the interest accrued is used for local Jewish needs. Names are listed in an annual booklet which is soon going to print.
Please send details, with payment to the UJW PO Box 10797 Marine Parade 4056 or EFT payment to Union of Jewish Women Standard Bank Kingsmead Account 05 151 187 8 code 04 0026 Ref; your name/IMF. Please send email confirmation of payment together with details of entry required to ujwdbn@djc.co.za.
A FRIEND IN NEED
Through the husband of one of our UJW committee members we heard of the plight of patients attending the Kathleen Voysey Clinic. Just before the end of the year the sponsor of their gift bags advised there would be no more assistance given.
The Union "picked up the slack" and the 80 patients and their families were given gift bags containing much more than they could have hoped. Very sincere thanks to all our magnanimous donors who helped by providing food, toiletries and treats to fill the bags. Our thanks also to the DHC who allowed us to use their space for packing.
SQUARES AND STRIPES
Residents at Beth Shalom continue to knit and/or crochet to provide blankets for babies in need. Very sincere thanks to Anne Wolff and Jeannette Landy for their dedication.
---
COMMUNITY NEWS
LIBERTY a LIFE changing sponsor
Finding additional sponsors for our 26th Annual Charity Golf Dayproved to be a little daunting. That changed with the extraordinarily magnanimous sponsorship received from LIBERTY LIFE.
Liberty Life helped us achieve so much more that we dreamt possible. We and our beneficiaries owe them a huge debt of gratitude. Our sincere thanks to Mr Reddy for his generous support and for attending the prize giving. Diarise the date for the 27th Union of Jewish Women Annual Charity Golf Day on 27th August 2015.
The Shabbos Project
The Union of Jewish Women - Durban hosted a Great BIG successful Challah Bake. Thanks to everyone for their generous donations & to WIZO for the gift of Shabbos candles. Mothers and daughters "kept it together" !!
---
COMMUNITY NEWS
THANK YOU FOR PLAYING FOR 26 YEARS!!!
The Union of Jewish Women's Annual Charity Golf Day has grown in popularity over the years. It has become a major source of income to support the Union's various charity projects for both the Jewish and General communities
Our sincere gratitude to Discovery for their magnanimous sponsorship this year which took our total beyond what we could have hoped for.
We greatly appreciate the support from all the sponsors, donors and players.
Save the date: The 27th Golf Day will be on 27th August 2015. See you there!
ROD SMITH - Ever popular
The Union of Jewish Women was very fortunate that Rod Smith, the US based family therapist/Mercury columnist, agreed to assist in raising funds for Union outreach projects. The morning was a great success and our thanks to everyone for their support.
---
COMMUNITY NEWS
Union of Jewish Women of South Africa
3rd ANNUAL UJW CHARITY CARD MORNING IN MEMORY OF MAUREEN BAITZ Z'L
The popularity of this FUNdraising function is attested to by the increasing number of ladies & gents who wish to participate.
PRESENTATIONS & WINNERS!
The Sara Sloman Award was presented to Gaynor Lazarus in appreciation for 25 years' of meritorious service to the Union.
An Operation Jonathan donation was made in Linda Nathan's name in recognition of her years as UJW National out-of-town Vice President.
Fran Maseo "sent" her husband Frank to collect her Wonki Ware bowl which was the 1st prize in the UJW Raffle.
Helen Smith was the winner of the 2nd prize of a Walther-Glas glass platter
Judy Druck was the winner of the beautiful necklace generously donated by Vera Dubin
---
COMMUNITY NEWS
Union of Jewish Women of South Africa
Sandwiches by the 100's
Members of the Union of Jewish Women have recently begun assisting the Domino Foundation in preparing sandwiches for school children. The Domino Foundation is a multi-faceted organisation, much like the Union of Jewish Women, which undertakes projects to assist those in need.
Every school-day hundreds of sandwiches are prepared and wrapped and delivered to schools where some learners arrive without anything to eat during break. Those children collect their lunch from a teacher, and then, without any embarrassment, are able to join their classmates to eat their lunch.
Thanks to Tanya Altshuler for the introduction to this project and for arranging the roster. It takes just over an hour on a Monday mornings in Durban North, to make the sandwiches. If anyone would like to join the roster please contact the Union office 031 3354457. We would be delighted to have your assistance
Botanic Gardens Kiosk
For 40 years and more - unfortunately no one remembers exactly how many more - members of the Union of Jewish Women have "manned" the Botanic Gardens Kiosk to help raise funds for the South African National Tuberculosis Association (SANTA).
Times change, as do the names of the volunteers, but the ladies have always formed a dedicated group, giving of their time every month. None of them have expected thanks or recognition; without fanfare they have just quietly gone about their tasks. Many of the ladies have passed away, but of the stalwarts who have only recently "retired", mention must be made of Rose Freeman, Joyce Polak, Isa Stark and Clarice Sternberg. Their devotion has always been greatly appreciated.
Currently our flag is kept flying in the general community by yet another group of ladies who have made a commitment to help us help SANTA. They are Gayle Lewenstein, Lee-Anne Lipschitz, Marion Lurie, Olga Pincus and Anita Sheward.
We also express our gratitude to the additional ladies who help out on occasions when called upon to fill in. We greatly appreciate their support. If anyone would like to join the group for a few hours the second Tuesday of the month please contact the office 031 3354457.
---
COMMUNITY NEWS
Union of Jewish Women of South Africa
THE UNION OF JEWISH WOMEN'S 76TH ANNUAL GENERAL MEETING –
A MEETING OF SUPERLATIVES!
Bev Levy ended her first year in office as the UJW Executive Chair by presenting an outstanding report, highlighting some of the Unions projects. Her report was supported by an equally outstanding power-point presentation prepared by Yael Sapo giving visual "evidence" of what the Union has achieved.
The meeting, held in the Seminar room of the Durban Holocaust Centre - an excellent venue, was attended by UJW members and representatives of several projects/organizations with which the Union is associated. Allocations, from the Jewish Community Fund, were made to all Jewish organsations and from general fundraising to outreach projects.
In recognition of dedicated and meritorious service for 25 years, a Sara Sloman award was bestowed, in absentia, on Gaynor Lazarus. Gaynor has worked for the Union in every capacity - Executive Chair, WUCF Convenor and Hon. Treasurer to name a few. Sas Greenspan was presented with a Freda Kapelus award in recognition of her dedication to the Union and her outstanding involvement in several projects, in particular the Annual Charity Golf Day, for which she has been an outstanding prize collector and Convenor. The Union of Jewish Women is very proud of both recipients and greatly appreciates their loyalty and ongoing involvement.
How fortunate we are to have Mary Kluk as a member and "right on the spot". She very graciously stepped into the breach as our brilliant Guest speaker. Mary gave staggering statistics about anti-Semitism worldwide during her interesting talk
Bev closed the meeting thanking everyone for their attendance and support of the Union.
GROCERY COLLECTION
ANOTHER GREAT MITZVAH was performed by many people attending the Union's Annual General Meeting. A trolley load of groceries for the Jewel House Kitchen was collected. Very sincere thanks to everyone who donated tins and other items - it will all be put to good use.
---
COMMUNITY NEWS
Union of Jewish Women of South Africa
A BUSY TIME WAS HAD...
Members of the UJW Durban committee have been busy visiting projects, whether longstanding or just beginning.
UMCEBO DESIGN co-operative craft workshop received much needed items for their imaginative creations. Members of the Ubunye project were busy putting the finishing touches to a piece depicting a tree in the garden of Eden entwined by the sssssssss.
CLARE ELLIS BROWN SCHOOL was a beneficiary of the 2nd Annual Card Morning in memory of Maureen Baitz z'l. Their renovated kitchen is "up and running" and the Union is proud to have been able to assist in providing this necessary upgrade for the school. Thank you to everyone who helped by supporting the card morning. We look forward to having you join us again for the card morning on 18th June this year.
KHULANI SPECIAL NEEDS SCHOOL has finally moved into their newly built premises. The staff and learners are all delighted with the improvement to their school. With the assistance a magnanimous overseas benefactor we were able to purchase much needed educational games and puzzles for the school. Our sincere thanks extends to the Council of KwaZulu-Natal Jewry which, on behalf of the Jewish Community, generously donated computers to Khulani.
SAPS UMBILO VICTIMS SUPPORT CENTRE has been receiving assistance from the Union for many years. At a recent Exec meeting, members of staff from the centre gave an update of their needs that will allow them to better assist trauma survivors, especially children. The statistics are shocking - 5 plus cases, of varying severity, every day! A collection of toys, crayons, colouring books was delivered to the centre.
---
COMMUNITY NEWS
PATHWAYS A PLACE OF CARE, WARMTH AND LOVE.
Members of the Union of Jewish Women had an amazing, albeit
emotional, experience sending time at Pathways school/care
centre.

Pathways was established in Kloof seventeen years ago by a
caring parent and a physiotherapist as a facility for three children
with severe cognitive and physical disabilities. Their premises
are now situated in Westville and attended by 46 learners.
The "Education Department" catergorises these children as
uneducable. The vision of Jenny and her Pathways colleagues
is that through early and ongoing intervention they hope to
develop each individual child to their fullest potential. With
determination, and the help of physio/speech therapy, craft
work, literacy programmes and maintainance of a vegetable
garden, there is little doubt that they are doing their utmost.
Pathways is a unique facility from which no child is turned away
as "too old, too disabled, too poor or too anything".

Wednesday
18 June 2014 - 9 am
UJW's 3rd Annual
Card Morning Generously
Sponsored in memory of
Maureen Baitz z'l
Wednesday
23 July 2014 - 10 am
Rod Smith will be back!!!

---
COMMUNITY NEWS
UNION OF JWSA
The Union of Jewish Women, Durban, is proud to be associated with this project which gives people the opportunity of doing Mitzvot and helping make the day special for others.

A morning visit was arranged at Beth Shalom and after spending time chatting with the residents scrumptious carrot muffins, which were an absolute "hit" and chocolates were served at tea-time. At lunchtime a visit was made to the Durban Children's Home taking hotdogs, chips and treats to the children and providing a jumping castle, waterslide, face painting and bubble fun for the kiddies to enjoy. The older residents had a game of soccer. The soccer balls, together with a selection of coloured balls, and a tennis ball for each resident, were donated and ended the day with smiles all round.

Very sincere thanks to all the generous donors for helping make this Mitzvah Day such a success at both venues.

We were delighted to have the CKNJ partner with us on Mitzvah Day by giving the entire community an opportunity to donate groceries to Jewel House and for helping us collect dog/cat food for the SPCA.

IN MEMORIAM FUND

For a one-time contribution of R36, or more, you can perpetuate the name of a beloved departed. This fund is ongoing and the interest accrued is used for local Jewish needs. Names are listed in the Union's Annual report booklet which is soon going to print. Please send details, with payment to the UJW, PO Box 10797, Marine Parade 4056 or EFT payment to Union of Jewish Women, Standard Bank Kingsmead Account: 05 151 1878, code: 04 0026, Ref: your name/IMF. Please send email confirmation of payment together with details of entry required to ujwdbn@djc.co.za
---
Union of Jewish Women
THE UJW SCENE 2013!
The Union arranged functions and was involved with projects for the Jewish and general communities during the past year. This is a "pictorial tour" of the UJW scene for 2013.
---
Union of Jewish Women
Barmitzvah Year For The Gemilut Chassadim Award In Memory Of Jean Kluk Z'l
Once again the recipient of the Gemilut Chassadim Award in memory of Jean Kluk z'l, went to a very worthy recipient. The Union of Jewish Women was delighted that the Eden staff nominated Joshua Aronoff as the 2013 recipient. The award is in recognition of his "acts of lovingkindness" a standard set by Jean z'l and upheld by Joshua. The Union is always proud to be associated with the Judaica prizegiving but as Joshua is the grandson of Gayle Lewenstein, a member of the Union's Executive committee, it made this function all the more special and we all "kleibed nuchas" on her behalf. Kol haKavod Joshua.
---
Union of Jewish Women
OBITUARY - Sandra Isaacs
Sandra Isaacs z'l was a supportive member of the Union of Jewish Women for more than 30 years. When she retired she joined the Executive Commitee earlier this year and in an unfortunately short time had already made a very positive impact.Sandra's participation in all aspects of the Card Morning, Yomtov Market and Golf Day – which included amassing a phenomenal collection of prizes –was done wholeheartedly and in the spirit of helping achieve the Union's objectives. She recently attended the Yomtov Braai hosted by the Union at Beth Shalom and the residents were delighted to have her chat with them.
We all extend our heartfelt sympathy to Jeff, Leanne, Nicole and Richard on the tragic and untimely passing of their beloved wife and mother – Sandra z'l. May the A-mighty comfort them among the mourners of Zion and Jerusalem. Sandra is going to be sorely missed by her Union colleagues.
---
Union of Jewish Women
A TRADITION IS FOREVER!!!
Some years ago the Union of Jewish Women initiated hosting a pre-Yomtov braai for the Beth Shalom Residents, Masadaniks and committee. That routine has very rapidly become a tradition. The braai this year was, once again, thoroughly enjoyed by all. Sylvia Collins and the Beth Shalom staff, in particular the chefs and kitchen staff, are to be commended for going out of their way to provide a sumptuous meal and create a happy atmosphere.


---
Union of Jewish Women
25TH ANNUAL CHARITY GOLF DAY
Well done to Union of Jewish Women committee members, past and present, for maintaining and even exceeding the successes of this fundraising venture. A great deal of work goes into planning an event of this type and it is thanks to the dedication and commitment of the convenors and helpers that an enjoyable day "just happens". The loyalty and enthusiasm of the golfers is so appreciated, and yes we have booked for 2014 – Thursday 28th August. Without the amazing, willing generosity of the prize donors and sponsors, too many to mention, we would not be able to fulfill our goal of helping those in need.
THANK YOU to everyone involved in helping us achieve our objective.


---
Union of Jewish Women
Durban Childrens Home Visit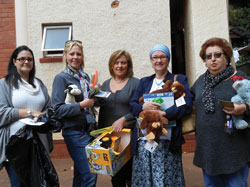 Durbans childrens Home in Glenwood was the beneficiary of Mandela Day and received winter clothing as well as stationery collected from Umhlanga Jewish Day School and Beverly Burne of Guru Girl. Due to an outbreak of measles in the home over Mandela Day our actual visit to the home had to be postponed and the 14 August saw a group of Union ladies, laden with fluffy toys ,bats and balls and toys visit the home. It is amazing what joy and happiness new faces and a few bubbles can bring to children.
---
Union of Jewish Women
Marvelous Market Magic!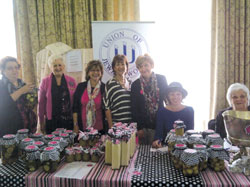 Mazeltov to Wizo for another outstanding YOMTOV Market. It was a pleasure to play our part in the success of this annual fundraiser. The Union's pink, black and white delicious gourmet gifts, teiglach, recipe books ,cards and bridge scorers were again well received. We thank our community for supporting our stall. Thank you to our hardworking committee for the numerous hours spent in the kitchen, pickling and cooking and for their tireless work setting up on the day of the market. The wonderful array of jars and delicious goodies bore testament to your efforts.


---
Union of Jewish Women
Mandela Day 2013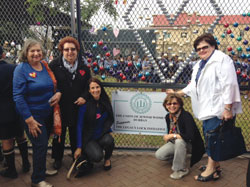 The Union of Jewish Women was proud to associate with the CKNJ's initiative for to collect food for the Issy Geshen Lamontville Home especially as the Union was involved with this home for some years after its establishment.
As a symbolic gesture of our commitment to keeping Madiba's Legacy alive members of the Union of Jewish Women placed padlocks on the Legacy Fence and in so doing became the first organization to associate with this project.
We were delighted to receive a HUGE collection of colouring books, crayons and other items from the learners at the Umhlanga Jewish Day School. This was to be delivered to the Durban Children's Home, with toys from the Union. Unfortunately due to an outbreak of measles/chicken pox the visit could not take place as scheduled.
Thanks to magnanimous benefactors the Union received another HUGE donation, this time of clothing. Thanks to all the Union committee members who sorted and repacked the varied items for distribution to several outreach projects of the Union's and other Communal organizations.




---
Union of Jewish Women
JEWISH COMMUNITY FUND (a.k.a. Women's United Communal Fund)
"The wings of angels are found on the backs of ordinary women".
It is through the support of EXTRA-ordinary women in our Durban Jewish Community that the previous 31 campaigns have been able to give additional support to all our Durban Jewish Communal Organisations. The 32nd Campaign, under the leadership of Natalie Baitz, was recently launched, with a fresh approach to encourage participation from the younger women. The contributions received from the loyal, regular donors is greatly appreciated and, of course, we rely on their continued support. It is, however, essential that new donors are enlisted and that they understand how vital the Jewish Community Fund is for our Jewish organisations.
When you receive Natalie's appeal please take the time to read it and become aware of the ongoing monthly needs with which you can assist.
---
Union of Jewish Women
In Memory Of Maureen Baitz z'l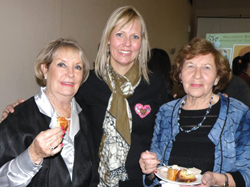 Maureen Baitz z'l is often thought of and fondly remembered by her family and friends. Through generous sponsorship by the Baitz family the Maureen Baitz z'l Second Annual Morning of Cards was, once again, as stylish and memorable as the remarkable lady whose name the function bears. Sincere thanks to all who showed their support by participating. Proceeds from the morning will be distributed to ongoing Union projects and the Claire Ellis Brown School. ributed to ongoing Union projects and the Claire Ellis Brown School.

---
Union of Jewish Women
75th Annual General Meeting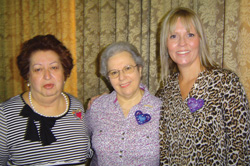 When a lady has a 75th birthday, family and friends gather round to extend good wishes and express their admiration and those not able to attend send greetings.
It was no different for the Union of Jewish Women's 75th AGM. Our thanks to all who showed their support by being present or sending good wishes.
Natalie Baitz completed her outstanding term of office by presenting an "illustrated" report about the Union's activities. Highlighting projects within our own Community and the broader Durban community. The business part of the meeting was followed by Yael Sapo's very interesting report of her experiences at the Herzceg Seminar on Jewish Education held in Jerusalem where she and 5 other delegates represented the Union of Jewish Women of South Africa.
Bev Levy, incoming Chair, introduced her Executive Committee and expressed her thanks for the faith placed in her to lead our illustrious organization. She then presented and Operation Jonathan certificate to Natalie and brought a very emotional meeting to a close.
---
Union of Jewish Women
VARIETY IS THE SPICE OF …….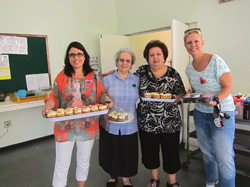 Within the Union's projects there really is something for everyone, because variety is not only the spice of life but also the type of work undertaken by the Union. And not everyone needs to do everything!
For the past month members of the Union of Jewish Women's committee have had a wide variety of projects and/or functions in which to choose to be involved.
An informative talk was arranged with ICare about how to deal with street children, or rather how not to….. because by giving them money we are in fact keeping them on the street. They have to choose to leave that lifestyle and options of shelters/homes are available to them. For ICare and other organizations to pick them up and take them to a shelter for rehabilitation is considered kidnapping.
Of course the Union participated in the communal Yom Ha'atzmaut function and once again had a "sell out" success with shwarma and hot chips. Thanks to the ladies who toiled over the hot stove and those who did the selling!
Another interesting and amusing talk full of personal anecdotes was given by Rabbi Silberhaft to launch his book detailing his travels throughout Southern Africa. His knowledge about the country communities is phenomenal and the account of his experiences at Buckingham Palace and with various members of government or business hierarchy very entertaining.
A visit was arranged to the Hillcrest Government Hospital, a long term facility for patients who need care and have nowhere else to live. Our very sincere appreciation to members of our community for their magnanimous response to our appeal for cup-cakes and sandwiches. Until you experience the gratitude personally you have no idea how much that small treat means to the patients.
The Union co-sponsors flights for Rabbi Perez to visit Durban. His Shiurim continue to grow in popularity and we are fortunate that the walls of Marcel and Linda's home keep "expanding". The last topic discussed was the "Jewish perspective of angels" which led to very divergent opinions and lively and amusing discussions.
---
Union of Jewish Women
"Bobba" Audrey is safely home!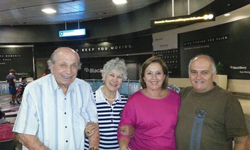 Audrey Levy, the recipient of our Bobba Trip ticket is home after a most memorable and meaningful visit to the UK.
She had a wonderful reunion with her daughter Marilyn and thoroughly enjoyed their time together.
In thanking the Union Audrey said "…..I can never find the really right words to express how blessed and grateful I am – I am humbled and overwhelmed with joy. Thank you for the loving and meticulous care, the amazing abundance of wonderful gifts and the day of "relaxing pampering" that made me feel so young….."
On her return Audrey was met by Marcel and Linda Nathan and two of their children and Ernie Aaron. Although feeling very tired she was full of beans and very excited to be back home.
Once again we, the Union of Jewish Women, express our gratitude and sincere thanks to all who made this dream possible. It was a resounding success.
---
Union of Jewish Women
SUNSHINE KIDS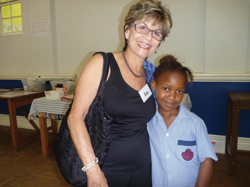 The Union of Jewish Women is involved in a new project reading to children at the Clarence Road Primary School. Who better than Sas Greenspan to head our team. Her warm smile and friendly personality make the children feel welcome and safe.
Several other volunteers from other organisations or in their personal capacity read, on a one to one basis, to the children aged 6 - 8. They have learning problems, because of their lack of understanding of English and listening to the stories improves their vocabulary. The volunteers also play educational games with the children.
In Sas' own words "The kids are warm and so sweet. And in the few times I have been there I have noticed how they slowly warm up to you and come into the hall running and giving us huge hugs. Talk about being paid for what we do!!!!!! The hugs say it all."
If you would like to join Sas and Toni and become part of this project please call the Union office 031 3354457 or email ujwdbn@djc.co.za

---
Union of Jewish Women
SPCA donations
Our furry friends were not forgotten and the committee's animal lovers took hundreds of kilos of dog/cat food and several new blankets to the SPCA. We greatly appreciate the contributions of generous donors who helped collect the food and donated the blankets.

---
Union of Jewish Women
Days Of Sharing
Even little children know that "sharing is caring" and committee members of the Union of Jewish Women continue to show they care.

Sharing a smile, handing out some sweetness and making time to chat, members of the Union visited Beth Shalom for afternoon tea. Having enjoyed tea in the lounge a few members went to each room to ensure that everyone received their share of "love" on February 14th. The residents had enjoyed a special themed day and all joined in the fun and were appropriately dressed in shades of red.



---
Union of Jewish Women
Volunteer of the Month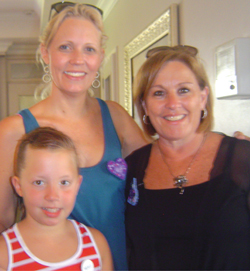 Linda Nathan joined the Union of Jewish Women Durban Executive in July 1979 as Chair of the Toni Saphra Branch having worked on that committee for a number of years. Since then Linda has been involved in every aspect of the Union's work in Durban, and currently holds office, for a second term, as one of the Union of Jewish Women of South Africa National vice-Presidents.

Linda's first term of office as Union of Jewish Women Durban Chair was from 1990 – 1991 and then again from 2006-2007. She is the recipient of the Freda Kapelus and Sara Sloman awards for meritorious service to the Union. Linda is a very organized person and her expertise is sought by several other communal organizations and at present she, very successfully holds office as the President of the Council of KwaZulu-Natal Jewry.

Following in her mother, Judy's footsteps and having a daughter, Kelly follow in hers, Linda's family is one of the very few where three generations are active in the Union of Jewish Women of South Africa at the same time. A major fundraiser for the past 24 years is the UJW Durban Annual Charity Golf Day and over and above helping with other aspects of the day Linda is convenor for the players. The fact that within 48 hours of notifying the players of the date, the field of 144 players is full, with a waiting list, is testimony to her efficiency.

We, the Union of Jewish Women-Durban, are very fortunate to have Linda, along with Judy, giving advice as our very own expert caterers. They, together with a team of committee members, provide eats at our functions that are always a "Class Act", which very aptly is the name of the recipe book they have published.

Linda we appreciate your dedication to our organization despite your other communal commitments.

---
Union of Jewish Women
Mitzvah Day International – Another Success
The Union of Jewish Women was, once again, very proud to be associated with this project which originated in the UK. A very special Sunday morning tea was held at Beth Shalom with committee members dressed in their Mitzvah day shirts or colour coded scarves spending time chatting with the residents.
On the same morning a "carnival" was arranged for the 80 children at the St Martins Home. They were all so excited to have the opportunity to play on a jumping castle, watch a magician show, have "shaped" balloons, participate in face and nail painting, ice biscuits, do beading, enjoy a disco, eat candy floss, play soccer and have more cake, chips and juice than they could imagine. All that before having "wors rolls" for lunch. Having decided that "enough was enough" the burgers and chips arranged for dinner was postponed for the next evening. Truly a memorable day, not only for the children but the Union committee members too. Very sincere and special thanks to all the generous donors who made this exceptional function possible.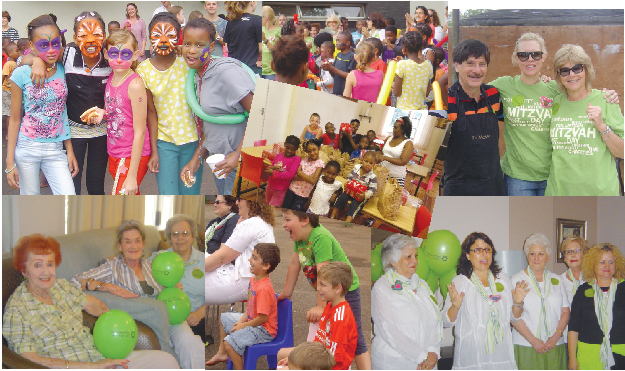 ---
Union of Jewish Women
What A Worthwhile Project!
The Union of Jewish Women initiated the Bobba/Zaida Trip project last year.
Thanks to very generous benefactors the air miles, airport taxes, medical/general insurances, luggage and more were donated.
The applicants were interviewed by a suitably qualified committee before being short listed. Each session was emotional for the committee and every applicant worthy of being the recipient of the trip. Sincere thanks to Linda Nathan, who convened the project, and her committee for their input.
Unfortunately, as with many things, there could be only one finalist. It was with pleasure that Audrey Levy, a Beth Shalom resident, was told that she could finalise plans to visit her daughter in the United Kingdom. Audrey joined members of the committee to be handed her tickets, luggage, vouchers, insurance papers etc.
Our heartfelt gratitude to our magnanimous benefactors and donors who have helped make this project possible. Nesiya Tova Audrey, enjoy this special trip, stay well and return safely.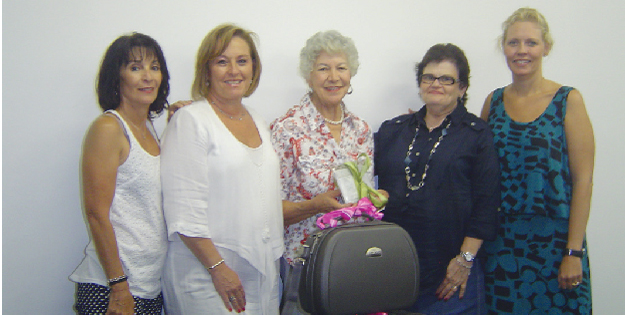 ---
Union of Jewish Women
2013 Begins With…..
A printer's gremlin which left our UJW page out of the February issue but corrected itself by presenting us with two pages this month. Thank you gremlin!
A Magical morning at Masada thoroughly enjoyed by everyone and with a wave of a magic wand delicious UJW treats appeared for tea.
Friendship Club at Beth Shalom with bumper bingo prizes, birthday gifts and scrumptious cake and sandwiches for tea.

---
Union of Jewish Women
In Memory Of A Special Lady And Loyal Member
A fundraising morning was held in memory of the late Maureen Baitz z'l, who was a loyal member & supporter of the Union of Jewish Women. The Baitz family very generously sponsored the morning and what a fun, successful morning it was, and hopefully will be repeated. Great prizes were available for slams, big and small, runs, a blitz and almost anything else which all created excitement. Tea-time eats were the Union's usual exceptional standard. Thanks to everyone for their support and the Union ladies in particular for ensuring an enjoyable morning.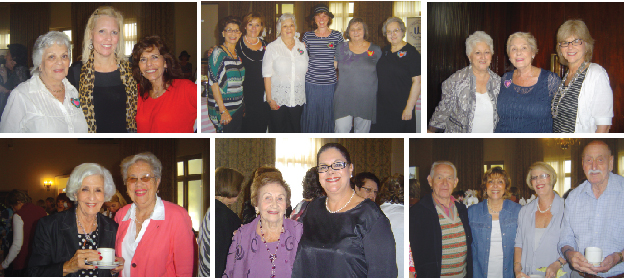 ---
Union of Jewish Women of South Africa
Gemilut Chassadim Award in Memory of Jean Kluk z'l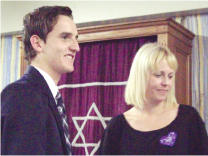 The UJW is always proud to participate in the annual Judaica prize-giving at Eden College.
The UJW established the Gemilut Chassadim award twelve years ago in honour of Jean Kluk z'l who was a dedicated member of the Union for many years and whose concern for the wellbeing of others was always paramount. The student is nominated by the staff for upholding the standard of 'acts of loving kindness' performed. The worthy recipient for 2012 was Joel Kaplan.
---
Union of Jewish Women of South Africa
HONOUR THE AGED …… and we do
The Union of Jewish Women committee members are always more than happy to spend time with the Community's "Golden Oldies" and not only during "Honour the Aged month", which October was.

The monthly Beth Shalom Friendship Club tea-time was made extra special by serving cheese cake and teiglach. The bingo prizes now consist of a packet with a variety of toiletries, instead of the winners selecting only one item and bumper birthday gifts are given to the regular "players". The committee members on "duty" always spend time chatting to the residents and this being one of the most popular "projects" there is never a shortage of volunteers.


To ensure that "honour the aged month" was more meaningful a visit was made to the Ray Hulett Home.

The Union of Jewish Women has been associated with this home for a number of years. On this occasion an appeal was made to all Union members to support the visit by donating cupcakes or sandwiches. The response was absolutely overwhelming and we sincerely thank everyone for being so generous and caring.


With the addition of packets of chips from a committee member and chocolates from wizo the Ray Hulet residents could not believe the "party" they were given and the Union members were moved at the "ovation" and thanks they received.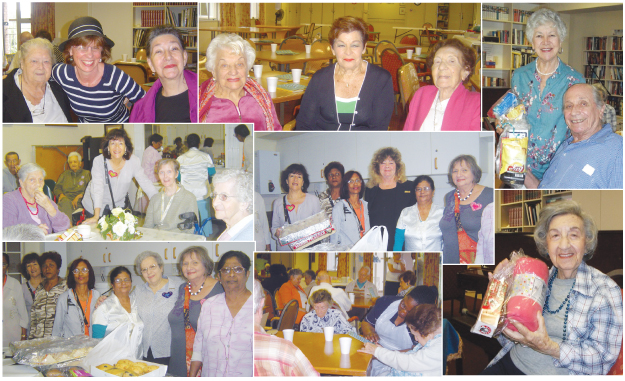 ---
Union of Jewish Women of South Africa
Made with Love by the Union
The Union of Jewish Women was once again proud to participate in the annual Wizo yomtov market. This morning has become part of the pre-Rosh Hashana build up in our Community. It affords all of us the opportunity of buying gifts and at the same time supporting our communal organizations.

In our opinion, biased though it might be, the Union stall was by far the prettiest. The bottles of pickles, salad dressings and sweet sauces being colourfully "dressed".
Well done to all the ladies who prepared the stock by pickling and baking in the kitchen and then making such a success of selling. Most of all thank you to everyone who purchased our products.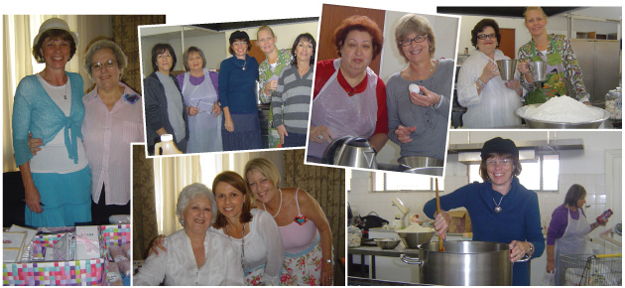 ---
Union of Jewish Women of South Africa
A Busy– But Great – Time Was Had By All
The Union of Jewish Women recently hosted it's 24th Annual Charity Golf Day. It must be some sort of record for any organization to host a successful fundraising function for that length of time. Thanks to all the participants who made the day – the players, sponsors, prize donors, and committee members. Winners of the 4 lucky draw prizes were: Maggie May Rigby, Sandra Kravat, Rael Lurie and Dave Martin. Well done and thank you for participating. Watch this space for details of our 25th which will be bigger and better than ever!

A talk about keeping oneself safe in an unsafe situation was arranged by the UJW with the assistance of CSO. Sincere thanks to Oz for a well prepared and informative presentation. Those who attending the evening felt very strongly that it should be repeated. Thanks to those who attended and very kindly made donations at the door as there was no charge. By "popular demand" the Union will arrange another CSO session, details of which will be sent to the Community.
The Union's pre Rosh Hashana braai has become one of the highlights of the year for the Beth Shalom residents, Masadaniks and guests. This year was no different and thanks to Sylvia Collins and the Beth Shalom team, in particular Nola Denise, the Chefs and kitchen staff, for another scrumptious meal.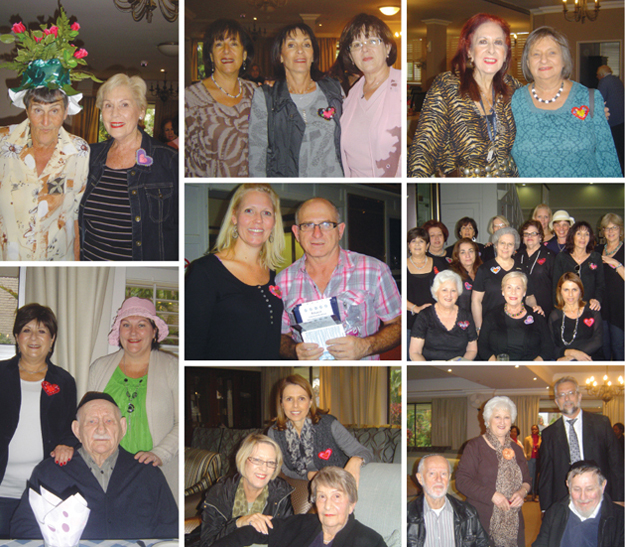 ---
Union of Jewish Women of South Africa
Tea Talk with 3 Talk Producer
The UJW recently treated the women of Durban to an entertaining glimpse behind the scenes of the world of telelvision.

On Wednesday July 25th, we held a highly successful "tea talk" where our guest speaker, SABC 3 Talk producer and Durban "girl" Joanne Lurie, gave a fascinating presentation on "The Good, The Glam and The Ugly" of the television industry.
With years of experience behind and in front of the camera, Joanne's eloquent stories of humorous guests, touching moments and surprising curveballs on set delighted and moved the audience.

A blanket for our winter blanket drive was the price of admission and the response we received by the ladies attending, and even those who couldn't make it on the morning, was overwhelming! Thank you to everyone who assisted in making the morning so enjoyable and special thanks to Tammy Schneiderman for her gracious hospitality in allowing us the use of her beautiful home.
Alana Baranov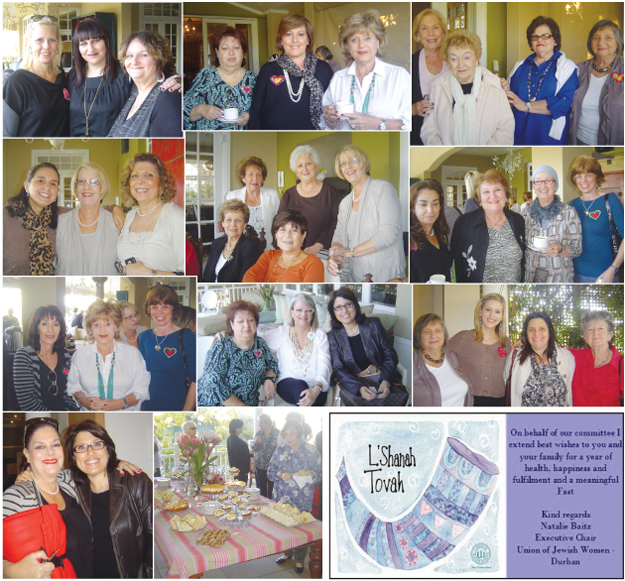 ---
Union of Jewish Women of South Africa
Bobba Andzaida Trip2012
Following on the success of this project pioneered by the Johannesburg Branch of the Union of Jewish Women of South Africa, the Durban branch is proud to announce the launch of the "Bobba and Zaida Trip 2012".

What is our target group?


Senior members of our community who have children living abroad and who, for various reasons, have not had regular contact (visits).

How does one make an application?


Application forms are available from:-
• The Union of Jewish Women office at the Durban Jewish Centre 031 3354457 (Monday to Thursday mornings only). Call Evelyn Cohen and she will make sure an application form is sent to you.
• Beth Shalom reception

Additonal Requirements:


• A motivational letter stating why the individual should be chosen as the lucky recipient of this trip
• A letter of invitation from the person/family they would like to visit
• A letter from the personal doctor confirming that the applicant is in good health and is able to travel overseas
• Finalists will be interviewed by our panel of judges
All completed applications and additional requirements must be posted to: UJW/BZ, P O Box 10797, Marine Parade 4056


The decision regarding the choice of the winner of the Bobba/Zaida trip is at the discretion of the panel of Judges appointed by the Union of Jewish Women Durban and no additional communication or correspondence will be entered into.

What is the prize?


• A Return Air Ticket to the destination where the family reside
• Required Visas and Travel Insurance (UJW will organize)
• Spending Money
• Assistance for any other matters that may need to be attended to
• Various other prizes associated with the trip
• Transport to and from King Shaka Airport Durban

We are indebted to our very caring and generous sponsors, who have given us the wings to "fly" with this project!


The organizing committee consists of a small working committee, a social worker and a professional consultant who works with senior citizens. This committee is very small in number due to the sensitivity and confidentiality of the information received.

All queries: please call Linda Nathan 031 205 2035.


All nominations received will be treated confidentially.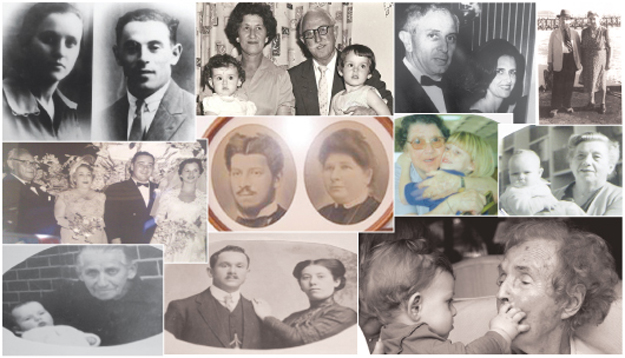 ---
Union of Jewish Women of South Africa
GROWING OLDER GRACEFULLY….
The Union of Jewish Women of South Africa is over 80, and we the Durban Branch being the younger sister have just turned 74. Though as with "leap year" babies not knowing whether they are 20 or 80, the UJW Durban really should be 75 having been established in 1937 but several years ago our AGM's were rescheduled from January to June and we "lost" six months along the way.
At the recent 74th AGM of the UJW Durban Natalie Baitz presented her report with the use of exceptionally well prepared visual im­ages on Powerpoint. Linda Nathan spoke about her recent trip to the ICJW Convention in Berlin – a "once in a lifetime" experience. Messages of congratulations for an outstanding first term of office were brought by Margot Segal, National President of the UJW, whom we were honoured to have attend, representatives of communal organizations and sent in by members and several outreach projects with which the Union is associated.
Some of the messages received stated……
The work you do is amazing….. WOW! What an inspiring morning…..
You ladies are truly phenomenal….. I learned so much from your guest speaker……
An honour to attend and see the wonderful work you are doing for our country….
Natalie is amazing and her presentation super….. Outstanding achievements….
Durban stands out for all its wonderful work….
Well done to all the dedicated committee members to whom the above accolades are addressed because of the work they do, not only on behalf of the Union but the Durban Jewish Community as a whole.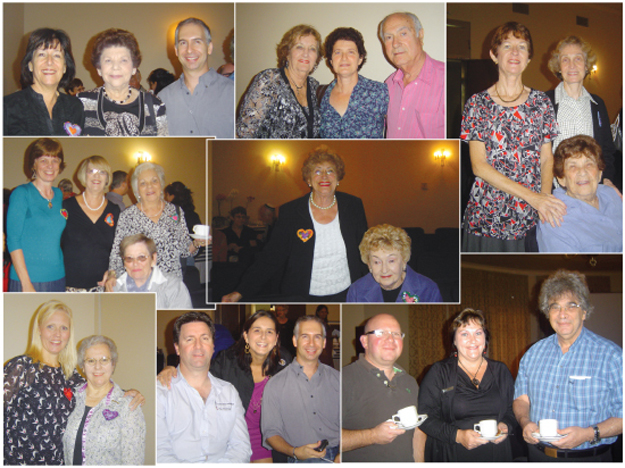 ---
Union of Jewish Women of South Africa
There's no rest for...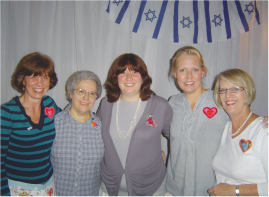 ……. Nor for the Union ladies doing good deeds. For the past six weeks members of the committee have been kept very busy.

It all began with the ever popular pre-Pesach braai hosted at Beth Shalom and thoroughly enjoyed by residents and guests alike. Just as everyone was getting over "matza mode" it was into the DJC kitchen to help prepare for Yom Ha'atzmaut and then being on duty at the communal function, which was a fun, successful evening.


As a picture is worth a thousand words the photos tell the story…..
---